Site News
Warning: This wiki contains spoilers. Read at your own risk!


Social media: If you would like, please join our Discord server, and/or follow us on Twitter (X) or Tumblr!

Cross-Wiki Week 2023: From September 23 to October 1, make contributions to NIWA wikis and participating affiliates that you normally don't edit for a chance to win a Nintendo eShop gift card! See here for more details.
Battle Preparations
From Fire Emblem Wiki, your source on Fire Emblem information. By fans, for fans.
This page is about the chapter from The Blazing Blade. For the gameplay mechanic, see preparations.
Battle Preparations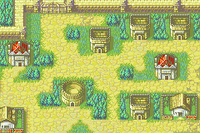 | | |
| --- | --- |
| Location | |
| New units | |
| Previous chapter(s) | |
| Next chapter(s) | |
| | | | |
| --- | --- | --- | --- |
| " | It would be best if we outfitted ourselves before setting out. We will need many supplies for a campaign on Valor. | " | — Marcus |
Battle Preparations (Japanese: 戦支度 Battle Preparations) is the sidequest of the twenty-ninth chapter of Eliwood's tale and thirty-first in Hector's tale in Fire Emblem: The Blazing Blade.
This chapter is fairly nonstandard; there are no enemies to be fought and it automatically ends after 5 turns have passed. The player is free to do whatever they wish with their units during the chapter; the main goal is to purchase supplies, be they weapons or items, from the nearby shops and armories.
Plot
Main articles: Battle Preparations/Script (Eliwood) and Battle Preparations/Script (Hector)
In the group's final preparations for the confrontation with Nergal they opt to make several purchases of supplies in Ostia's castle town before meeting with Fargus in Badon to set sail to the Dread Isle. The group obtains 30,000 gold from Ostia's coffers with Hector's blessing after Oswin reminds Hector that they cannot completely empty Ostia's savings.
As the group disperses several idle topics of conversation come up, such as Ostia's historical philosophy on the ruling classes and the recent death of Marquess Uther.
After the allotted time passes the group sets out. If Hector's tale is being played there is an additional scene where Hector makes a quick return trip to the Ostian throne room to express some final thoughts on Uther's death; commenting on how small the empty throne looks.
Chapter data
Eliwood's tale Hector's tale
Character data
Eliwood's tale Hector's tale
Characters
New units
Karla

Swordmaster
HP
29
Inventory


Wo Dao

Level
5
NPC, talk to with Bartre. Bartre must be a Warrior at level 5 or greater and have a weapon equipped; they must both survive a single round of unscripted combat.
(Hector's tale only)
Required characters

Available characters




































Undeployable characters

Item data
| | Name | Obtainment Method |
| --- | --- | --- |
| | 30,000G | Automatically at the start |
Shop data
Armories and vendors
Swords Lances Axes Bows Anima Light Dark Staves Items Secret
NPC data
Strategy
This section details unofficial strategies that may help with completion of the chapter. This may not work for everybody.
There's no real strategy involved with this chapter—just buy what you need with the gold that you have. Feel free to use the arena for some easy experience and gold. Do remember that there will be a secret shop in the next chapter, so if you really want to buy an item offered later then don't spend all of your money here.
The easiest way to recruit Karla in Hector's tale is to equip Bartre with an Iron Bow and with the Iron Rune in his inventory, so that he will neither hit Karla nor risk getting critically hit by her; even if the only increases to his stats since joining are his promotion bonuses, Karla will deal 15 damage with each of her two attacks, and he will survive with 2 HP.
Trivia
This is one of only three chapters in the Fire Emblem series where the player can engage green NPC units in combat, the others being Chapters 14 and 17 of Fire Emblem: Thracia 776.
This is the only chapter in the game to lack a boss.
This chapter takes place in the same area as Fire Emblem: The Binding Blade's Chapter 7, and Karla makes an appearance at the same arena where her daughter Fir will be seen 20 years later.
Etymology and other languages
Names, etymology, and in other regions
Language
Name
Definition, etymology, and notes
English

Battle Preparations

--

Japanese

戦支度

Battle Preparations

German

Bereit zum Kampf

Prepared for Battle
Gallery
---
This section has been marked as a stub. Please help improve the page by adding information.
---
References