Site News
Warning: This wiki contains spoilers. Read at your own risk!


Social media: If you would like, please join our Discord server, and/or follow us on Twitter or Tumblr!
Aureola
From Fire Emblem Wiki, your source on Fire Emblem information. By fans, for fans.
Aureola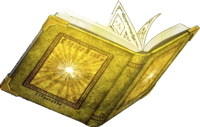 Artwork of Aureola from Heroes.
---
Boosts resistance by 5 pts.
| | |
| --- | --- |
| Type | |
| Wielder(s) | |
| First game | |
Aureola (Japanese: アーリアル Aureole), also known as the Glorious Ascension (Japanese: 至高の光 Supreme Light), is a regalia light tome introduced in Fire Emblem: The Binding Blade. It is one of the legendary weapons of Elibe, forged to combat dragons in The Scouring, and was wielded by Saint Elimine of the Eight Legends.
History
As with the other eight legendary weapons, Aureola was forged by humans during the Scouring and was entrusted to Elimine, and during battle its power was part of the cause of the Ending Winter. After the war, Elimine enshrined it at the peak of the Saint's Tower in Etruria, on the outskirts of the capital Aquileia,[1] and a seal was placed upon it by Bramimond to prevent human access to it.
When Bramimond released the seal on the legendary weapons to permit Eliwood and Hector to use them to defeat Nergal, Athos collected Aureola from its resting place and brought it it with him to the Dragon's Gate, claiming it contained the ability to pierce Nergal's formidable magical defenses. After Nergal's defeat, Aureola was returned to the Tower.
Twenty years later, after freeing Etruria, Eliwood's son Roy travelled to the Saint's Tower to drive out the turncoat Elimine Church faction occupying it, with Douglas's aid. On capturing the tower, Roy was allowed by King Mordred to take and use Aureola and anything else of use from the tower, for use as the leader of the Etrurian campaign against Bern and its War Dragons.
Stats
In the main Fire Emblem series
Game
Icon
Level
Might
Weight
Hit
Crit
Range
Uses
Worth
WEXP
Other effects and notes

The Binding Blade

S
15
9
90
5
1-2
20
Cannot be sold
1
+5 resistance when equipped.
Deals bonus damage to dragon units.

The Blazing Blade

S
15
14
90
5
1-2
20
Cannot be sold
0
+5 resistance when equipped.
Deals bonus damage to dragon units and Dark Druids.
In other Fire Emblem series titles
Locations
The Binding Blade
The Blazing Blade
Heroes
Flavor text
Trivia
Aureola shares its Italian name,

Etere

, with the Aether skill of later games.
In the Japanese version of The Blazing Blade, the bonus damage to dragon units when using Aureola is triple (3×) Aureola's might, even though every other anti-dragon weapon has double (2×) the might. This is because it uses a different bonus damage category to include effectiveness against the Dark Druid class.
Etymology and other languages
Names, etymology and in other regions
Language
Name
Definition, etymology, and notes
English

Aureola

In classical art, an aureola or aureole is a golden radiance surrounding a divine figure depicted in an artwork. The word derives from the Latin aurea "golden".

Japanese

アーリアル

Aureole

Spanish

Aureola

--

French

Auréole

Aureole

German

Aureola

--

Italian

• Etere
• Tomo Etere

• Aether; one of the five classical elements and the name of a Greek god. This name is used in The Blazing Blade.
• Aether tome; this name is used in Heroes to differentiate it from the Aether skill.

Portuguese
(Brazil)

Auréola

Aureole

Simplified Chinese

阿历亚鲁

Aureole; used in the unreleased Chinese localization of The Binding Blade.

Traditional Chinese

亞利艾爾

Aureole
Gallery
References