Site News
Warning: This wiki contains spoilers. Read at your own risk!


Social media: If you would like, please join our Discord server, and/or follow us on Twitter or Tumblr!
Black Fang
From Fire Emblem Wiki, your source on Fire Emblem information. By fans, for fans.
Black Fang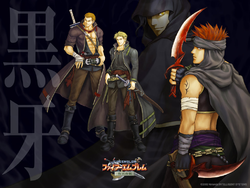 Official image featuring prominent members of the Black Fang.
Leader
Size

Hundreds of members

Headquarters

A castle in the mountains of Bern
The Dread Isle

Group type

Mercenary/assassin guild

Purpose

To protect the innocent and kill the corrupt in power
To serve Nergal

Appearance(s)
| | | | |
| --- | --- | --- | --- |
| " | The masses saw them as chivalrous, defenders of the common man. Their activities found wide support. | " | — Leila |
The Black Fang (Japanese: 黒い牙 Black Fang) was a guild of assassins and mercenaries, operating throughout Elibe and based in Bern.
History
The Black Fang was founded in the year 970 by Brendan Reed for the purpose of targeting the powerful who exploited the weak. In these days, the Fang was a small, close-knit and chivalrous group, beloved by the people of Bern. This period in the Fang's history would later be called the "old Fang" by some of its nostagic survivors. Its four strongest members were the Four Fangs, a renowned body in their own right; among their number were Brendan's two sons, Linus and Lloyd.
The Fang's goals changed for the worse after nine years, when Brendan remarried to Sonia, also adopting Sonia's "daughter" Nino. The guild's heart and goals slowly twisted, as under Sonia's direction they became the servants of Nergal. Under Sonia's manipulations, their ranks were bolstered with morphs, they enlisted increasingly cruel and despicable people – including some who they themselves once imprisoned – and they began accepting any job or target so long as they were paid. Brendan was secretly suspicious of Sonia and her actions, and ordered a covert investiation. During this time, the Fang was also infiltrated by Leila, an Ostian spy, who was eventually found out and murdered on the orders of Ephidel.
Under Ephidel's direction, the Fang helped contribute to the unrest in Lycia, launching an assassination attempt on Hector of Ostia, taking control of Santaruz after its Marquess Helman was fatally wounded by Ephidel, and attempting to ambush Eliwood, Hector and Lyn in their dealings in Badon. Following the trio's visit to Valor, during which they were joined by former Fang Legault, Nergal ensured through Sonia that hunting the trio and their group was a high priority of the Fang. During this time, they also accepted a contract from King Desmond of Bern to first steal the Fire Emblem and ensure it was not present for Prince Zephiel's coming-of-age ceremony, and to later assassinate Zephiel himself; in the assassination attempt, both Jaffar of the Four Fangs and Nino, failed to follow through and defected to Eliwood's group, averting further attempts by Ursula to complete the job. Afterward, Sonia killed Brendan himself for witnessing her talking to Limstella and attempted to kill Jan and Nino for the same, but was interrupted by the arrival of Eliwood's group and was killed. The last of the Fang was deployed to the Shrine of Seals in one final attempt to defeat Eliwood, and with their defeat there, the Black Fang was no more.
Members
Etymology and other languages
Names, etymology and in other regions
Language
Name
Definition, etymology, and notes
English

Black Fang

--

Japanese

黒い牙

Black Fang

Spanish

Colmillo Negro

Black Fang; often abbreviated as Colmillo N.

French

Black Fang

--

German

Black Fang

--

Italian

Black Fang

--

Portuguese

Presa Negra

Black Fang; mentioned in Heroes.

Traditional Chinese

黑牙

Black fang
Gallery
References