Site News
Warning: This wiki contains spoilers. Read at your own risk!


Social media: If you would like, please join our Discord server, and/or follow us on Twitter or Tumblr!

Engage info: As the game has only recently released, we lack much key information. Please help add any info that you can.
Guinivere
From Fire Emblem Wiki, your source on Fire Emblem information. By fans, for fans.
Guinivere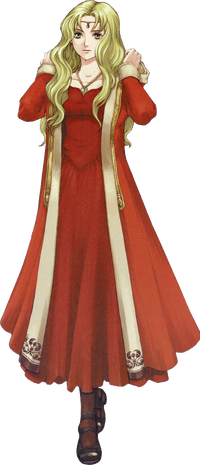 Artwork of Guinivere from The Binding Blade.
---
The princess of Bern. Noble and self-sacrificing.
| | | | |
| --- | --- | --- | --- |
| " | I want to find a peaceful way to end the war. If I can speak to the Lycian council, I'm certain we can come to a solution. | " | — Guinivere, to Roy. |
Guinivere (Japanese: ギネヴィア Guinevere) is the princess of Bern and the half-sister of Zephiel, sharing King Desmond as a father. During the events of Fire Emblem: The Binding Blade, Guinivere stole the Fire Emblem and snuck into Lycia to try to find a peaceful solution to the war.
Role
Guinivere is Zephiel's younger half sibling. She plays an important role in the plot. Near the start of the game she meets Roy with the Fire Emblem in her possession. She had taken the Fire Emblem from her brother to hopefully find a way to stop him, as she does not wish to go along with his plans to return the world to dragonkind. Along with providing Roy with the Fire Emblem she also gives him information on the whereabouts of the Binding Blade.
She also convinces Melady, her loyal retainer, to join Roy and his cause.
Starting stats and growth rates
Guinivere is playable only in the game's Trial Maps. She becomes available after completing the main game nine times.
| | |
| --- | --- |
| | Recruitment: Clear the main game nine times. |
Role
Guinivere appears briefly in The Blazing Blade. She is shown to get along with her brother and her father well. Desmond dislikes Zephiel being around her so he sends him away. Being very young, she doesn't appear to notice any animosity and is a happy child in her short appearance.
Role
Guinivere is one of the characters added to the game in the Reality update, and became available for summoning by players on November 17, 2020. Only one variation of Guinivere is currently available in Heroes, based on her The Binding Blade incarnation.
Starting stats
Guinivere: Princess of Bern is only available at 5★ rarity.
Skill set
Skill set
Skill
Rarity
SP cost
Light
Innate
Ellight
Innate
Shine
Innate
Aureola
Innate
Chilling Wind
Innate
Iceberg
★★★★★
200 SP

A

Atk/Res Push 1
★★★★★
60 SP

A

Atk/Res Push 2
★★★★★
120 SP

A

Atk/Res Push 3
★★★★★
240 SP

A

Atk/Res Push 4
★★★★★
300 SP

B

Lull Atk/Res 1
★★★★★
60 SP

B

Lull Atk/Res 2
★★★★★
120 SP

B

Lull Atk/Res 3
★★★★★
240 SP

C

Spur Res 1
★★★★★
50 SP

C

Drive Res 1
★★★★★
120 SP

C

Drive Res 2
★★★★★
240 SP

C

Joint Drive Res
★★★★★
300 SP
Personality and character
Guinivere is caring, selfless, and pure-hearted. From the start of the conflict in Binding Blade, she has worked tirelessly to prevent war—and once that became impossible, to stop it. Even though her half-brother, Zephiel, was the instigator of the conflict, Guinivere firmly opposed him because he used brutal methods to achieve his goals.[2] As such, despite her outward gentleness, Guinivere is no pushover. She is more than ready to stand up for what she believes in. She believes in her convictions more than in her family ties.[3]
Guinivere hates war and bloodshed, which is why she opposes Zephiel and sides with Roy[4]. She is also loyal and continues to support Roy throughout the story. Her main motivation is to prevent people from facing bloodshed and the pain of war, even at the expense of her own wellbeing.[5][6] Despite the danger, she stole the Fire Emblem from the Shrine of Seals and opposed her half-brother, putting her at risk.[7]
Guinivere is ready to sacrifice her position and safety if it means she can do the right thing.[8] She cares more about her ideals than her life, as shown in her conversation with Melady in Heroes' Forging Bonds event conversation.[9] She feels responsible for her half-brother's actions and blames herself for the conflict, even though Roy does not blame her for it whatsoever.[10] This shows that she has the best interest of her country's citizens at heart and is ready to do anything for their sake. If it means that she must oppose her family, so be it. Guinivere does feel like a traitor by siding against Zephiel, but she owns up to it and does not allow it to stop her.[11][12]
Despite her position as the Princess of Bern, she remains humble about it and never flaunts her royal status.[13] Moreover, she is very tolerant of others and never looks down on anyone. Her retainers are very loyal to her, and she is very protective of them, always worrying whenever they put herself at risk.[14] Guinivere tends to put others before herself and treats everyone she cares about with utmost care, doing her best never to harm them in any way. She is grateful for other people's support, since that support gives her the confidence to move forward.[15]
When Guinivere was young, she played pranks on Zephiel, showing a more mischievous side. She and Zephiel had a loving sibling relationship. That aspect has been lost over time as she began to face more responsibility, and as Zephiel's beliefs changed.[16]
While Guinivere still cares about Zephiel deep in her heart, she believes that he has gone past the point of no return. Zephiel's feelings about the matter are mutual, as shown in his conversation with her in Heroes' Forging Bonds event.[17] This puts them on opposing sides of the war. Both Guinivere and Zephiel believe there is no other way to resolve this. They have lost understanding of each other over time, and they can no longer reconcile. It is a tragic fate, but both siblings managed to make peace with it.[18]
When Guinivere meets the younger Zephiel in Heroes' Forging Bonds event, however, Guinivere believes there is hope for him. He has not yet forsaken humanity there, so the root of his beliefs can still be ripped out. However, the responsibility for that falls to Zephiel and not Guinivere, in Guinivere's opinion. This shows that Guinivere is not the type of person to do everything for other people. She is more than willing to support others, but does not take their agency away. She believes that people should be free to make their own choices.[19]
Moreover, Guinivere believes in basing one's life on their principles. She also believes that these principles should be founded by the individual, not derived from other influences; a part of her distaste for Zephiel's beliefs is the fact they were not created by Zephiel himself, but by dragons. She hopes that the younger Zephiel she meets in Heroes' Forging Bonds event will be able to choose a path on his own. She believes that his nature is good.[20] According to Lilina, Guinivere is too brilliant and strong to succumb to possible rebellions against her. [21]
This shows that Guinivere is a strong believer in morals and the power of choice. She wants everyone to choose their path without being swayed by dark influences. And that is what she ultimately does herself. This is what led Guinivere to oppose Zephiel, steal the Fire Emblem and seek out a peaceful solution in Lycia. She follows her established principles. That is also why others are so loyal to her and why she has a great reputation. She sets an example for others to follow, and lives in accordance to her declared beliefs.
Quotes
Main article: Guinivere/Quotes (Heroes)
Other appearances
Fire Emblem Cipher
Guinivere is featured on two cards in Fire Emblem Cipher.
One of the below cards' epithets is still in raw, untranslated Japanese; it needs translation.
Fire Emblem Cipher data for Guinivere
Princess of Bern, Guinivere
"Within the Shrine of Seals lies the sword of the founding king Hartmut... The Fire Emblem is the key to accessing it once more."
Attack: 50
Support: 20
Range: 1-2
Deploy Cost: 3
Class: Sage
Tier: Advanced
Class Change Cost: 2
Binding Jewel:

[Trigger]

[] [] When this unit is deployed, if you have fewer Orbs than your opponent, you may pay the cost and if you do: Add the top card of your deck to your Orbs.
Card #B09-067HN • Artist: Sachiko Wada
至高の光で世を照らす者, Guinivere
"I must not turn a deaf ear to their pain. To hear it is the very least that I, a traitor to Bern, can do..."
Attack: 60
Support: 20
Range: 1-2
Deploy Cost: 4
Class: Sage
Tier: Advanced
Class Change Cost: 3
Aureola, the Legendary Weapon:

[Activate]

[Flip 1 bond card face-down] Until the end of the turn, this unit gains +20 attack.
Elimine's Miracle:

[Activate]

[Once per turn]

Look at the 3 cards at the top of your Deck. Choose 1 card from among them, add it to your hand, and place the remainder on the top of your Deck in any order you wish. This skill is only usable if this unit has used "Aureola, the Legendary Weapon" 2 or more times in this turn.
Card #B22-041SR • Artist: Rika Suzuki
Some card information translation provided by Serenes Forest.
For more detailed strategic information on these cards, see their TCG wiki article on Guinivere .
Flavor text
Game
Text
(English)
Text
(Japanese)

The Binding Blade

The princess of Bern.
Noble and self-sacrificing.

*

ベルン王国の女王

Heroes

Princess of Bern, and sister of the king, Zephiel.
Her beauty, kindness, and intelligence make her
popular among her people. Appears in Fire
Emblem: The Binding Blade.
ベルン国王ゼフィールの妹。
その美しさ、優しさ、聡明さから民に支持される。
(登場:『ファイアーエムブレム 封印の剣』)
Trivia
Etymology and other languages
Names, etymology and in other regions
Language
Name
Definition, etymology, and notes
English

• Guinivere
• Guinevere

• Localized name in all English versions of Fire Emblem: The Blazing Blade.
• Referenced in Roy's Trophy Profile in Super Smash Bros. Melee.
Both come from "Guinevere", which is is the Norman form of the Welsh Gwenhwyfar, with Gwen meaning white or fair and Hwyfar meaning smooth. Guinevere was also the name of King Arthur's beloved wife.[22]

Japanese

ギネヴィア

Officially romanized as Guinevere.

Spanish

Guinivere

As above.

French

Guinivere

As above.

German

Guinivere

As above.

Italian

Guinivere

As above.

Portuguese
(Brazil)

Guinivere

As above.

Traditional Chinese

姬妮薇雅

Guinevere
Gallery
Sprite Gallery

The Binding Blade
The Blazing Blade
Heroes artwork
Battle animations
Other appearances
References