Site News
Warning: This wiki contains spoilers. Read at your own risk!


Social media: If you would like, please join our Discord server, and/or follow us on Twitter or Tumblr!

Engage info: As the game has only recently released, we lack much key information. Please help add any info that you can.
Pherae
From Fire Emblem Wiki, your source on Fire Emblem information. By fans, for fans.
Pherae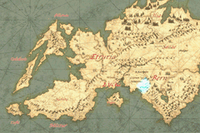 Pherae (Japanese: フェレ Pherae) is one of the marches of Lycia in Fire Emblem: The Binding Blade and Fire Emblem: The Blazing Blade. Located in the southeast corner of Lycia, sharing its eastern border with Bern, it is one of the best known marches. It is also bordered by the sea to the south and by Santaruz to the north and west.
According to The Blazing Blade, Pherae has been at peace for a long time. It is shown to maintain a good relationship with the other members of the Lycian League, especially Ostia and Santaruz.
As seen in the maps, Pherae's landscape mostly features grass and some forests; it is also bordered by the sea to the south and some mountains to the east.
Most of the characters who come from this march use swords, lances or bows, as they are part of the Pheraen army. The notable exceptions are Eleanora, who is pictured as a bishop in-game, and Dan, whose class is unknown.
Known rulers of Pherae are Elbert in The Blazing Blade, Eliwood in The Binding Blade, and Roy after the events of The Binding Blade.
Characters from Pherae
Character
Description
Appears in

Elbert
Marquess of Pherae and Eliwood's father.

The Blazing Blade


Eliwood
The young son of Marquess Elbert, and later, Marquess of Pherae and Roy's father.

The Binding Blade

,

The Blazing Blade


Roy
Lord Eliwood's son.

The Binding Blade

,

The Blazing Blade


Eleanora
Lord Elbert's wife and Eliwood's mother.

The Blazing Blade


Marcus
Head of the knights of Pherae, and later, Lord Eliwood's trusted adviser.

The Binding Blade

,

The Blazing Blade


Harken
A knight serving House Pherae, he accompanied Lord Elbert to investigate the rumours.

The Blazing Blade


Isadora
A knight of Pherae and steward to Lady Eleanora.

The Blazing Blade


Lowen
A fresh recruit from a humble family.

The Blazing Blade


Rebecca
An archer from a small village, and later, Eliwood's retainer and Wolt's mother.

The Blazing Blade


Wil
A wandering archer. Alongside Dan, left Pherae some years ago to become a mercenary.

The Blazing Blade

N/A
Dan
Rebecca's lost brother. Left Pherae together with Wil, but later went missing after parting ways.

The Blazing Blade


Merlinus
A traveling merchant, and later, Lord Eliwood's retainer and Roy's adviser.

The Binding Blade

,

The Blazing Blade


Alen
A knight serving House Pherae.

The Binding Blade


Lance
A knight serving House Pherae.

The Binding Blade


Wolt
A knight serving House Pherae. Rebecca's son and Roy's milk brother.

The Binding Blade


Dorcas
An axeman from a small village of Bern. After Lundgren's defeat, he moves to Pherae with his wife.

The Blazing Blade


Natalie
Dorcas's wife.

The Blazing Blade
Etymology and other languages
Names, etymology and in other regions
Language
Name
Definition, etymology, and notes
English

• Pherae
• Pharae

• Pherae was an ancient Greek city in Thessaly. In mythology, its king, Admetus, was told by the god Apollo that he would soon pass away; Admetus's wife Alcestis voluntarily took his place, but Heracles saved her by wrestling Thanatos.[1]
• Corruption of the above used in Super Smash Bros. Melee.

Japanese

フェレ

Officially romanized as Pherae.

Spanish

Pherae

--

French

Pherae

--

German

Pherae

--

Italian

Pherae

--

Portuguese

Pherae

--

Traditional Chinese

費雷

Pherae
Gallery
References