Site News
Warning: This wiki contains spoilers. Read at your own risk!


Discord and Twitter: If you would like, please join our Discord server, and/or follow us on Twitter at @FEWikiOfficial!
Holst
From Fire Emblem Wiki, your source on Fire Emblem information. By fans, for fans.
---
This page has been marked as a stub. Please help improve the page by adding information.
---
Holst Sigiswald Goneril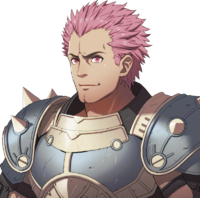 Artwork of Holst from Three Hopes.
Holst Sigiswald Goneril (pronounced /hoʊlst/[key]; Japanese: ホルスト=ジギスヴァルト=ゴネリル Holst Sigiswald Goneril) is a non-playable character mentioned in Fire Emblem: Three Houses. He is Hilda's brother and the heir to House Goneril.
Biography
Holst is the heir to House Goneril of the Leicester Alliance. At some point prior to Imperial Year 1180, he enrolled in the Officers Academy in the Golden Deer House, notably achieving victory in the annual Battle of the Eagle and Lion.[1] Also prior to 1180, Holst met and befriended Balthus, heir apparent of House Albrecht of the Leicester Alliance.[2] After graduating, Holst was charged with the defense of Fódlan's Throat, protecting both the Alliance and Fódlan from the Almyran invasions that take place at the location.[3] His prowess in battle against the Almyran army earned him the reputation as one of Leicester's foremost commanders.[3]
Whether on Hilda's (1180 or 1185, routes other than Crimson Flower) or Edelgard's paralogue (1185, Crimson Flower), Holst at one point succumbs to food poisoning after consuming some mushrooms,[4] forcing either Hilda or Edelgard to protect Fódlan's Locket from a sudden Almyran invasion.[5][6]
During the War Phase of the Verdant Wind route, Claude, the new leader of the Alliance, arranges a meeting between Holst and Nader, a renowned Almyran general, so that the Almyran army can cross Fódlan's Locket and provide reinforcements to Claude's infiltration of Adrestia's Fort Merceus.[7] After the fall of Shambhala, he intercepts Nemesis's army at the Great Bridge of Myrddin as they march towards Garreg Mach Monastery, an encounter in which he sustains grave injuries before being forced to retreat from battle.[8]
Personality and character
While Holst never appears in person in Three Houses, he is highly regarded as a noble in the Alliance due to his military accomplishments;[9] Hilda describes him as clingy and overprotective of her well-being.[10] He is also shown to value what he deems to be respectable character rather than a person's heritage.[11]
Etymology and other languages
Names, etymology and in other regions
Language
Name
Definition, etymology and notes
English

Holst Sigiswald Goneril

Holst is a surname of Danish and Norwegian origin; it originally meant Holsatian or "a person from Holstein". Sigiswald is a Germanic name derived from elements meaning "victory" and "power". Goneril is the name of the eldest daughter of King Lear in William Shakespeare's play King Lear. Other characters from Leicester also have surnames derived from the names of King Lear characters.

Japanese

ホルスト=ジギスヴァルト=ゴネリル

Holst Sigiswald Goneril, as above

Spanish

Holst

As above

French

Holst

As above

German

Holst

As above

Italian

Holst

As above

Korean

홀스트

Holst

Simplified Chinese

荷尔斯特

Holst

Traditional Chinese

荷爾斯特

Holst
References
Fire Emblem: Three Houses
Playable characters

Black Eagles

Bernadetta • Caspar • Dorothea • Edelgard • Ferdinand • Hubert • Linhardt • Petra

Blue Lions

Annette • Ashe • Dedue • Dimitri • Felix • Ingrid • Mercedes • Sylvain

Golden Deer

Claude • Hilda • Ignatz • Leonie • Lorenz • Lysithea • Marianne • Raphael
Other
Alois • Anna

*

• Byleth • Catherine • Cyril • Flayn • Gilbert • Hanneman • Jeritza

*

• Manuela • Seteth • Shamir

Ashen Wolves

*

Balthus • Constance • Hapi • Yuri
Non-playable characters
Abysskeeper

*

• Duke Aegir • Lord Arundel • Count Bergliez • Count Hevring • Count Gloucester • Count Varley • Fleche • Gatekeeper • Duke Gerth • Glenn • Holst • Ionius IX • Jeralt • Judith • Ladislava • Lambert • Margrave Gautier • Monica • Nader • Patricia • Randolph • Rhea • Rodrigue • Rufus • Seiros • Sitri • Sothis • Tomas • Tiana
Bosses
Acheron • Aelfric

*

• Alois • Lord Arundel • Bias • Blaiddyd • Caspar • Catherine • Charon • Chilon • Claude • Cornelia • Daphnel • Dedue • Death Knight • Dimitri • Dominic • Baron Dominic • Edelgard • Felix • Ferdinand • Flame Emperor • Flayn • Fraldarius • Gautier • Gloucester • Goneril • Gwendal • Hubert • Ingrid • The Immaculate One • The Immovable • Judith • Kostas • Kronya • Ladislava • Lamine • Linhardt • Lonato • Lorenz • Mercedes • Metodey • Miklan • Myson • Nader • Nemesis • Baron Ochs

*

• Odesse • Pallardó • Pittacus • Randolph • Rhea • Riegan • Rodrigue • Seteth • Shamir • Solon • Sylvain • Thales • Wandering Beast • The Wind Caller
Personal weapons and regalia
Aegis Shield • Areadbhar • Asclepius • Athame • Axe of Ukonvasara • Aymr • Blutgang • Caduceus Staff • Circe Staff • Crusher • Failnaught • Fetters of Dromi • Freikugel • The Inexhaustible • Lance of Ruin • Lúin • Ochain Shield • Rafail Gem • Scythe of Sariel • Seiros Shield • Spear of Assal • Sword of Begalta • Sword of Moralta • Sword of Seiros • Sword of the Creator • Tathlum Bow • Thunderbrand • Thyrsus • Vajra-Mushti
Chapters
Part I

Prologue: An Inevitable Encounter • 1: Three Houses • 2: Familiar Scenery • 3: Mutiny in the Mist • 4: The Goddess's Rite of Rebirth • 5: Tower of Black Winds • 6: Rumors of a Reaper • 7: Field of the Eagle and Lion • 8: The Flame in the Darkness • 9: The Cause of Sorrow • 10: Where the Goddess Dwells • 11: Throne of Knowledge • 12: To War / Outset of a Power Struggle
Part II
Silver Snow

13: Reunion at Dawn • 14: A King Without a Kingdom • 15: Valley of Torment • 16: The Rose-Colored River • 17: The Impregnable Fortress • 18: The Chaos of War • 19: Conclusion of the Crossing Roads • 20: The City Without Light • 21: Following a Dream
Azure Moon

13: Reunion at Dawn • 14: The Delusional Prince • 15: Valley of Torment • 16: The Rose-Colored River • 17: Blood of the Eagle and Lion • 18: The King's Triumphant Return • 19: The Golden Deer's Plea • 20: The Impregnable Fortress • 21: Our Chosen Paths • 22: Oath of the Dagger
Verdant Wind

13: Reunion at Dawn • 14: The Alliance Leader's Ambitions • 15: Valley of Torment • 16: The Rose-Colored River • 17: Blood of the Eagle and Lion • 18: The Golden Scheme • 19: The Chaos of War • 20: Conclusion of the Crossing Roads • 21: The City Without Light • 22: Fódlan's New Dawn
Crimson Flower

13: Beyond Escape • 14: The Master Tactician • 15: Tempest of Swords and Shields • 16: Lady of Deceit • 17: Field of Revenge • 18: To the End of a Dream
Paralogues
Part I
A Cursed Relic

*

• An Ocean View • Black Market Scheme

*

• Death Toll • Dividing the World • Falling Short of Heaven • The Forgotten • Land of the Golden Deer • Oil and Water • Rumored Nuptials • The Secret Merchant

*

• Sword and Shield of Seiros • Tales of the Red Canyon • True Chivalry • War for the Weak
Part II
Darkness Beneath the Earth • Dividing the World • Eternal Guardian • The Face Beneath • Foreign Land and Sky • Forgotten Hero • Insurmountable • Legend of the Lake • Retribution • The Secret Merchant

*

• The Silver Maiden • The Sleeping Sand Legend • Weathervanes of Fódlan
Cindered Shadows
(DLC side story)

1: The Fourth House • 2: What Lies Beneath • 3: The Rite of Rising • 4: Danger in the Dark • 5: Betrayal • 6: Return to Me • 7: Wolf Pack
Locations
Fódlan (Abyss • Adrestia • Faerghus • Garreg Mach Monastery • Leicester) • Almyra • Brigid • Dagda • Sreng
Groups, objects and concepts
10 Elites • Ashen Wolves • Black Eagles • Blue Lions • Children of the Goddess • Church of Seiros (Knights of Seiros) • Crests (Crest Stone) • Divine Pulse • Golden Deer • Heroes' Relics • Insurrection of the Seven • Monsters • Those who slither in the dark • Tragedy of Duscur • War of Heroes
Related topics
Music Library • Name chart • Other games (Fire Emblem Warriors: Three Hopes) • Pre-release information • Unused content • Downloadable content • List of quests • Class mastery