Site News
Warning: This wiki contains spoilers. Read at your own risk!


Social media: If you would like, please join our Discord server, and/or follow us on Twitter or Tumblr!

Engage info: As the game has only recently released, we lack much key information. Please help add any info that you can.
Valter
From Fire Emblem Wiki, your source on Fire Emblem information. By fans, for fans.
Valter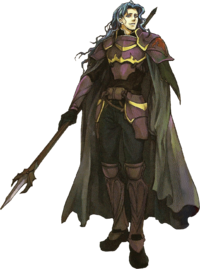 Artwork of Valter from The Sacred Stones.
---
A general in Grado's army.
This cruel man is also known as Moonstone.
| | |
| --- | --- |
| Gender | Male |
| Race | |
| Nationality | |
| Title(s) | Moonstone |
| Starting class | |
| Voiced by | |
| Appearance(s) | |
| | | | |
| --- | --- | --- | --- |
| " | I am Valter, the Moonstone, Grado's finest general! And you're just a corpse who does not know he is dead. | " | — Valter to Seth |
Valter (Japanese: ヴァルター Walter) is a boss character from Fire Emblem: The Sacred Stones. He is one of Grado's Imperial Generals, known as the Moonstone. Having been stripped of his rank before the events of the game, he is reinstated and charged with destroying the Sacred Stone of Renais. Valter is a ruthless warrior and a relentless adversary, and destroys anyone threatening his plans.
Role
Valter is a prominent antagonist through the first three-fourths of The Sacred Stones. He appears in the Prologue and wounds Seth in a cutscene.
After this he remains a looming, but not direct, threat for the next 14 chapters. Valter acts in the background, instigating several parties. In particular, he kills fellow imperial general Glen and commands Selena back to the Grado capital on treason charges.[1]
Finally, he appears in Chapter 15 as one of the two bosses of the chapter, alongside Caellach. Along with Caellach he is killed by Eirika and Ephraim's combined forces.
In the Creature Campaign Valter can be recruited as a bonus unit. In this appearance, and like all other Creature Campaign characters, he has no dialogue or support conversations with other characters.
Starting stats and growth rates
See also: Scorched Sand
Stats with two figures separated by a ~ are presented as a range, representing stats that vary due to random growths. The figures to the left and right of the ~ are the stat's minimum and maximum possible values respectively.
Boss, Easy/Normal Boss, Difficult (Eirika) Boss, Difficult (Ephraim) Playable, Creature Campaign
Role
Valter is one of the characters added to the game in the The Sacred World update, and was made available to players in the thirteenth Grand Hero Battle, which initially ran from August 21, 2017 through August 29, 2017. Only one variation of Valter is currently available in Heroes, based on his The Sacred Stones incarnation.
Starting stats
Initial Stats Level 40 Stats

Note: This unit requires the usage of Trait Fruit to access any flaws and assets.
Skill set
Skill set
Skill
Rarity
SP cost
Iron Lance
Innate
Steel Lance
Innate
Silver Lance
★★★
200 SP
Cursed Lance
★★★★★
400 SP
New Moon
★★★
100 SP
Luna
★★★★
200 SP

A

Darting Blow 1
★★★
50 SP

A

Darting Blow 2
★★★
100 SP

A

Darting Blow 3
★★★★
200 SP

C

Panic Ploy 1
★★★
60 SP

C

Panic Ploy 2
★★★★
120 SP

C

Panic Ploy 3
★★★★★
240 SP
Personality and character
Valter is a cruel, violent man in Grado's army. He eagerly seeks out violence at any available opportunity, even blatantly stating that he wished for endless war after he murders Glen.[2] He also has an expressed interest in 'taming' Eirika, and seeks to break her and make her his.[3]
However, his extreme tendencies do have a source. Duessel mentions to Cormag an incident with Valter and a cursed lance. Duessel states that Valter, while not a 'gentle lamb', was not an unreasonably violent madman before using the lance. Valter's newfound bloodlust had him exiled from Grado entirely,[4] further fueling Valter's bloodlust with hatred, causing him to hold a grudge against Glen and Grado's old command as a whole.[5]
Quotes
Battle quotes
| | | | |
| --- | --- | --- | --- |
| " | I've no use for these bloodless minnows... Give me prey that will sate my bloodlust... I hunger! | " | — Valter |
"
Valter: What now, Cormag? Have you betrayed your oaths and your emperor?
Cormag: I have. I can no longer serve Grado. But I must know the truth, Valter, and you will tell me. You're the one who murdered my brother aren't you?
Valter: ...Hmph. No reason for lies, seeing as you're nothing but a traitor. You're right, Cormag! I was the one who cut your brother down. He was just like you, a weak, pitiful fool.
Cormag: ...... Ha... Ha ha ha...
Valter: Why do you laugh, dolt?
Cormag: How can I not? I've dreamt of revenge, chased it for days... And now it's here before me. Oh, Valter... Your death will be slow and agonizing.
"

— Valter to Cormag in Chapter 15: Scorched Sand, Eirika route
"
Valter: Is that you, Cormag? Even you have turned your back on your emperor?
Cormag: .......
Valter: Don't tell me you stand there thinking you can beat me. You're not strong enough. You know this to be true.
Cormag: .......
Valter: If you swear fealty to Grado again, I may let you live. You don't want to die an oath breaker, do you? Well? Will you crawl before me and beg for forgiveness?
Cormag: ...Yes, I have broken my vows, Valter. And yes, it may be I who falls when we tilt lances... But a dog like you will never see me crawl.
Valter: Brave words from a traitor. Let's see if your lance is as sharp as your tongue.
"

— Valter to Cormag in Chapter 15: Scorched Sand, Ephraim route
"
Valter: Mmm... I've been waiting for you, Eirika!
Eirika: Who are you?
Valter: Have you forgotten? We met once at Castle Renais. No? Look closely, Eirika. Do you not remember the face of he who will master you?
Eirika: Wha–!?
Valter: Yes, resist. It's much more fun for me that way. Come, Eirika. I should like to tame you.
Eirika: I am here on a mission. One that I swore to my brother I would fulfill. I will not be stopped by the likes of you!
"

— Valter to Eirika in Chapter 15: Scorched Sand
"
Valter: Hello Ephraim, I let you flee once, but this time, there's no escape.
Ephraim: Escape? I'm not going anywhere. I came here for you. I came here to defeat you.
Valter: What's this? A scurrying little mouse that roars like a lion? Are you saying this time will be different than the last? Will you finally provide me with some amusement?
Ephraim: I'll do far more than that. I'll provide you with a sorry end to your messy life.
"

— Valter to Ephraim in Chapter 15: Scorched Sand
Death quote
| | | | |
| --- | --- | --- | --- |
| " | Urggh...Gaaaah! | " | — Valter |
Heroes quotes
Main article: Valter/Quotes (Heroes)
Other appearances
Fire Emblem Cipher
Valter is featured on one card in Fire Emblem Cipher.
Fire Emblem Cipher data for Valter
Cruel Moonstone, Valter
"I am Valter, the Moonstone. You're a dead man. The wench goes with me."
Attack: 70
Support: 30
Range: 1
Deploy Cost: 5
Class: Wyvern Knight
Tier: Advanced
Class Change Cost: 4
"You're just a corpse.":

[Always]

If this unit is attacking your opponent's Main Character, this unit gains +10 attack.
"Try to outrun death.":

[Always]

If this unit is in the Front Line, this unit may attack your opponent's Main Character regardless of range.
"Bend your knee, and beg for your life.":

[Trigger]

[] When this unit's attack destroys your opponent's Main Character, you may pay the cost and if you do: Your opponent choose 1 card from their hand, and sends it to the Retreat Area.
Card #B18-099R • Artist: Tomohide Takaya
Some card information translation provided by Serenes Forest.
For more detailed strategic information on these cards, see their TCG wiki article on Valter .
Flavor text
Game
Text
(English)
Text
(Japanese)

The Sacred Stones

A general in Grado's army. This cruel
man is also known as Moonstone.

グラド帝国将軍の1人
【月長石】の名をもつ残虐非道の奇将

Heroes

One of Grado's six generals. Cruelty intoxicates
him. Known as Moonstone. Appears in
Fire Emblem: The Sacred Stones.

グラド帝国六将の一人。【月長石】の異名を持つ。
残虐な行為を好む奇将。
(登場:『ファイアーエムブレム 聖魔の光石』)
Trivia
Valter and his rival Glen have titles that reflect their opposing relationship. Glen is referred to as the Sunstone while Valter is referred to as the Moonstone.
In the Official Nintendo Power Guidebook for The Sacred Stones, Valter's base stats are mistakenly listed as those from the Japanese version of the game instead of the Western version.[6]
Etymology and other languages
Names, etymology and in other regions
Language
Name
Definition, etymology, and notes
English

Valter

A variant of the Old German name Walter, which means "commander of the army".[7]

Japanese

ヴァルター

Officially romanized as Walter.

Spanish

Valter

--

French

Valter

--

German

Valter

--

Italian

Valter

--

Portuguese

Valter

--

Traditional Chinese

瓦爾達

Walter
Gallery

Sprite Gallery
Heroes artwork
Other appearances
References
| | |
| --- | --- |
| | This article is part of Project Characters, a project focused on writing articles for every character present in the Fire Emblem series. |