Site News
Warning: This wiki contains spoilers. Read at your own risk!


Social media: If you would like, please join our Discord server, and/or follow us on Twitter or Tumblr!

Engage info: As the game has only recently released, we lack much key information. Please help add any info that you can.
Rosado
From Fire Emblem Wiki, your source on Fire Emblem information. By fans, for fans.
---
This article's subject is about a recently released game or expansion. As such, key information is likely to be missing. Please help out and add the information that you can.
---
---
This page has been marked as a stub. Please help improve the page by adding information.
---
Rosado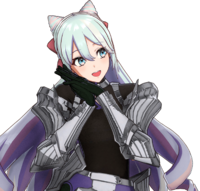 Portrait render of Rosado.
---
Princess Hortensia's retainer. He loves cute things, and always maintains a bright, positive attitude.
| | |
| --- | --- |
| Gender | Male |
| Race | Human |
| Age | 17 |
| Birthday | January 19th |
| Height | 169 cm (5'7") |
| Nationality | |
| Starting class | |
| Voiced by | |
| Appearance(s) | |
Rosado (Japanese: ロサード Rosado) is a playable character in Fire Emblem Engage.
Biography
Rosado is from a place called "the village of the fair folk", near the Lake of Mystery. The village holds a culture that allows individuals to dress and express themselves any way they choose, causing Rosado to be a bit shocked at the difference of the outside world when he left.[2] The village is mentioned by others as a place whose inhabitants never grow tired and can feast to their heart's content while never overfilling themselves.[3] The true nature of the village remains unclear.
Before Engage, Rosado attended academy lessons with Hortensia. Due to difficulty during his studies, Rosado instead became focused on becoming popular.[4] Hortensia was the one that brought him back in line, by reminding him that cuteness will not make up for giving up so easily.[5]
During Engage Rosado is a palace soldier of Elusia and a retainer and friend of Princess Hortensia.[1]
Role
Rosado is a playable character.
Starting stats and growth rates
Playable
For EXP calculation purposes, Rosado is considered to have gained 17 levels in a base class before reclassing to Wyvern Knight.
| | |
| --- | --- |
| | Recruitment: Chapter 16, automatically from turn 1. |
Enemy - Chapter 7
Enemy - Chapter 10
---
This section is missing stats, calculations, or growth rates which may be currently unknown. If this information is available, please help improve the page by adding it.
---
Personality and character
Rosado is bright, positive, and optimistic, pursues cuteness and beauty, and enjoys life to its fullest.[1] Rosado's primary hobby is art, with a particular focus on unique landscapes and showing the true character of the people he depicts.
Endings
Adorable Artist Rosado
Rosado was dubbed a knight for his service. He traveled the land, seeking to destroy the Corrupted for good—resuming his studies only when that task was done.
Later in life, he earned further fame as an artist. A portrait of the royal family at their cutest still hangs in Elusia Castle.
Divine Dragon Alear & Adorable Artist Rosado
Alear became the new Divine Dragon Monarch. His/Her bonds with the rulers of each nation resulted in lasting peace.
Rosado graduated from Elusia's academy and spent the rest of his life contributing to Lythos's art. A portrait of the two friends was put on display for millennia.
Quotes
Battle quotes
| | | | |
| --- | --- | --- | --- |
| " | It's your lucky day, cutie. You get to fight me! | " | — Rosado in Chapter 7. |
"
Rosado: Wow, the Divine Dragon! Happy to meet you. But I'd be happier if you gave me your rings.
Alear: I'd be happy if you surrendered.
"

— Rosado and Alear in Chapter 7.
| | | | |
| --- | --- | --- | --- |
| " | My victory drawing won't be complete without the Emblems, Divine One. Bring 'em back to us! | " | — Rosado in The Last Engage. |
"
Rosado: I didn't think we'd get to hang out this much, Eirika. It's been lots of fun!
Eirika: I'm glad that it's you who engaged with me. Every day is a new experience.
Rosado: Aw, thanks so much! Now you've got me blushing though...
Eirika: Well, raise your weapon or I'll have to embarrass you further.
"

— Rosado and Alear in The Azure Twin.
Defeat quotes
| | | | |
| --- | --- | --- | --- |
| " | I'm sorry, Hortensia. I have to retreat... | " | — Rosado in Chapter 7. |
Flavor text
Game
Text
(English)
Text
(Japanese)

Engage

Princess Hortensia's retainer.
He loves cute things, and always
maintains a bright, positive attitude.

オルテンシアの臣下。
可愛いもの好きで明るく前向きな性格。
Etymology and other languages
Names, etymology and in other regions
Language
Name
Definition, etymology, and notes
English

Rosado

A Spanish word for pink, derived from rosa, "rose"; also the Spanish name of rosé wine.

Japanese

ロサード

Officially romanized as Rosado.

Spanish

Rosado

--

French

Rosado

--

German

Rosado

--

Italian

Rosado

--

Korean

로사도

Rosado

Simplified Chinese

罗萨德

Rosado

Traditional Chinese

羅薩德

Rosado
Gallery
References
↑ 1.0 1.1 1.2

ファイアーエムブレム エンゲージ:世界の命運を握る者たち | Nintendo Switch | 任天堂

, nintendo.co.jp, Published: December 9, 2022, Retrieved: December 9, 2022
↑ "Rosado:I was born in a village near the Lake of Mystery. Some people call it the village of the fair folk. It's a place of wonder. Beauty beyond the silly expectations that come with stuff like gender.
Lapis: Wow! I've never heard of such a place.
Rosado: Everyone accepts everyone there. However you see and present yourself, you're beautiful. That was my normal, growing up. It was a big shock when I left─seeing how different I was!" — Rosado to Lapis in a support conversation, Fire Emblem Engage
↑ "Pandreo: I guess it's different for you. You're from the village of the fair folk.
Rosado: Sure am!
Pandreo: I hear people there can go all night long and not even have shadows under their eyes. I've even heard you can eat and drink to your heart's content without getting full." — Pandreo to Rosado in a support conversation, Fire Emblem Engage
↑ "You were so focused on being popular that you completely neglected your studies." — Goldmary to Rosado in a support conversation, Fire Emblem Engage
↑ "She said no matter how cute or charming I am, I'll be a loser if I don't apply myself." — Rosado to Goldmary in a support conversation, Fire Emblem Engage
| | |
| --- | --- |
| | This article is part of Project Characters, a project focused on writing articles for every character present in the Fire Emblem series. |