Site News
Warning: This wiki contains spoilers. Read at your own risk!


Social media: If you would like, please join our Discord server, and/or follow us on Twitter or Tumblr!

Engage info: As the game has only recently released, we lack much key information. Please help add any info that you can.
Louis
From Fire Emblem Wiki, your source on Fire Emblem information. By fans, for fans.
---
This article's subject is about a recently released game or expansion. As such, key information is likely to be missing. Please help out and add the information that you can.
---
---
This page has been marked as a stub. Please help improve the page by adding information.
---
Louis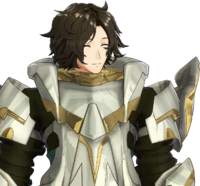 Portrait render of Louis.
---
Princess Céline's retainer. A smiling, refined gentleman who loves tea.
Louis (Japanese: ルイ Louis) is a playable character in Fire Emblem Engage.
Biography
Louis is a royal castle knight of Firene.[1]
Role
Louis is a playable character.
Starting stats and growth rates
| | |
| --- | --- |
| | Recruitment: Chapter 4, automatically from turn 1. |
Personality and character
Louis is gentle, takes care of his friends, and enjoys seeing them in harmony.[1]
Endings
Watchful Valet Louis
Louis retired as a knight and became a butler to the royal family. The black tea he brewed and his attentive care aided them in running the government.
His interest in people watching was a lifelong love, but however many tried to join him, he always preferred to stroll gardens alone.
Divine Dragon Alear & Watchful Valet Louis
Alear became the new Divine Dragon Monarch. His/Her bonds with the rulers of each nation resulted in lasting peace.
Louis worked hard, rarely taking in the sights of others socializing. He often took hot black tea to the Divine Dragon Monarch in the evening, so they might chat.
Quotes
---
This section has been marked as a stub. Please help improve the page by adding information.
---
Battle quotes
| | | | |
| --- | --- | --- | --- |
| " | Fight on, Divine One! Let us bring you and the Emblems together once more! | " | — Louis in Chapter 26. |
Critical quotes
| | | | |
| --- | --- | --- | --- |
| " | It's tea time! | " | — Louis |
| | | | |
| --- | --- | --- | --- |
| " | What a lovely scene. | " | — Louis |
| | | | |
| --- | --- | --- | --- |
| " | I shall dispose of you. | " | — Louis |
| | | | |
| --- | --- | --- | --- |
| " | Observe your ruin! | " | — Louis |
Defeat quotes
Flavor text
Game
Text
(English)
Text
(Japanese)

Engage

Princess Céline's retainer. A smiling,
refined gentleman who loves tea.

セリーヌの臣下。
いつもにこやかな礼儀正しい紳士。
Etymology and other languages
Names, etymology and in other regions
Language
Name
Definition, etymology, and notes
English

Louis

A French given name of Germanic origin, derived from elements meaning "loud" and "battle".

Japanese

ルイ

Officially romanized as Louis.

Spanish

Louis

--

French

Louis

--

German

Louis

--

Italian

Louis

--

Korean

루이

Louis

Simplified Chinese

路易

Louis

Traditional Chinese

路易

Louis
Gallery
Official artwork
Screenshots
References
↑ 1.0 1.1 1.2 "

ルイ(CV:石谷春貴さん)は、「フィレネ王国」の王城騎士。温和な従者で、巨大な鎧を身にまとっています。いつも仲間の様子に気を配っており、仲間たちが和気あいあいとしている姿を見るのが幸せのようです。

" — Fire Emblem JP on Twitter, Twitter, Published: October 17, 2022, Retrieved: October 17, 2022
| | |
| --- | --- |
| | This article is part of Project Characters, a project focused on writing articles for every character present in the Fire Emblem series. |