Site News
Warning: This wiki contains spoilers. Read at your own risk!


Discord and Twitter: If you would like, please join our Discord server, and/or follow us on Twitter at @FEWikiOfficial!
Nergal
From Fire Emblem Wiki, your source on Fire Emblem information. By fans, for fans.
Nergal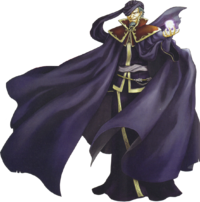 Artwork of Nergal from The Blazing Blade.
---
An avaricious fiend who turns death into power.
| | |
| --- | --- |
| Gender | Male |
| Race | |
| Age | 1000s[1] |
| Family | |
| Title(s) | Bringer of Calamity[2] |
| Starting class | |
| Appearance(s) | |
| | | | |
| --- | --- | --- | --- |
| " | Death feeds me. Death pleases me. I am the essence I consume. | " | — Nergal to Eliwood |
Nergal (Japanese: ネルガル Nergal) was a sorcerer and a former friend of the Archsage Athos. His studies with Athos in Arcadia led him to delve deep into the dark arts surrounding the use of the quintessence of living creatures.
Biography
Known early life
During the Scouring Nergal is known to have conducted studies into dark magic on Valor near the Dragon's Gate.[3] At some point around this time, his lover Aenir, an Ice Dragon, disappeared; as he puts it to his children, "bad men took her away".[4] Shortly after her abduction, Nergal leaves his two young children near the Dragon's Gate and instructs them to pass through it if he does not return in ten days. He reassures the pair that he will return before the time has passed; it appears he never found Aenir and was unable to return as said children end up passing through the gate.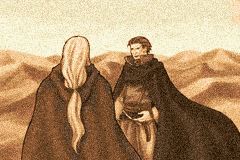 Some 500 years later, Nergal meets one of the Eight Legends, Athos, in the Nabata Desert.[5] What happened to Aenir and his activities in this 500 year window of time before this are not elaborated, as the information from this time period is from Athos's recounting of his first meeting with Nergal.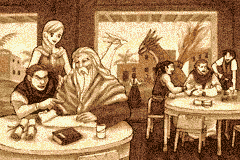 According to Athos, the pair becomes friends due to their shared love of scholarly study and desire to uncover the world's secrets.[5] After their meeting, the pair happens upon a mixed dragon-human village populated by refugees from the Scouring. Nergal and Athos use their magical skills to create an oasis, which eventually gains the name Arcadia, in the desert for the dragons and humans there. Athos and Nergal are then welcomed into the settlement.[6]
After their welcome, they are allowed to make use of the dragon's collection of knowledge. Nergal and Athos studied in the village for at least two centuries.[7] At some point, Nergal began dabbling in the art of turning life force into raw power using information from the dragon libraries. As these studies involved taking the lives of living beings, Athos and the village elders strongly objected to Nergal's actions.[8] After being unable to persuade Nergal to stop his studies, a violent conflict that that resulted in Nergal being disfigured and driven from the village occurred.[9] Nergal then went into hiding in Bern and amassed power slowly and began production of morphs.[10] Athos and the village elders anticipated that Nergal would eventually return to the village to attempt to harvest the life force of a dragon; Athos steels himself for an unwinnable conflict with Nergal. However, this never occurs and Nergal remains in hiding; Nergal is not known to have ever made an attempt to return to Arcadia.[11]
Taking control of the Black Fang
At some point after taking refuge in Bern, Nergal used one of his morph creations, Sonia, to infiltrate the Black Fang, a guild of assassins originating from Bern. Sonia, crafted in the image of a human woman, wooed Brendan Reed, the leader of the guild, thus placing it squarely under Nergal's control.[12] Nergal also began seeking out knowledge of dragons, eventually coming upon a powerful family of magic-users in Lycia. After wringing the family of information on the dragons, they are mostly slaughtered by Sonia and Nergal. A single infant girl survives.
Nergal, seeing the possible use of a child from such a powerful family, gives the infant girl, named Nino, to Sonia to raise into a powerful magic user.[13] Sonia proves to be an utterly incompetent parent, failing to even teach Nino to properly read; Nino is, however, successfully able to integrate into the Black Fang's family and comes to think of Brendan Reed and his two sons as a father and brothers. At some time presumably around this point Nergal also comes into the possession of another child, named Jaffar, which he personally grooms into a skilled assassin,[14] and has Jaffar join the Black Fang to make use of his abilities.
Opening of the gate and death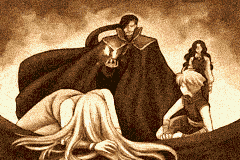 Nergal begins moving towards his ultimate goal: summoning and harvesting dragons from the Dragon's Gate. Using the ruins surrounding the Dragon's Gate as a base of sorts, he gathers some of the Black Fang there. Nergal is initially able to very easily trick a pair of young dragons, Ninian and Nils, through the gate simply by calling out to them. While it is not outright stated, Nils explains to Eliwood that they were drawn to Nergal's voice due to it being that of an "old friend",[15] possibly implying that Ninian and Nils subconsciously trusted Nergal's voice due to him being their father.
Presumably due to the lingering effects of the Ending Winter, the pair of dragons are weakened by their arrival into Elibe and Nergal steals the dragonstone that they are forced to create.[16] Nergal keeps the dragonstone for use as a tool later.[17] He also imprisons Ninian and Nils, keeping them alive, as a extra means of opening the gate, due to the fact that he is still unable to open it on his own with his human hands.[18] Despite being key in Nergal's plans, Ninian and Nils are able to escape to the mainland and evade the Black Fang with the assistance of a woman from Sacae, though he eventually is able to recover the pair and re-imprison them.
Using the Black Fang and Ephidel, Nergal begins stirring conflict in Lycia so that he can start a rebellion and collect quintessence from it.[19] Nergal is able to attract the attention of at least two Lycian nobles, Darin and Helman, for this purpose. Helman ends up backing down, but Darin remains loyal to Nergal in hopes of overthrowing Ostia. Elbert vehemently opposes the rebellion, and ends up imprisoned by Ephidel and taken straight to Valor due to Ephidel noticing that Elbert and his knights' possession of very high quality quintessence.[20]
Elbert's disappearance is the factor that draws Eliwood into leaving Lycia and kicking off the plot of Fire Emblem: The Blazing Blade. Despite Eliwood's efforts, Nergal brainwashes Ninian and uses Elbert's quintessence to open the gate and call a single dragon through it, however the dragon is destroyed when the gate is closed abruptly by Nils snapping Ninian out of her brainwashing.[21] During the confusion of the failed dragon summoning, Elbert manages to stab Nergal and wound him greatly, causing Nergal to flee.
Eliwood takes Elbert's body back to Lycia and Nergal resumes using the Dragon's Gate as a base. He does not attempt to continue the Lycian rebellion due to Darin being killed by Eliwood's forces earlier, and finding the high quality quintessence of Elbert's knights to be an adequate replacement.[20] Eventually, Nergal is able to gain some influence over King Desmond of Bern. Due to the tumultuous relationship within the Bern house, Desmond is interested in having his son Zephiel assassinated by the Black Fang. Nergal sees this as an opportunity to use Bern's might to gather more quintessence, but the Black Fang's assassination mission ends up thwarted by Eliwood and he loses Bern's favor.
Nergal, finding himself running low on options, and having finally recovered from the wound Elbert gave him, appears before Eliwood's party at the Shrine of Seals, and takes Ninian by force. Ninian refuses Nergal's order to open the gate, takes her true form, and flees to the mainland yet again. In a bout of unfortunate timing, Ninian, still in her true form, locates Eliwood just after he obtains the dragon-slaying sword Durandal and ends up slain by Durandal, which guided Eliwood's strike.[22] Nergal, seeming to have followed Ninian, taunts Eliwood over killing her, and attempts to take Nils as replacement. Athos attacks Nergal with Forblaze but Nergal shrugs off the blow and begins laughing with glee that he is barely scratched by Athos's power.[23] Nergal then leaves the scene without taking Nils.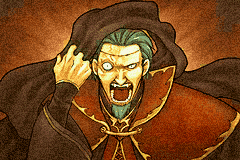 Nergal returns to the Dragon's Gate and combines Ninian's quintessence with the dragonstone he stole earlier,[17] and is satisfied that he has a tool to call more dragons through the gate. Nergal begins making his final preparations to harvest quintessence from dragons through the gate, but Limstella notes that the quintessence form the Black Fang has been spent. Nergal tells Limstella that their next source, Eliwood's army, will arrive on his doorstep shortly. When Eliwood's party arrives on the island, Nergal grants Limstella overwhelming power, which he notes will end up rapidly deteriorating her body, and sends her off with an army of morphs to gather their quintessence.
Limstella fails at her task and Eliwood's army reaches Nergal himself inside the ruins. Before the two groups face off, Eliwood tells Nergal taking the lives of others purely for the accumulation of power is horrific. Nergal rebukes Eliwood and claims that such feelings of sadness for the deaths of others are a sign of weakness and irrelevant in the grand scheme of the world where gaining power and becoming a greater being is the goal of all life.[24] He then turns to Athos, and, now worked into a fury, and rips off his headscarf, showing Athos the wound inflicted on him during the conflict in Arcadia. He cites his wound as proof that trust and value in others only leads to weakness and betrayal.[25] Nergal is, despite being accompanied by several powerful morphs, then overwhelmed by Eliwood's forces, who are assisted by Athos and several of the Eight Legends legendary items that he brought with him.
During his final moments Nergal, seemingly in a moment of clarity asks himself why he wanted power, and only mumbles a name, "Ae...ir" to himself in answer. He then uses the last of his strength to call to the dragons beyond the gate so that they can return to Elibe and wreak havoc against humanity.
Role
Nergal is the primary antagonist of Fire Emblem: The Blazing Blade, leading to the events of the game. He is the boss of the first part of the game's final chapter. During the battle he is accompanied by several morphs made in the image of bosses fought earlier in the game.
Translation errors
In the English version of The Blazing Blade, Nergal's dialogue mentioning his wife, Aenir, is subject to a translation error or some sort of ambiguity, that may also be a translation error in itself. This has led to much confusion to the name of Ninian's mother, with many people thinking Ninis's Grace is named after her mother. This also significantly changed the implications in Nergal's death quote, as well as Nils' crying after Nergal's death.
The first issue is in Chapter 19x pt 2H: A Glimpse in Time, a Hector mode exclusive sidequest with obtuse unlock requirements. In a scene where Nergal is instructing his children, Ninian and Nils, to go through the Dragon's Gate if he does not return, he mentions "Aenir" but the localization's wording is most likely to be read as "Aenir" being the location that their mother is at. The Japanese version explicitly refers to Aenir as the mother.[26]
| | | | |
| --- | --- | --- | --- |
| " | [...] More power... I must be...stronger... I... Why? Why did I... want power? ......Quintessence? | " | — Nergal's death quote |
The second issue is his previously mentioned death quote. In the Japanese version Nergal refers to Aenir instead of quintessence. The words are similar in the Japanese version, as quintessence is called "Ægir". Compounding on the issue, the way Nergal says it in Japanese seems to make it intentionally ambiguous as to him saying "Ægir" or "Aenir".[27]
However, close scrutiny at the spelling of his dialogue shows he is remembering Aenir in his death quote.[28] This nuance is lost in the international release for several reasons, though mostly due to Ægir being renamed Quintessence and the localization seemingly not catching that Aenir was the name of Nergal's wife in the first place.
Stats
Stats with two figures separated by a ~ are presented as a range, representing stats that vary due to random growths. The figures to the left and right of the ~ are the stat's minimum and maximum possible values respectively.
Normal/Eliwood Hard Hector Hard
Inventory

Ereshkigal

Weapon Levels

| | | | | | | | |
| --- | --- | --- | --- | --- | --- | --- | --- |
| | -- | | -- | | -- | | -- |
| | S | | S | | S | | S |
Role
Nergal is playable as a SpotPass character, released in the The Blazing Blade character set. Nergal is also present as an enemy in the second and third installments of the Smash Brethren DLC series, as well as in the first and third installments of Rogues & Redeemers. Nergal also appears as an ally in Rogues & Redeemers 2.
Starting stats and growth rates
Reclassing options
See
reclass
for more details on the reclassing system.
Growth rates when reclassed
---
This section has been marked as a stub. Please help improve the page by adding information.
---
Promotion stat gains
Archer Barbarian Cavalier Dark Mage Wyvern Rider Fighter Knight Mage Mercenary Myrmidon Priest Tactician Thief
| Class | HP | Str | Mag | Skill | Spd | Lck | Def | Res | Mov | Weapon level |
| --- | --- | --- | --- | --- | --- | --- | --- | --- | --- | --- |
| Sniper | +4 | +2 | +1 | +4 | +3 | +0 | +5 | +3 | +1 | -- |
| Bow Knight | +8 | +3 | +0 | +2 | +4 | +0 | +1 | +2 | +3 | E, E |
Skill set
Like all male bonus units in Awakening, Nergal has access to all base class and advanced class skills available to standard male units.
Personality and character
Nergal is at an extremely advanced age for a human, and is approximately 1000 years old during the events of Fire Emblem: The Blazing Blade.[3] Nergal was a student of dark magic and appears to have been proficient in its use from even early on. Dark magic is known to decay its wielder's mind and memory, this began happening to Nergal at some point, though it is unclear exactly when in his travels this began occurring.
Nergal, when vaguely remembering that he left something important on Valor during Chapter 19x part 2, has to reassure himself that he wants power simply to "defeat anyone", though he appears unsure of himself.[29] Conversely, during his last moments, Nergal revisits the question, and a name, "Aenir" seems to bubble to the surface of his last thoughts, indicating he originally sought power for her. Considering Athos appears to have no knowledge of Aenir, Nergal either was already suffering memory loss when the pair met in Arcadia, or Nergal elected to keep his true reasons for power a secret from Athos. Regardless, Nergal has completely forgotten Aenir and his children by the time he manages to pull Ninian and Nils through the gate.
Nergal truly saw Athos as an ally and friend during their time in Arcadia. When Athos and the dragon elders drove him out of the village for his studies of quintessence, Nergal became furious at Athos, interpreting his actions as a betrayal of his trust and their friendship. His fury festered for the centuries after his banishment and still burned hot even during final the conflict at the Dragon's Gate.
Nergal's mindset when creating morphs seems to have shifted at some point early on. Initially, Nergal appears to have been interested in using his morphs to create living beings that resembled those crafted by the hands of the gods-by including things like emotions; this is exemplified by the morph Kishuna, who he named purely because he gifted Kishuna with emotions.[30] An unclear point later, Nergal happens upon Kishuna again and wonders why his past self would create something so weak and worthless, and tells Kishuna to leave his sight and rot into dust,[31] to Kishuna's sorrow.[32] Nergal also expresses no sadness when Limstella, supposedly his masterpiece, is killed.
Quotes
Battle quotes
"
Eliwood: Nergal!
Nergal: So you're here, Eliwood. I thought losing Ninian might distract you. Have you forgotten her so quickly? How heartless.
Eliwood: I haven't forgotten. I'll never forget. It was my mistake that killed Ninian. Because of that...I will fight. I will not run away and hide in sorrow... I'm going to put an end to all this!
"

— Against Eliwood in Eliwood's tale.
"
Hector: Nergal!
Nergal: So you've come, Hector of Ostia. Your existence itself was my greatest miscalculation. If it had only been Eliwood, this could have been over. So, my little miscalculation, I will erase you. And leave no trace remaining.
Hector: Do your worst!!
"

— Against Hector in Eliwood's tale.
"
Nergal: Did you know, Eliwood? What happened to your friend Hector? What he was thinking as he fought by your side?
Eliwood: ......
Nergal: Heh heh... It's a pity. If only he had been free to return to Ostia.
Eliwood: I know that I've caused much pain for my friends. But that is why... I will not lose here today!!
"

— Against Eliwood in Hector's tale.
"
Hector: Nergal!
Nergal: I cannot understand you, Hector of Ostia. Why would you do all this for Eliwood? Is this miserable thing called friendship worth dying for?
Hector: I don't expect you to understand. You've forgotten what it means to be human! Nergal! My connection to you...it's over! I'm finishing everything up right here!!
"

— Against Hector in Hector's tale.
"
Nergal: Little girl from Sacae... You'd do well to vanish. One such as you is no match for me.
Lyn: The nomads of the plains do not abandon their fellow tribespeople. Eliwood and Hector are my dear friends... Their sorrow is my sorrow. Their anger is my anger.
Nergal: Pah...
Lyn: Nergal! In my friends' names, I will cut you down!
"

— Against Lyn.
"
Nino: ......
Nergal: Uhn? Who do you think you are?
Nino: You will pay! You stole my family from me, and you will pay, Nergal!!! I will avenge them all!
Nergal: Now, I see... You're Sonia's...
"

— Against Nino.
"
Jaffar: ......
Nergal: Hmph... It's you, Jaffar? Turning your sword against me, your master? Do you forget who raised you? You are worthless.
Jaffar: ...Wrong. I am a man.
Nergal: Oh, really? If so, then I will give you a man's death!
"

— Against Jaffar.
"
Renault: ...Nergal, do you remember me?
Nergal: Hah. You are... Renault. So you're still seeking out a wretched existence?
Renault: I went astray. I listened to your honeyed words... I dreamt of the impossible...the return of a lost soul. But...what you gave me was...a puppet... It was soulless...nothing more than an empty vessel!!
Nergal: Just an empty vessel... Isn't that what you wanted? You desired to bring back your dead friend. You were my experiment, and I completed my morph. I'm grateful, Renault. Thanks to you, I gained power.
Renault: You villain... You cursed him! Your crime can never be forgiven! I will end you with my hands. In the name of my lost friend!
"

— Against Renault.
"
Athos: Nergal...
Nergal: Heh heh... Athos... Take a good look at me! At my tremendous power!
Athos: Already...words are useless. As an old friend...I will fulfill my duty.
"

— Against Athos.
| | | | |
| --- | --- | --- | --- |
| " | Yes! Use all your strength! | " | — SpotPass battle |
| | | | |
| --- | --- | --- | --- |
| " | You cannot alter destiny. | " | — SpotPass recruitment |
Death quotes
| | | | |
| --- | --- | --- | --- |
| " | Why? Why must I lose? Gaa... Not like this... I will not die...like this. With my last breath... tremble...and...despair. Hwah ha ha... Ha... ha ha ha... | " | — Nergal's default quote |
| | | | |
| --- | --- | --- | --- |
| " | Why? Why must I lose? More power... I must be...stronger... I... Why? Why did I... want power? Gaa... Not like this... I will not die...like this. With my last breath... tremble...and...despair. Hwah ha ha... Ha... ha ha ha... | " | — Nergal's death quote if two Kishuna chapters are visited and Kishuna is defeated |
| | | | |
| --- | --- | --- | --- |
| " | Why? Why must I lose? More power... I must be...stronger... I... Why? Why did I... want power? ......Quintessence*? ...Don't...under...stand... but... Gaa... Not like this... I will not die...like this. With my last breath... tremble...and...despair. Hwah ha ha... Ha...ha ha ha... | " | — Nergal's death quote if all Kishuna chapters are visited and Kishuna is defeated |
* This is a translation error, he is supposed to be asking about Aenir.
Other appearances
Fire Emblem Cipher
Nergal is featured on one card in Fire Emblem Cipher.
Fire Emblem Cipher data for Nergal
Man Experiencing the Forbidden, Nergal
"I will call forth a dragon and claim its quintessence. I will harness a power never before seen on this world. And I will become this world's master. That is my desire."
Attack: 60
Support: 0
Range: 1-2
Deploy Cost: 5
Class: Dark Druid
Tier: Advanced
Class Change Cost: 4
"Tremble and despair...":

[Trigger]

[Once per turn]

[] When an ally attacks, you may pay the cost and if you do: Until the end of combat, your opponent's support card will fail to support the defending unit.
Ereshkigal:

[Always]

During your turn, if your have more cards in your hand than your opponent, this unit gains +20 attack.
Card #B13-046HN • Artist: Yoneko
Some card information translation provided by Serenes Forest.
For more detailed strategic information on these cards, see their TCG wiki article on Nergal .
Flavor text
Game
Text
(English)
Text
(Japanese)

The Blazing Blade

An avaricious fiend who
turns death into power.
渇望する者
他者の死を己が力とする
Trivia
Nergal is one of the few characters in the Fire Emblem series that has alternate portraits for facing both ways, likely due to his prominent asymmetrical scarring. The only other character that has received this treatment instead of simply flipping their portrait is Chrom in

Awakening

.
Nergal has a custom unit palette assigned, but it is mistakenly set to be used when Nergal is in a base class, and Dark Druid is treated as an advanced class; therefore, his palette does not display.
Etymology and other languages
Names, etymology and in other regions
Language
Name
Definition, etymology and notes
English

Nergal

Nergal was a Mesopotamian deity associated with death, noon and the summer solstice.[33]

Japanese

ネルガル

Officially romanized as Nergal.

Spanish

Nergal

--

French

Nergal

--

German

Nergal

--

Italian

Nergal

--

Portuguese

Nergal[34]

--

Traditional Chinese

涅爾加魯[35]

Nergal
Gallery

Sprite Gallery
Dark Druid

Dark, anima, light

*
References
| | |
| --- | --- |
| | This article is part of Project Characters, a project focused on writing articles for every character present in the Fire Emblem series. |