Site News
Warning: This wiki contains spoilers. Read at your own risk!


Social media: If you would like, please join our Discord server, and/or follow us on Twitter (X) or Tumblr!
The Verge of History
From Fire Emblem Wiki, your source on Fire Emblem information. By fans, for fans.
| | |
| --- | --- |
| | It has been requested that image(s) be placed in this page or section. Please submit images to help improve this page and talk on this page's talk page about what images are needed. Remove this when this has been fixed. |
The Verge of History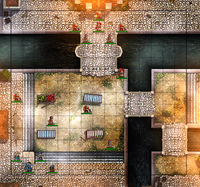 | | |
| --- | --- |
| Location | Southtown |
| New units | |
| Boss(es) | |
| Previous chapter(s) | |
| Next chapter(s) | |
| | | | |
| --- | --- | --- | --- |
| " | There are better places to take a nap than on the ground, you know. Give me your hand. | " | — Chrom |
The Verge of History (Japanese: 新たなる歴史 New History) is the prologue chapter in Fire Emblem Awakening. This chapter is where the actual story of the game begins, and continues to introduce more of the game's mechanics. Completing this chapter unlocks the world map and, in the full version of the game, the ability to save while on it.
This chapter is the first of two chapters that appeared in the international demo version of Awakening.
Plot
Main article: The Verge of History/Script
A vagrant named Robin awakens in a field in Ylisse with near-complete retrograde amnesia. They are greeted by a man named Chrom, his sister Lissa, and their lieutenant Frederick, who together comprise a group known as the Shepherds. Upon learning that Robin can only recall Chrom's name and their own, Chrom offers to take them to a nearby town to get them sorted out. However, a pack of bandits raid the town. The three immediately head to the town to drive the bandits off, and Robin decides to follow and aid them. During the fight, Robin discovers an innate talent for tactics.
Afterwards, Robin's actions in protecting the town convince Chrom of their good character. Chrom offers to let Robin join the Shepherds, despite Frederick's lingering concerns about their trustworthiness. Chrom and Lissa explain that the bandits were sent by Ylisse's western neighbor, Plegia, in the hopes of inciting a war. The villagers offer to celebrate the group's valor with a toast, but Frederick insists the group return to the capital as quickly as possible.
Summary
Robin is found lying in a field with no memory. After [he/she] helps Chrom fend off a band of brigands, [he/she] is welcomed into the Shepherds as a tactician.
Chapter data
Character data
Characters
New units
Available characters
None
Note: Chrom and Robin are technically returning characters; however, they do not make use of their default setups until this chapter.
Item data
There are no items obtained in this chapter.
Shop data
After clearing chapter 3, the shop at this location will become available.
Armory contents
Normal stock Possible merchant items
Column 5, row 9: Southeast of an uncovered partition of red fruit
Column 9, row 3: Two squares south, one square east of Garrick's position
Enemy data
Stats with two figures separated by a ~ are presented as a range, representing stats that vary due to random growths. The figures to the left and right of the ~ are the stat's minimum and maximum possible values respectively.
Boss data
Main article: Garrick
Strategy
This section details unofficial strategies that may help with completion of the chapter. This may not work for everybody.
Note: these strategies were created with a female Avatar with +Spd/-Def.
At the beginning of the chapter, you are given four units. Chrom is the main character. He has above-average growths in most of his stats, so he should be rather reliable. He also possesses useful supports with Vaike, Gaius, and Frederick to patch up any of his stats if they get too low. Your custom Avatar, herein referred to by their default name Robin, is the most versatile character in the game and one of your strongest units. Lissa is a rather basic healer. She will eventually be outshined by the other healers in the game, but for the time being she's useful. Frederick is the game's Oifey archetype and is critical to surviving Lunatic and Lunatic+'s early chapters with his powerful Silver Lance.
Normal/Hard
This is a very straightforward tutorial level with no nasty surprises. Give Robin's Bronze Sword to Frederick; on Hard, he can use it to weaken the enemies and train his sword rank while still feeding kills to Chrom and Robin. Robin is far more effective as a caster anyway. Always keep Robin paired up in order to exploit their powerful Veteran skill. Don't do anything reckless, and this should be an easy win.
Lunatic/Lunatic+
The usual strategy disclaimer doesn't quite do Lunatic+ Awakening justice; no plan will ever survive contact with the enemy, and your ability to make things up as you go along will be tested.
This chapter is a rarity in that you will only buckle to a very specific combination of skills with the given strategy. The Barbarian that attacks Frederick on turn 1 absolutely needs Luna+ and the Elwind Mage absolutely needs Vantage+ for you to fear for your safety; if the Elwind Mage also has Luna+ and Magic +2 or the southeastern Myrmidon has Vantage+ and Luna+, Frederick dies. For the first wave of enemies, pair Lissa with Robin and have Robin go as far east as possible and take a free cheap shot at the Myrmidon. Then pair Frederick with Chrom and have Frederick finish him off from the south. On enemy phase, Frederick will be attacked by a Barbarian; he must land his counterattack. On turn 2, have Robin move to Frederick's right, take Chrom, and finish off the Barbarian. Then have Frederick kill the Mage from the south. On turn 3, Robin can back up into the canal while Frederick takes Lissa around to the canal's east side. With smart positioning, Robin can engage the remaining Myrmidon and Barbarian from in the canal without fearing a counterattack, Chrom can also take cover in the canal, and Frederick and Lissa can hide behind them as their pair-up partners. Once the first wave is dead, you can heal up and step on the event tile if you wish; this strategy won't bother much with them since they're too unpredictable.
When everyone has full health, move Robin into the northeastern canal to engage the Mage. She and Chrom can exploit the water to keep out of enemy range until you're ready to fight and have Lissa heal as necessary on the east and northeast parts of the map. Once the Mage is dead, continue moving around the canal so that Robin can chip the melee enemies to death from safety. After killing them, have Lissa heal everyone again. Once that's taken care of, all that's left is Garrick. He has no healing, so just have Robin pick him apart from two range. If all three of your characters are either adjacent to or paired up with Robin, she will receive a +10 bonus to her crit avoid; this in combination with her base Luck is enough to completely negate Garrick's 14 crit chance unless she has taken Luck as a flaw, grown Luck less than twice (unlikely, considering her 45-50% Luck growth and the judicious amount of combat she's seen), and is not paired with either Chrom or Lissa.
Trivia
In the English version of the game, a minor plot hole exists when Frederick expresses suspicion over Robin immediately knowing Chrom's name despite Lissa speaking it as Robin awakens. This plot hole does not exist in the Japanese version, where Lissa instead refers to Chrom as "big brother".
Etymology and other languages
Names, etymology, and in other regions
Language
Name
Definition, etymology, and notes
English

The Verge of History

--

Japanese

新たなる歴史

New History

Spanish

El origen de la historia

The origin of history

French

Éveil

Awakening

German

Ein neuer Anfang

A new Beginning

Italian

Uno strano risveglio

A strange awakening

Portuguese

A origem da história

The origin of history; from "The Verge of History" Lost Lore event in Fire Emblem Heroes.

Traditional Chinese

新的歷史

New history; from "The Verge of History" Lost Lore event in Heroes.
Gallery
---
This section has been marked as a stub. Please help improve the page by adding information.
---