Site News
Warning: This wiki contains spoilers. Read at your own risk!


Social media: If you would like, please join our Discord server, and/or follow us on Twitter or Tumblr!

Engage info: As the game has only recently released, we lack much key information. Please help add any info that you can.
Excellus
From Fire Emblem Wiki, your source on Fire Emblem information. By fans, for fans.
Excellus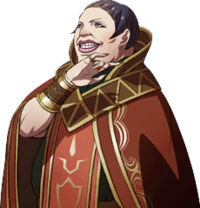 Excellus's portrait in Awakening.
---
The Valmese Empire's cold and calculating tactician.
| | | | |
| --- | --- | --- | --- |
| " | Odious freak...He has no honor. Just the sight of him makes me sick. He is the worm, yet I'm the one left squirming...Bah. ...True, his interference may seal our victory...but he'll never hear me say it. | " | — Pheros, giving her honest opinion about Excellus |
Excellus (Japanese: エクセライ Exceli) is a Valmese general, tactician to Walhart, and a mini-boss of chapter 20 of Fire Emblem Awakening. Excellus is responsible for blackmailing Yen'fay toward Walhart's side, and, according to Walhart himself, has connections to the Grimleal; in conjunction with Aversa of Plegia, Excellus schemed to take the Fire Emblem from Chrom.
Role
Excellus is first spotted arriving where some of Say'ri's resistance had arrived during the battle at Fort Steiger, revealing that numbers of the resistance had turned to Walhart's side. Excellus is later seen talking strategy with Pheros and Yen'fay during each of their battles against Chrom and the Shepherds. Excellus eventually returns to Valm Castle and joins up with Cervantes and later Walhart to make a last stand against the Shepherds, in Excellus's case facing them for the first time, only to be defeated.
Fighting Excellus is optional; his defeat is not required in order to clear chapter 20.
Stats
---
This section has been marked as a stub. Please help improve the page by adding information.
---
Role
Stats
Personality and character
Excellus appears to hold no reservations with using underhanded tactics; he convinced some of the Valmese rebels to betray Say'ri with unspecified horrors in addition to manipulating Yen'fay with promises of allowing Say'ri to live.[1] He also seems to have held loyalty only to himself, and none to Walhart; near the end of the war with Ylisse he was already scheming with Aversa over obtaining the Fire Emblem and hoping for Walhart to charge recklessly to his death.[2]
Excellus was also particularly cowardly, and avoided confronting the Ylisseans in direct combat until Walhart forcibly promoted him to captain of the castle guard, a position which he was clearly not eager to obtain.[3]
Quotes
Battle quote
| | | | |
| --- | --- | --- | --- |
| " | You think I'm afraid? Of YOU? Come, then. COME AT ME! | " | — Excellus, as an enemy in Chapter 20 |
"
Excellus: ...You. ...YOU! You and Yen'fay cost me EVERYTHING!
Say'ri: I only pray my brother is watching... Yen'fay, guide my hand!
"

— Excellus fighting Say'ri in Chapter 20
Death quote
| | | | |
| --- | --- | --- | --- |
| " | Eee hee hee...Eee hee...Heeeeeeeauuugh... | " | — Excellus's death quote in |
Other appearances
Fire Emblem Cipher
Excellus is featured on one card in Fire Emblem Cipher.
This card's epithet is still in raw, untranslated Japanese; it needs translation.
Fire Emblem Cipher data for Excellus
覇王の軍師, Excellus
"But rest assured your new friends are QUITE motivated. You can thank me some other time!"
Attack: 50
Support: 20
Range: 1-2
Deploy Cost: 3
Class: Sage
Tier: Advanced
Class Change Cost: 2
Manipulative Tactics:

[Activate]

[Once per turn]

If you have an ally "Walhart", choose up to 2 enemies in the Back Line, and move them.
"Do not interfere!":

[Always]

Your opponent cannot deploy cards with a Deployment Cost of 1 into the Front Line.
Card #B12-070HN • Artist: Yoneko
Some card information translation provided by Serenes Forest.
For more detailed strategic information on these cards, see their TCG wiki article on Excellus .
Flavor text
Game
Text
(English)
Text
(Japanese)

Awakening

The Valmese Empire's cold
and calculating tactician.
ヴァルム帝国の軍師
女性口調で、うぬぼれが強い
Trivia
Excellus shares his English voice actor, Spike Spencer, with Marth. This also makes Spike Spencer the only English-language Awakening voice actor to have been involved in an earlier Fire Emblem project; in terms of all languages, he shares this distinction with Takehito Koyasu, who voiced Navarre in the Fire Emblem OVA and Lon'qu in the Japanese version of Awakening.

Excellus is also the only character in Awakening whose English voice actor is directly credited while his Japanese voice actor is not.

Much like Kyza in Fire Emblem: Radiant Dawn, Excellus has a very feminine speech pattern in the Japanese version, using pronouns and verbal tics nigh-exclusively used by women.
Excellus's counterpart in Tokyo Mirage Sessions ♯FE has distinctly feminine breasts.
Etymology and other languages
Names, etymology and in other regions
Language
Name
Definition, etymology, and notes
English

Excellus

Japanese

エクセライ

Exceli

Spanish

Excellus

--

French

Excellus

--

German

Excellus

--

Italian

Excellus

--

Portuguese

Excellus

Used in "The Verge of History" Lost Lore event in Fire Emblem Heroes.

Traditional Chinese

艾克賽萊

Exceli; used in "The Verge of History" Lost Lore event in Heroes.
Gallery
References
↑ "Excellus: Oh, did Yen'fay not groan out the truth as you cut him to bloody pieces? No, I suppose not. He always was so quiet. And proud...honorable, I think they call it? Yet he swallowed his pride and cast aside his honor...all to protect his beloved kin. That's right, Little Sis. He did it...to save you.
Say'ri: What?! ...Lies... You're lying!
Excellus: No, I'm telling the truth, which I admit is a rare treat, so you best shut up and enjoy it." — Excellus to Say'ri, Fire Emblem Awakening
↑ "Let Walhart charge ahead—the big, stupid lobster... I'll end up on the winning side one way or another! Whee hee hee hee!" — Excellus, Fire Emblem Awakening
↑ "Walhart: ...Why, Excellus, did you just volunteer to lead my personal guard against the rebels?
Excellus: ...What?! No, that's—" — Excellus and Walhart, Fire Emblem Awakening