Site News
Warning: This wiki contains spoilers. Read at your own risk!


Social media: If you would like, please join our Discord server, and/or follow us on Twitter or Tumblr!

Engage info: As the game has only recently released, we lack much key information. Please help add any info that you can.
Vincent
From Fire Emblem Wiki, your source on Fire Emblem information. By fans, for fans.
---
This page has been marked as a stub. Please help improve the page by adding information.
---
Vincent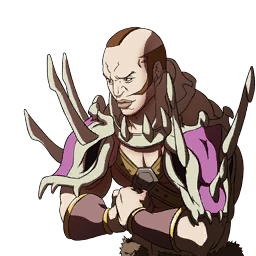 ---
A ruffian boss who is eerily fond of his twin brother, Victor.
| | |
| --- | --- |
| Gender | Male |
| Race | |
| Family | Victor (brother) |
| Nationality | Unknown |
| Starting class | |
| Appearance(s) | |
"
Vincent: You! We have business, you and I, and I aim to settle the debt. Victor will be avenged today!
Anna: Oh, dear, have we met?
Vincent: Playing dumb won't save you, girly. The gold you net from the slavers will build Victor the finest grave in the land!
Anna: Careful, love. Prices aren't the only thing I can cut in half.
"

— Vincent and Anna after Victor dies
Vincent (Japanese: ジョージ George) is a leader of an unidentifiable group of bandits, twin brother of Victor, and the boss of paralogue 4 of Fire Emblem Awakening. Depending on whether the player chooses to complete paralogue 2 before paralogue 4 or paralogue 4 before paralogue 2 determines how Vincent acts.
Role
If paralogue 2 is taken first, Victor and Vincent come across a village in northern Ferox and opt to pillage it, leaving Victor in charge of the band. Vincent will then be encountered later, leading a band at their hideout in northeastern Ferox into attacking Anna, who had wandered into the area. Vincent declares his intention to settle his debt with her, and vows to avenge Victor. Vincent sees gold in selling Anna to slavers, which would be used to build a fine grave for Victor. If paralogue 4 is taken first, the same situation plays out, except without the declarations to settle a debt or avenge Victor (who is still alive at this point in time in this situation). Vincent in this situation also sees gold in selling Anna to slavers, but this time to build a fine home for Victor. Regardless of how the situation sets up, Vincent is eventually defeated by Chrom and the Shepherds, who had arrived in the area around the time Anna needed help.
Alternate Outrealm versions of Vincent appear in the DLC chapters The Golden Gaffe and Harvest Scramble, in both cases accompanied by an alternate Outrealm version of Victor. In The Golden Gaffe, Victor and Vincent plot to replace gold Vincent had stolen from him by a Risen, and explain how the map works; Chrom overhears this plan. Regardless of how much money Chrom's group obtains in a run, it is revealed that whatever gold wasn't stolen from the Shepherds was stolen from Vincent, and that the Shepherds got to Vincent's gold before Vincent could. Victor then reveals how DLC maps are infinitely replayable, then later reveals that his gold has also been purloined. In Harvest Scramble, Victor and Vincent run the harvest fair the chapter takes place in; it is revealed that Vincent is the leader of the village's cheer brigade and was the one who gave Lissa her party hat. After Victor reports the presence of uninvited guests, Chrom tasks Victor and Vincent into leading his band to the intruders; neither brother notices at first, however, and the brothers instead plot to hide. Once Chrom makes his presence known, Vincent suggests Chrom also hide. Once the intruders are defeated, Vincent is the first brother to emerge, having been sent out once Vincent noticed. Vincent suggests Chrom and the Shepherds help themselves to all the produce they can carry as a reward.
Stats
Quotes
Battle quote
| | | | |
| --- | --- | --- | --- |
| " | You stand no chance. I'm a conqueror by name and a conqueror by nature! | " | — Vincent |
Death quote
| | | | |
| --- | --- | --- | --- |
| " | I...I see your face, Victor...No...No, wait...that's me... | " | — Vincent |
Flavor text
Game
Text
(English)
Text
(Japanese)

Awakening

A ruffian boss who is eerily fond
of his twin brother, Victor.
ならず者たちの双子の頭領
兄弟のハンサムを愛している
Trivia
Etymology and other languages
Names, etymology and in other regions
Language
Name
Definition, etymology, and notes
English

Vincent

From the Roman name Vincentius, which was from Latin vincere "to conquer".[1]

Japanese

ジョージ

George

Spanish

Vincent

As above.

French

Vincent

As above.

German

Vincent

As above.
Gallery
References