Site News
Warning: This wiki contains spoilers. Read at your own risk!


Social media: If you would like, please join our Discord server, and/or follow us on Twitter or Tumblr!

Engage info: As the game has only recently released, we lack much key information. Please help add any info that you can.
Shepherds (group)
From Fire Emblem Wiki, your source on Fire Emblem information. By fans, for fans.
Shepherds (group)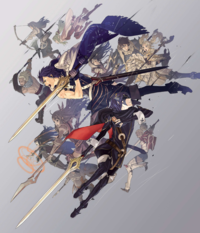 Artwork of the Shepherds from Awakening.
| | |
| --- | --- |
| Leader | |
| Size | Unknown (49 named) |
| Group type | Militia |
| Purpose | To defend Ylisse and protect its borders from Plegian incursion |
| Appearance(s) | |
| | | | |
| --- | --- | --- | --- |
| " | And so we are [shepherds]...in a manner of speaking. We just have a LOT of sheep. | " | — Chrom |
The Shepherds (Japanese: クロム自警団 Chrom's vigilantes) are a militia based in the Halidom of Ylisse. The group is convened and led by Prince Chrom, with the assistance of his lieutenant Frederick, and are tasked primarily with the self-defense of the realm.
Overview
In response to increasing aggression and border encroachments from neighboring Plegia, the Shepherds were convened to assist with the defense of Ylisse,[1] as following the reign of Chrom and Emmeryn's father Ylisse was left without much of a military of its own.[2] Their duties expanded quickly to incorporate more general protection of the people of Ylisse from other threats such as bandits and Risen; the Shepherds were the first to encounter the Risen when they first started appearing in the world. In the lead-up to and during the war with King Gangrel of Plegia, Chrom and the Shepherds spearheaded Ylissean diplomacy efforts with Ferox and, in conjunction with the Feroxi army under Khans Basilio and Flavia, led the Ylissean war effort against both Plegia and, two years later, the Valmese Empire.
Members
Main article: List of characters in Fire Emblem Awakening
Etymology and other languages
Names, etymology and in other regions
Language
Name
Definition, etymology, and notes
English

Shepherds

--

Japanese

クロム自警団

Chrom's vigilantes

Spanish

Custodios de Ylisse

Guardians of Ylisse

French

Veilleurs

Watchmen

German

Hirten

Shepherds

Italian

Pastori

Shepherds

Portuguese

Guardiões

Guardians; mentioned in "The Verge of History" Lost Lore event in Fire Emblem Heroes.

Traditional Chinese

自衛團

Self-defense regiment; mentioned in "The Verge of History" Lost Lore event in Heroes.
References
↑ "Chrom: Plegia is Ylisse's westerly neighbor. They send small bands into our territory, hoping to instigate a war.
Lissa: And it's the poor townsfolk who suffer! Totally innocent, and totally helpless...
Frederick: They do have us, milady: Shepherds to protect the sheep." — Chrom, Lissa and Frederick, Fire Emblem Awakening
↑ "Tomorrow we march to Regna Ferox to request additional soldiers. But there's something you should know first. ...Not everything Gangrel said was a lie. The last exalt, my father, waged war on Plegia for many years. The violence... It was a brutal campaign, ending only with his death 15 years ago. Plegia rightfully remembers their suffering, but his war was no kinder to his own people. As the fighting dragged on, our army became more and more diminished. Farmers who could barely wield a pitchfork were conscripted and sent to their deaths. Soon there was no food at all, and the kingdom began to collapse. I was young, but I remember those dark times. ...I know how they affected Emmeryn." — Chrom, Fire Emblem Awakening