Site News
Warning: This wiki contains spoilers. Read at your own risk!


Social media: If you would like, please join our Discord server, and/or follow us on Twitter or Tumblr!

Engage info: As the game has only recently released, we lack much key information. Please help add any info that you can.
Vigarde
From Fire Emblem Wiki, your source on Fire Emblem information. By fans, for fans.
Vigarde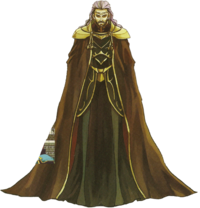 Artwork of Vigarde from The Sacred Stones.
---
The emperor of Grado, resurrected by the power of the Dark Stone.
| | |
| --- | --- |
| Gender | Male |
| Race | |
| Family | Lyon (son) |
| Title(s) | Emperor of Grado, Stalwart Silent Emperor |
| Starting class | |
| Voiced by | |
| Appearance(s) | |
| | | | |
| --- | --- | --- | --- |
| " | Do... do as he says. | " | — Vigarde |
Vigarde (Japanese: ヴィガルド Vigard) is a boss appearing in Fire Emblem: The Sacred Stones. He is the emperor of Grado, and Prince Lyon's father. Shortly before War of the Stones, he fell ill and died.
Role
Vigarde is the ruler of the Grado Empire at the beginning of The Sacred Stones, and he is dubbed the stalwart Silent Emperor.[1] At the start of the game, he unexpectedly launches an invasion against the Kingdom of Renais, which had been a longtime ally of the Grado Empire. Renais is taken by surprise and Grado seizes all of its territory, ultimately slaying King Fado and forcing his daughter, Eirika, to abandon him in his final moments alongside Seth. The attack comes as an utter surprise, because Vigarde's son, Prince Lyon, had been friends with Eirika and Ephraim, the heirs of Renais. Vigarde was also a peaceful man adored by his people—and yet, despite these circumstances, he mounted an invasion.[2]
As the invasion of Renais progresses, Vigarde makes no effort to keep things under control, to the surprise of his generals. Brigands raid villages left and right, and the emperor does nothing to stop it.[3] He also starts promoting soldiers of questionable morality.[4] He makes Valter, Riev and Caellach generals in the Grado Army, and sends them to help Duessel, Glen, and Selena with the invasion.
Vigarde's plan is revealed by Natasha when she manages to join and warn Eirika's group on behest of her deceased mentor. The emperor is branding people traitors and executing them to keep them silent, and his main objective is to destroy each nation's Sacred Stone.[5] He also wants to capture Eirika and Ephraim. The reason is that they possess bracelets providing access to Renais's Sacred Stone.[6] Despite protests from his original generals, Vigarde does not listen. It seems as if he is ignoring everything outside of the main goal – to destroy the Sacred Stones.[7][8] He even brands Duessel a traitor for opposing his will and requests Selena to kill him.[9]
The reason for Vigarde's change of behavior is revealed by Duessel to be related to the Dark Stone. The Dark Stone was a strange gemstone created by Prince Lyon and other mages of Grado, said to be more powerful than the Sacred Stones. After the Dark Stone was created, Emperor Vigarde's behavior changed. Myrrh later confirms that the Dark Stone would be capable of changing Vigarde completely, and that the process is irreversible.[10][11]
Eventually, in Chapter 14 of Ephraim's route, Ephraim's counterattack against the Grado Empire reaches Grado Keep. In the throne room, Lyon and Vigarde talk about the situation, and Lyon expresses remorse related to Vigarde's death. This reveals that Vigarde had died before the invasion, and was resurrected with dark magic—the darkness sensed by Myrrh and related to the Dark Stone. The person who ordered the invasion of Renais and other nations on Magvel was a mere puppet.[12] After this revelation, Lyon orders his resurrected father to defeat Ephraim's army before teleporting away. However, Vigarde fails to win the battle and is killed by Ephraim. He says nothing throughout the battle after Lyon leaves his side, and when he dies, his corpse disintegrates—showing that he has not truly been alive during the war.
In reality, Vigarde had died one year before he ordered the invasion of Renais. He died from an illness, which left his son, Prince Lyon, in despair. He decided to resurrect his father using the Sacred Stone of Grado, called the Fire Emblem, which had once been used to seal away the Demon King, Fomortiis. Vigarde's death was kept from the public while Lyon was putting the plan into motion. Eventually, Lyon managed to resurrect his father as a puppet by splitting the Fire Emblem into two parts—the Sacred Stone and the Dark Stone. He used the power of the Dark Stone to bring his father back to life, but without a will of his own. Then, he destroyed the Sacred Stone and declared that he would invade the other nations of Magvel. One year later, the resurrected Vigarde put his son's plan into motion, thus initiating the War of the Stones and all aforementioned events.[13]
Stats
See also: Father and Son
Stats with two figures separated by a ~ are presented as a range, representing stats that vary due to random growths. The figures to the left and right of the ~ are the stat's minimum and maximum possible values respectively.
Inventory

Spear




Knight Crest

Weapon Levels

| | | | | | | | |
| --- | --- | --- | --- | --- | --- | --- | --- |
| | A | | S | | A | | -- |
| | -- | | -- | | -- | | -- |
Role
One variation of Vigarde is present in Heroes, and was made first available through a Grand Hero Battle that first ran from March 18, 2023 to March 24.
Vigarde: Silent Emperor
Starting stats
Initial Stats Level 40 Stats

Note: This unit requires the usage of Trait Fruit to access any flaws and assets.
Skill set
Skill set
Skill
Rarity
SP cost
Iron Lance
Innate
Steel Sword
Innate
Protection Pike
Innate
Protection Pike+
Innate
Dragon Gaze
Innate
Dragon Fang
★★★★★
200 SP

A

Def/Res Ideal 1
★★★★★
60 SP

A

Def/Res Ideal 2
★★★★★
120 SP

A

Def/Res Ideal 3
★★★★★
240 SP

B

Wary Fighter 1
★★★★★
60 SP

B

Wary Fighter 2
★★★★★
120 SP

B

Wary Fighter 3
★★★★★
240 SP
Personality and character
Vigarde was known for being a kind ruler, and forged alliances with the other countries of Magvel, including Renais. He was also known for providing for the poor, despite their inability to repay him.[14]
However, he was also known to be proud to a fault, and when Lyon and the other court mages foresaw a massive earthquake destroying Grado, Vigarde commanded them not to speak to anyone else about it.[15] Despite Grado's alliance with Renais, Vigarde believed that a natural disaster that struck Grado alone would be Grado's problem alone. Even on his deathbed he berated Lyon for suggesting asking Renais for aid against the earthquake.[16]
After his death, his son became frantic, searching for any way to bring his father back, and he eventually succeeded to an extent. The new Vigarde was nothing but a puppet, however, and was used to orchestrate the invasion of Renais by Lyon and Fomortiis.
Quotes
Battle quote
Death quote
Heroes quotes
Main article: Vigarde/Quotes (Heroes)
Flavor text
Game
Text
(English)
Text
(Japanese)

The Sacred Stones

The emperor of Grado, resurrected by
the power of the Dark Stone.

【魔石】によって よみがえった
グラド帝国の皇帝

Heroes

The once-admired Emperor of Grado. Known as
the Silent Emperor, he has been reduced to only
a shadow of his former self. Appears in Fire
Emblem: The Sacred Stones.

グラド帝国の皇帝。かつては【穏健帝】と
慕われていたが、今では見る影もない。
(登場:『ファイアーエムブレム 聖魔の光石』)
Etymology and other languages
Names, etymology and in other regions
Language
Name
Definition, etymology, and notes
English

Vigarde

Japanese

ヴィガルド

Referred to in the internal files as "VIGARD".

Spanish

Vigarde

--

French

Vigarde

--

German

Vigarde

--

Italian

Vigarde

--

Portuguese

Vigarde

--

Traditional Chinese

維加爾多

Vigard
Gallery

Sprite Gallery
General

Sword

*


Lance

Basic axe

*


Ranged axe

*
Heroes artwork
Battle animations
References