Site News
Warning: This wiki contains spoilers. Read at your own risk!


Discord and Twitter: If you would like, please join our Discord server, and/or follow us on Twitter at @FEWikiOfficial!
Thórr
From Fire Emblem Wiki, your source on Fire Emblem information. By fans, for fans.
Thórr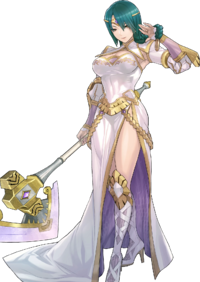 Artwork of Thórr from Heroes.
---
The god of war. Respects humanity's strength, but seeks to test its tenacity and resolve by bringing war to the Kingdom of Askr.
| | |
| --- | --- |
| Gender | Female |
| Race | |
| Nationality | Unknown |
| Voiced by | |
| Appearance(s) | |
Thórr is a character appearing in Fire Emblem Heroes. She is the god of war, and a powerful and mysterious figure in service to the creator god Alfaðör.
Role
Thórr is first seen at the start of the first Røkkr Sieges event, where she confronts Loki over her scheme to resurrect fallen soldiers into giant, shadowy, superpowerful forms. Thórr threatens to report Loki's scheme to her superiors, rebuking Loki for apparently mistreating her own duties. She appears again at the start of the first Hall of Forms event, where she raises dolls in the shape of Heroes called "Forma" and claims to Loki that they have untapped potential. She makes another appearance during the Xenologue Heavenly Witness, where she offers to restore Líf and Thrasir's world in exchange for their service to the creator god Alfaðör.
Thórr eventually became playable as the game's twenty-fourth Mythic Hero, and as such became playable in a dedicated Mythic Hero update, and was made available for summoning as part of a summoning event released on November 30, 2021; she is notably the first Mythic Hero to debut in the same summoning event as a Legendary Hero (in this case Eitri).
Starting stats
Thórr: War God is only available at 5★ rarity.
Rarity
★★★★★
Weapon type
Movement type

Mythic Hero




Initial Stats Level 40 Stats

Skills
War-God Mjölnir


--


Glowing Ember

Skill set
Skill set
Skill
Rarity
SP cost
Iron Axe
Innate
Steel Axe
Innate
Silver Axe
Innate
War-God Mjölnir
Innate
Glowing Ember
Innate
Bonfire
★★★★★
200 SP

A

Atk/Def Push 1
★★★★★
60 SP

A

Atk/Def Push 2
★★★★★
120 SP

A

Atk/Def Push 3
★★★★★
240 SP

A

Atk/Def Push 4
★★★★★
300 SP

B

Flow Guard 1
★★★★★
60 SP

B

Flow Guard 2
★★★★★
120 SP

B

Flow Guard 3
★★★★★
240 SP

C

Worldbreaker
★★★★★
300 SP
Personality and character
Thórr is stoic and goal-oriented, with little patience for nonsense. She has great respect for mortals who gave up their lives in service to their ideals.
Quotes
Main article: /Quotes (Heroes)
Flavor text
Game
Text
(English)
Text
(Japanese)

Heroes

Known to mortals as the god who presides over
combat and war. Respects mortals who display
true strength.
戦を司る神。
人間のまことの強さに敬意を抱いている。
Trivia
Thórr is the first character original to Heroes to make their first visible appearance outside of a narrative chapter, doing so at the start of the first Røkkr Sieges event (added to the game alongside the Truth of a Name update).
A figure named "Thor" with the same Japanese name (

トール

) is mentioned in

Genealogy of the Holy War

both by a villager (referring to Thor as a "thunder god") and in the name of Mjölnir ("Thor Hammer" in Japanese).
Etymology and other languages
Names, etymology and in other regions
Language
Name
Definition, etymology and notes
English

Thórr

From Þórr, the Norse god of thunder, usually called "Thor" in English.

Japanese

トール

Thor

Spanish

Thórr

As above

French

Thórr

As above

German

Thórr

As above

Italian

Thórr

As above

Portuguese
(Brazil)

Thórr

As above

Traditional Chinese

托爾

Thor
Gallery
References
| | |
| --- | --- |
| | This article is part of Project Characters, a project focused on writing articles for every character present in the Fire Emblem series. |