Site News
Warning: This wiki contains spoilers. Read at your own risk!


Social media: If you would like, please join our Discord server, and/or follow us on Twitter (X) or Tumblr!
Eitri
From Fire Emblem Wiki, your source on Fire Emblem information. By fans, for fans.
Not to be confused with Eitr.
---
This page has been marked as a stub. Please help improve the page by adding information.
---
Eitri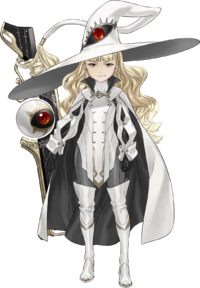 Artwork of Eitri from Heroes.
Eitri (Japanese: エイトリ Eitri) is a playable character appearing in Book V of Fire Emblem Heroes. Eitri is a skilled inventor and a sage dwelling in the forests of Niðavellir. Initially presenting herself as an ally of the Order of Heroes due to their shared enemy in Fáfnir, Eitri is revealed to be the main antagonist of Book V as she assists Ótr in kidnapping Kiran for her own ends and is responsible for Fáfnir's corruption.
Role
Eitri was first mentioned in at the start of chapter 2 of Book V, with her sanctum stated by Reginn as being roughly three days' travel; later on in the chapter, during part 4, Ótr deduces that the Order of Heroes are seeking her out and sets out in hope of stopping them.
At the start of the following chapter, Eitri's role as an inventor is revealed through Sharena nearly falling into the traps she had invented to protect her sanctum. At the end of the chapter, Eitri makes her first physical appearance rescuing the Order from Fáfnir's clutches, preparing to take them to her sanctum.
It is later revealed that Eitri was working with Ótr in kidnapping Kiran in order to create a replica of Breidablik, although the Heroes summoned are empty husks.
Eitri was later first made available to players on November 30, 2021 as the game's thirty-second Legendary Hero; she is notably the first Heroes-original Legendary Hero to originate after the Mythic Hero concept originated at the start of Book III nearly three years earlier, and also the first Legendary Hero to debut in the same summoning event as a Mythic Hero (in this case Thórr).
Starting stats
Eitri: Youthful Sage is only available at 5★ rarity.
Rarity
★★★★★
Weapon type
Movement type

Legendary Hero




Initial Stats Level 40 Stats

Skills
Grim Brokkr


--


Dragon Gaze

Skill set
Personality
---
This section has been marked as a stub. Please help improve the page by adding information.
---
Quotes
Main article: Quotes (Heroes)
Flavor text
Game
Text
(English)
Text
(Japanese)

Heroes

A scholar of Niðavellir. Despite her youthful
appearance, her exceptional intellect has
earned her the title of sage.
ニザヴェリル王国の学者。
幼いながらその優れた頭脳で賢者と呼ばれている。
Etymology and other languages
Names, etymology, and in other regions
Language
Name
Definition, etymology, and notes
English

Eitri

In Norse mythology, Eitri was a dwarf and the brother of Brokkr. The god Loki made a bet with Brokkr that Eitri could not make finer items than those Loki possessed; with his brother's help, Eitri made the hammer Mjölnir, among other items, and won the bet.

Japanese

エイトリ

Eitri

Spanish

Eitri

As above

French

Eitri

As above

German

Eitri

As above

Italian

Eitri

As above

Portuguese
(Brazil)

Eitri

As above

Traditional Chinese

伊特理

Eitri
Gallery
Concept artwork of Eitri from Heroes.
References
| | |
| --- | --- |
| | This article is part of Project Characters, a project focused on writing articles for every character present in the Fire Emblem series. |