Site News
Warning: This wiki contains spoilers. Read at your own risk!


Social media: If you would like, please join our Discord server, and/or follow us on Twitter or Tumblr!

Engage info: As the game has only recently released, we lack much key information. Please help add any info that you can.
Warrior Realm
From Fire Emblem Wiki, your source on Fire Emblem information. By fans, for fans.
| | |
| --- | --- |
| | It has been requested that image(s) be placed in this page or section. Please submit images to help improve this page and talk on this page's talk page about what images are needed. Remove this when this has been fixed. |
Warrior Realm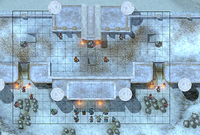 | | |
| --- | --- |
| Location | The Longfort |
| New units | |
| Boss(es) | |
| Previous chapter(s) | |
| Next chapter(s) | |
| | | | |
| --- | --- | --- | --- |
| " | You do realize impersonating royalty is a capital offense, yes? Mmm... Then perhaps we should settle this the Feroxi way. You claim to be the prince of Ylisse? Then prove it on the battlefield! | " | — Raimi |
Warrior Realm is the third chapter in Fire Emblem Awakening. Having arrived at the border between Ylisse and Ferox, the Shepherds are forced to prove themselves to a Feroxi captain before they can gain passage into Ferox.
In addition to next chapter in the storyline, completing this chapter will also unlock the first paralogue chapter. Clearing this chapter will also unlock all of the armories available to this point as well as the game's wireless features—namely the ability to set up a StreetPass team, the Double Duel, the Bonus Box, the Avatar Logbook, and Renown Awards—and the ability to find Risen swarms and merchants on the world map.
Plot
Main article: Warrior Realm/Script
The Shepherds arrive at the Ylisse-Ferox border. However, Raimi, the captain of the border guard, mistakes Chrom and his party for brigand impostors and demands that they prove their identity through battle. The Feroxi nearly kill Chrom with a barrage of javelins, but he is rescued in the nick of time by Sumia atop her new pegasus. The Shepherds manage to overcome the border guards and subdue Raimi, who apologizes for the misunderstanding and offers to personally escort them to the Feroxi capital.
Summary
At the Longfort dividing Ylisse and Ferox, the Shepherds are taken for brigands and attacked by the Feroxi Guard. A show of force clears the matter up.
Chapter data
Character data
Characters
New Units
Returning Characters
Item data
Shop data
After clearing this chapter, the shop at this location will become available.
Armory contents
Normal stock Possible merchant items
Column 4, row 2: One square east, two squares north from a stairs tile
Enemy data
Stats with two figures separated by a ~ are presented as a range, representing stats that vary due to random growths. The figures to the left and right of the ~ are the stat's minimum and maximum possible values respectively.
Name
Class
Lv
#
HP
Str
Mag
Skill
Spd
Lck
Prf
Def
Res
Cha
Con
Mov
Inventory and Skills
Feroxi
Archer
3
1
18~19
6~7
0
8~9
6~7
2~3
2~3
0~1
5

Iron Bow

Begins moving if the nearby Soldier or Archer is provoked.
Feroxi
Soldier
3
3
18~19
6~7
0
6~7
6~7
4~5
2~3
0~1
5

Iron Lance

• The western one begins moving if a nearby Archer is provoked.
• The eastern two both begin moving if either of them or the nearby Mercenary is provoked.
Feroxi
Archer
3
1
18~19
6~7
0
8~9
6~7
2~3
2~3
0~1
5

Iron Bow

•

Door Key

Begins moving if the nearby Archer or Soldier is provoked.
Feroxi
Mercenary
3
1
18~19
7~8
0
8~9
7~8
3~4
3~4
0~1
5

Iron Sword

•

Door Key

Begins moving if a nearby Soldier is provoked.
Feroxi
Knight
3
2
20~21
9~10
0
5~6
1~2
3~4
8~9
0~1
4

Iron Lance

--

Feroxi
Mercenary
3
2
18~19
7~8
0
8~9
7~8
3~4
3~4
0~1
5

Iron Sword

Begins moving if the nearest Fighter is provoked.
Feroxi
Fighter
3
1
20~21
9~10
0
5~6
6~7
4~5
2~3
0~1
5

Iron Axe

Begins moving if the nearest Mercenary is provoked.
Feroxi
Fighter
3
1
20~21
9~10
0
5~6
6~7
4~5
2~3
0~1
5

Hammer

Begins moving if the nearest Mercenary is provoked.
Raimi
Knight
5
1
28
12
0
8
2
5
10
1
-

Javelin

Stands on a gate.
NPC data
Boss data
Main article: Raimi
Strategy
This section details unofficial strategies that may help with completion of the chapter. This may not work for everybody.
In this chapter, Sumia is introduced as a new playable unit. As she mentions, Pegasus Knights are vulnerable to bows and thus must be kept safe from archery. This is also the first map to introduce recruitable NPCs, namely Kellam. Lunatic+ introduces Counter, Pavise+, and Aegis+, so watch out. You also unlock battle preparations from this point onward, and are forced to bench one unit. Chrom is forced, Robin will eventually become your best unit, Lissa is your only healer, benching Frederick is tantamount to suicide, and Virion and Miriel can both safely chip from 2 range, which is invaluable given the plentitude of 1-range enemies and Counter. This leaves two slots for Sully, Stahl, and Vaike, and there are arguments for all three of them; Sully is the fastest of the three and is far likelier than Stahl to have reached a D weapon level due to her one chapter head start, Stahl has a support with Kellam that can make them both relatively bulky, and Vaike can offer raw power to Chrom and Lon'qu through his supports with them and can get a Hammer during this chapter. The choice is yours. Whoever you bench, make sure to redistribute their weapons; Frederick and Stahl appreciate Sully's Bronze Lance, Frederick would like Vaike's Iron Axe, and Robin and Sully could use Stahl's Bronze Sword.
At the beginning of the chapter, your first objective is to take out the two groups of enemies on the south side of the map. It's easiest to charge the southwest group first since they're a little smaller. Your biggest problems are Knights with Aegis+ and Archers with Counter. Robin shouldn't have much trouble doubling the Knights, while Miriel can do so with a Speed pair-up. You also have Chrom's Rapier for dealing with them. Once the southwest group is down, regroup and heal quickly, because the southeast group is bearing down on you. If they lack Pass, you might be able to get away with a vertical wall to block them off; otherwise, go in fast and hard with an offensive rush and hope you're still standing when the dust settles. Afterwards, heal and get the event tile.
The second half of the map is, thankfully, a lot easier. You can use your new Door Key to open one of the doors and rush down the nearby Knight. Afterwards, the entire north half of the map will charge you. If you don't feel comfortable taking them on all at once, you can always make like the Mongols and retreat, staying just inside their range so you can pick away at their health. Once the north group is wiped out, you can face Raimi. She's the first boss to sit on a gate/throne, so you can't cherry tap her to death, but you shouldn't have too much trouble overwhelming her with Robin, Chrom, and Frederick.
After the battle, you unlock wireless features, including Renown rewards. All Lunatic+ runthroughs will have a minimum of 300 Renown at this point (260 from the Lunatic mode playthrough that unlocked Lunatic+, and 40 from the first four chapters of Lunatic+ itself; the Premonition and the Endgame don't seem to count), so you may immediately claim the Glass Sword, Second Seal, Orsin's Hatchet, Seed of Trust, and Levin Sword. Your long-term goal should be to bring Robin to level 10 as a Tactician so you can reclass her as soon as possible and then promote her in Chapter 8.
Trivia
The animated cutscene that plays in this chapter is the only one whose name is different between the USA release and PAL release of the game.
Etymology and other languages
Names, etymology and in other regions
Language
Name
Definition, etymology, and notes
English

Warrior Realm

Japanese

戦士の王国

Kingdom of Warriors

Spanish

El reino guerrero

The warrior kingdom

French

Royaume guerrier

Warrior kingdom

German

Reich der Krieger

Realm of Warriors

Italian

Il regno guerriero

The warrior kingdom
Gallery
---
This section has been marked as a stub. Please help improve the page by adding information.
---