Site News
Warning: This wiki contains spoilers. Read at your own risk!


Social media: If you would like, please join our Discord server, and/or follow us on Twitter or Tumblr!

Engage info: As the game has only recently released, we lack much key information. Please help add any info that you can.
Ferox
From Fire Emblem Wiki, your source on Fire Emblem information. By fans, for fans.
Ferox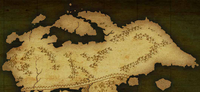 | | |
| --- | --- |
| Capital | Castle Ferox |
| Demonym | Feroxi |
| Government | Dual kingdoms |
| Continent | |
| | | | |
| --- | --- | --- | --- |
| " | The khans of Ferox prefer battle to politics. Or rather, battle IS their politics. | " | — Chrom |
Ferox (Japanese: フェリア Felia) is the northern nation of the Ylissean continent. The largest of the three nations by far, it borders both Ylisse and Plegia to the south. In the continent's distant past, the territory currently held by Ferox used to include the kingdoms of Khadein and Aurelis, the Marmotord desert, and the untamed lands and various landmarks which comprised Anri's Way.
Though a single nation for all intents and purposes, Ferox is divided into two kingdoms, East Ferox and West Ferox, collectively referred to as Regna Ferox (Japanese: フェリア連合王国 United Kingdom of Felia). Each kingdom is ruled by a khan, and at any given time, only one khan has total control over both kingdoms; the current ruling khan is determined in gladiatorial tournaments held every few years, in which the khans are represented by champions typically foreign to Ferox[1]. A militant nation by nature, the people of Ferox greatly value strength and blunt honesty, reflected in both their system of government and in their strong army. Despite being polar opposites in the values they hold, Ferox has excellent relations with Ylisse, their pacifist neighbours, and so with the encroaching threats of Plegia and the Risen, their assistance in protecting Ylisse was sought by its Prince Chrom.
Notable locations in Ferox
Arena Ferox
Arena Ferox is where tournaments are held to determine the next khan to be in power. Many spectators gather in the stands to watch the ensuing battles.
Port Ferox
Port Ferox is a harbor on the western coast of Ylisse. Chrom and Robin used the port to travel to Valm to oppose Walhart.
Port Ferox existed in Archanean times as Furia Harbor (Japanese: フリアの港 Port Fulia), which may be the country's namesake, however this is somewhat lost in translation due to name changes. It is where Alm and Celica dock upon arriving to Archanea.
Characters from Ferox
Etymology and other languages
Names, etymology and in other regions
Language
Name
Definition, etymology, and notes
English

Ferox

From the Latin ferox, "fierce".

Japanese

フェリア

Officially romanized as Felia.

Spanish

Ferox

As above.

French

Ferox

As above.

German

Ferox

As above.

Italian

Ferox

As above.

Portuguese
(Brazil)

Ferox

Used in Heroes.[2]

Korean

페리아

Felia; used in Engage.

Traditional Chinese

菲利亞

Felia; used in Heroes.[3]
Gallery
References
↑ "As I said, I am ONE of the khans. In Ferox, the khans of east and west hold a tournament every few years. The victor acquires total sovereignty over both kingdoms." — Flavia, Fire Emblem Awakening
↑ "

Hábil espadachim de Regna Ferox que, por algum motivo, fica nervoso na presença de mulheres. [...]

" — Lon'qu: Solitary Blade's help text description, Fire Emblem Heroes
↑ "

菲利亞國的劍客,不擅長面對女性。[...]

" — Lon'qu: Solitary Blade's help text description, Fire Emblem Heroes