Site News
Warning: This wiki contains spoilers. Read at your own risk!


Discord and Twitter: If you would like, please join our Discord server, and/or follow us on Twitter at @FEWikiOfficial!
Naga
From Fire Emblem Wiki, your source on Fire Emblem information. By fans, for fans.
For the tome known by the same name from Genealogy of the Holy War, see Naga (tome).
Naga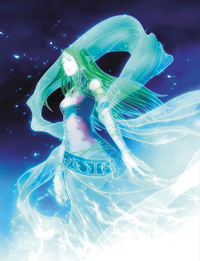 Artwork of Naga from Awakening.
---
Ruler of the Divine Dragons. Takes on a variety of appearances in the presence of humans, and is said to have saved the world from despair.
Gender

Female

Race
Age
Family
Title(s)

Divine Dragon King
Guardian deity (Archanea)
God of light (Jugdral)
The Divine Dragon (Ylisse)

Voiced by

Appearance(s)
| | | | |
| --- | --- | --- | --- |
| " | But know this: I am no god. [...] So do sons of man name me. But I am no creator. I possess not the powers of making or unmaking. | " | — Naga |
Naga (Japanese: ナーガ Naga) is a powerful divine dragon, and was once the King of the divine dragon clan which bears her name. She has historically played a strong role as an ally and defender of mankind in conflicts with earth dragons, and is worshipped as a god in the cultures of Archanea/Ylisse and Jugdral, and she is acknowledged in the lore of Valentia due to her connection to Mila, Duma, and Valentia's Falchion. Her Holy Blood is carried through generations of two dynasties – the Belhalla family of Grannvale, and the Ylisse royal family – and she is the creator of numerous holy weapons and items used and revered by mankind, including both the Archanean and Valentian Falchions, the Binding Shield, and the Book of Naga. Her daughter Tiki is also a prominent ally of the Hero-King Marth and his descendant Chrom.
Biography
---
This section has been marked as a stub. Please help improve the page by adding information.
---
Ancient Archanea
Naga presided over the divine dragon tribe at the end of the golden era of the dragons of Archanea, and willingly became a Manakete along with the majority of other dragons in order to survive the degeneration of the dragons. When the earth dragons turned feral and attacked the fledgling human population after refusing to become Manaketes, Naga led the divine dragons in a war against the earth dragon in order to protect mankind. The divine dragons emerged victorious from the war, and Naga sealed the earth dragons in the Dragon's Table using the Binding Shield, forged from one of her fangs.[2] She entrusted the guardianship of the Table to Medeus, the sole earth dragon manakete.[3]
Jugdral and the Miracle of Dahna
Unbeknownst to Naga, a single earth dragon escaped the war: Loptous, who had undergone blood rites with the bishop Gair, possessed him, traveled to Jugdral and there established the Loptrian Empire. Nearly two hundred years after the Loptrian Empire's foundation, Naga learned of its existence and the role of Loptous in its abuse of humanity. In response she recruited eleven other dragons, including Forseti and Salamand, and with them travelled to Jugdral.
Naga and the eleven dragons descended upon Dahna Fortress, the last stronghold of the rebellion against the Loptrian Empire, in an event which came to be known as the Miracle of Dahna. Under the guise of a little girl,[4] she underwent blood rites with Heim, transforming him into the leader of the Twelve Crusaders and granting him her power through their blood pact, in the form of Holy Blood and the Book of Naga, the tome channeling her power. Heim and the Book of Naga would prove to be crucial in the defeat of Loptous and his then-present host, Gair XVII, with her power being the only hope of truly piercing that of Loptous.[5] Naga's holy blood was passed on through the descendants of Heim, the ruling Belhalla dynasty of Grannvale.
"Death"
In order to grant humans a way to protect themselves from other dragons who wish them harm, Naga forged Falchion from another of her fangs. She placed Falchion and the Binding Shield in the Fane of Raman, put her infant daughter Tiki to sleep in the Ice Dragon Temple, and commanded Gotoh and the other manaketes to observe and protect humanity.[1] With these last acts accomplished, Naga "died", with the location of her death said to be Thabes.[6]
Thousands of years after her "death", near the conclusion of the War of Heroes, Marth encountered a Manakete called Nagi who is strongly hinted to be some form of reincarnation or avatar of Naga; Nagi assisted Marth in the defeat of Medeus.
Ylisse
At the height of Grima's first reign of terror, Naga was awakened by an unnamed man descended from Marth through the rite of Awakening. She conferred her power upon this man in a second blood pact, enabling him to defeat Grima and return him to slumber using Falchion. This man went on to become the first Exalt of Ylisse, and as with Heim's descendants, his descendants also bear Naga's Holy Blood as made manifest by the Brand of the Exalt present on all of their bodies.
One thousand years later, following Grima's revival by Validar of the Grimleal, Naga's assistance was sought by Chrom, descendant of Ylisse's founder and wielder of a Falchion whose divine power had faded (or possibly was sealed) with time. Using the Fire Emblem, he performed the Awakening rite at Mount Prism, and Naga provided both advice on Grima's downfall and granted her power to Chrom, restoring to Falchion the mighty power it had during the era of Marth, as well as the title it had during Marth's time: "Exalted Falchion".
In an alternate future in which Chrom was slain by the Grima-possessed Robin and Grima's reign became absolute, his daughter Lucina and the children of Chrom's allies sought Naga's assistance. She granted them passage to the past through the Outrealm Gate, in order to avert the disastrous future; however, Grima caught wind and followed them back in time.
Role
Naga is the game's fourth Mythic Hero, and as such was added to the game in a dedicated Mythic Hero update, and was made available for summoning as part of a summoning event released on May 30, 2018. Only one variation of Naga is currently available in Heroes; she is the first character in the game with two games credited to her name for a single variation, credited to both Mystery of the Emblem and Awakening.
Starting stats
Naga: Dragon Divinity is only available at 5★ rarity.
Rarity
★★★★★
Weapon type
Movement type

Mythic Hero




Initial Stats Level 40 Stats

Skills
Divine Breath


--


New Moon

Skill set
Skill set
Skill
Rarity
SP cost
Fire Breath
Innate
Fire Breath+
Innate
Flametongue
Innate
Divine Breath
Innate
New Moon
Innate
Luna
★★★★★
200 SP

A

AR-O Atk/Spd 1
★★★★★
60 SP

A

AR-O Atk/Spd 2
★★★★★
120 SP

A

AR-O Atk/Spd 3
★★★★★
240 SP

B

Chill Spd 1
★★★★★
60 SP

B

Chill Spd 2
★★★★★
120 SP

B

Chill Spd 3
★★★★★
240 SP

B

Dive-Bomb 1
★★★★★
60 SP

B

Dive-Bomb 2
★★★★★
120 SP

B

Dive-Bomb 3
★★★★★
240 SP

C

Divine Fang
★★★★★
300 SP
File:Is feh divine fang+.png

C

Divine Fang+
★★★★★
300 SP
Quotes
Heroes quotes
Main article: Naga/Quotes (Heroes)
Other appearances
Naga is featured on one card in Fire Emblem Cipher.
Fire Emblem Cipher data for Naga
Divine Dragon of Salvation, Naga
"

Be swift, Awakener. Grima's servants will harry you to the very last. You must reach the dragon before it is too late.

"
"

Cleansed in my fire, your desire has proven to burn the stronger.

"
Attack: 0
Support: 20
Range: 1
Deploy Cost: 5
Class: Divine Dragon
Tier: Base
Class Change Cost: --
Divine Dragon's Rite of Awakening:

[Activate]

[] Choose 1 other ally. Then choose 1 card with a Promotion Cost from your retreat area with the same unit name as the chosen ally, and Class Change them.
Naga's Power:

[Trigger]

[Once per turn]

When another ally Class Changes, until the end of the turn, all allies gain +20 attack. Place this unit face-down in your Bond Area.
Card #B12-073R(+) • Artist: Mayu (B12-073R), Geso Umiu (B12-073R+)
Some card information translation provided by Serenes Forest.
For more detailed strategic information on these cards, see their TCG wiki article on Naga .
Flavor text
---
This section has been marked as a stub. Please help improve the page by adding information.
---
Game
Text
(English)
Text
(Japanese)
The Art of Fire Emblem Awakening
(Character profile)
The legendary divine dragon.
She appears before Chrom and
his friends during the Awakening.
??
The Art of Fire Emblem Awakening
(Glossary)
The divine dragon who helped save the world from
destruction in the Age of Sacrifice. Since then, she has
been worshiped as a protector god because she
provided the power to seal the fell dragon Grima
away. According to oral tradition, Naga has appeared
in borrowed human form, but accounts differ as to
whether that form was male or female. While Grima is
thought to be a descendant of the earth dragon tribe,
Naga is conjectured to be the spirit of King Naga of
the divine dragon tribe.
??

Heroes

Ruler of the Divine Dragons. Takes on a variety
of appearances in the presence of humans, and
is said to have saved the world from despair.
Appears in Fire Emblem: Mystery of the Emblem
and Fire Emblem Awakening.
神竜族の王。さまざまな姿をとって人の前に現れ、
世界を絶望から救ったと伝えられる。
(登場:『ファイアーエムブレム 紋章の謎・覚醒』)
Trivia
Etymology and other languages
Names, etymology and in other regions
Language
Name
Definition, etymology and notes
English

Naga

From Nāga, a class of deity in Buddhist and Hindu mythology which takes the form of a great snake. "Nāga" is also one of several words for common snakes in the Sanskrit language.

English
(unofficial)

Narga

--

Japanese

ナーガ

Officially romanized as Naga, formerly as Narga; as above.

Spanish

Naga

--

French

Naga

--

German

Naga

--

Italian

Naga

--

Dutch

Naga

In Super Smash Bros. Ultimate, from Tiki's enhanced spirit "Tiki (de stem van Naga)".

Portuguese
(Brazil)

Naga

--

Traditional Chinese

那迦

Naga
Gallery
Artwork of Naga: Dragon Divinity from Heroes.
References
| | |
| --- | --- |
| | This article is part of Project Characters, a project focused on writing articles for every character present in the Fire Emblem series. |