Site News
Warning: This wiki contains spoilers. Read at your own risk!


Social media: If you would like, please join our Discord server, and/or follow us on Twitter or Tumblr!

Engage info: As the game has only recently released, we lack much key information. Please help add any info that you can.
Elimine
From Fire Emblem Wiki, your source on Fire Emblem information. By fans, for fans.
Elimine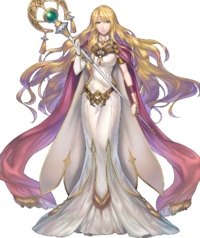 Artwork of Elimine from Heroes.
Saint Elimine (Japanese: 聖女エリミーヌ Saint Elimine) was one of the Eight Legends. Toward the end of The Scouring, when the Divine Weapons were forged to combat dragons, she was judged to be powerful enough to be chosen to wield one of the weapons, the Aureola tome;[1] she also bore the Staff of the Saint. With the other Generals, she travelled to the Dragon Sanctuary in what would later become Bern and launched an assault on it, accidentally causing the Ending Winter and forcing the dragons to become Manaketes.
After the Scouring, Elimine was the founder of the Kingdom of Etruria. She also founded the Elimine Church, the dominant religion of Elibe, and dedicated much of the rest of her life doing the work of the church's god and spreading its message. Numerous parables of her exploits and message arose and were spread by the church, such as "the story of the owl and the eagle".[2][3] According to the church's lore, at the end of her life when her work in the mortal world was complete, she ascended to heaven, leaving her mortal body behind; it was entombed at the Tower of the Saint in Etruria, the alleged site of her ascension and the place where Aureola was sealed away.
Role
Main article: Mario Kart: Double Dash!! bonus disc
In 2003, in pre-orders of the Nintendo GameCube game Mario Kart: Double Dash!! from certain retailers were packaged a bonus promotional disc.[4] In addition to containing trailers and demos for various games, it also contained special transferrable content for Fire Emblem: The Blazing Blade: special items, most unavailable in the main game, as well as two exclusive songs, "Legend of the Dragon God" and "Royal Palace of Silezha". When the option to do so is selected from the disc's main menu, Elimine appears to confirm the process, calling the transferred items and songs her "sacred gifts".
Elimine is the game's twenty-fifth Mythic Hero, and was added to the game in a dedicated Mythic Hero update, made available for summoning as part of a summoning event released on January 28, 2022. Only one variation of Elimine is currently available in Heroes, based on her The Binding Blade incarnation.
Elimine: Scouring Saint
Starting stats
Elimine: Scouring Saint is only available at 5★ rarity.
Rarity
★★★★★
Weapon type
Movement type

Mythic Hero




Initial Stats Level 40 Stats
Skill set
Skill set
Skill
Rarity
SP cost
Assault
★★★★★
50 SP
Staff of the Saint
★★★★★
400 SP
Heal
Innate
Reconcile
Innate
Nudge
Innate
Nudge+
Innate

A

Atk/Res Push 1
★★★★★
60 SP

A

Atk/Res Push 2
★★★★★
120 SP

A

Atk/Res Push 3
★★★★★
240 SP

A

Atk/Res Push 4
★★★★★
300 SP

B

A/S Far Trace 1
★★★★★
60 SP

B

A/S Far Trace 2
★★★★★
120 SP

B

A/S Far Trace 3
★★★★★
240 SP

C

Holy Ground
★★★★★
300 SP
Personality and character
Elimine believes that humans are weak on their own, but can become powerful when they work together.[5] Forming bonds with one another enables humans to take advantage of the seven affinities,[6] and makes them stronger in the face of adversity, helping them persevere.[7]
Elimine sees dragons as a major threat to humanity and believes that humanity must face them together. Dragons, in her opinion, are "destruction given form."[8]
While Elimine is benevolent, she observes that Hartmut's kindness allowed the Demon Dragon to survive, and his decision weakened humanity, letting the dragons threaten it once more.[9] People, in her opinion, must not only be united, but also perceptive, if they are to face danger effectively.[10]
Quotes
Main article: Elimine/Quotes (Heroes)
| | | | |
| --- | --- | --- | --- |
| " | I bestow upon you these, my sacred gifts. May they bring you joy and comfort! | " | — Elimine, transferring her "sacred gifts" to a copy of Fire Emblem: The Blazing Blade |
Flavor text
Game
Text
(English)
Text
(Japanese)

Heroes

One of the Eight Legends who defeated the
dragons during the Scouring. Her teachings
live on as passed down by the Elimine Church.
Appears in Fire Emblem: The Binding Blade.
人竜戦役において魔竜を打ち破った八神将のひとり。
彼女が未来へ託した願いはエリミーヌ教として継がれた。
(登場:『ファイアーエムブレム 封印の剣』)
Etymology and other languages
Names, etymology and in other regions
Language
Name
Definition, etymology, and notes
English

Elimine

Japanese

エリミーヌ

Elimine

Spanish

Elimine

--

French

Elimine

--

German

Elimine

--

Italian

Elimine

--

Portuguese
(Brazil)

Elimine

--

Traditional Chinese

艾莉彌

Elimi
Gallery
Other appearances
References
| | |
| --- | --- |
| | This article is part of Project Characters, a project focused on writing articles for every character present in the Fire Emblem series. |