Site News
Warning: This wiki contains spoilers. Read at your own risk!


Social media: If you would like, please join our Discord server, and/or follow us on Twitter or Tumblr!

Engage info: As the game has only recently released, we lack much key information. Please help add any info that you can.
The Grimleal
From Fire Emblem Wiki, your source on Fire Emblem information. By fans, for fans.
This page is about the chapter in Fire Emblem Awakening; for the cult that this chapter is named after, see Grimleal.
| | |
| --- | --- |
| | It has been requested that image(s) be placed in this page or section. Please submit images to help improve this page and talk on this page's talk page about what images are needed. Remove this when this has been fixed. |
The Grimleal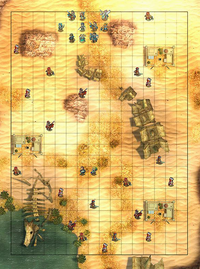 | | |
| --- | --- |
| Location | Border Sands |
| New units | |
| Boss(es) | |
| Previous chapter(s) | |
| Next chapter(s) | |
| | | | |
| --- | --- | --- | --- |
| " | What in blazes?! The girl is a dragon! | " | — Robin, after witnessing Nowi's transformation |
The Grimleal is the eighth chapter in Fire Emblem Awakening. In this chapter, the Shepherds run into Gregor and Nowi—a mercenary and a manakete, respectively—who are being pursued by the Grimleal cult.
Plot
Main article: The Grimleal/Script
Having arrived in Plegia, Chrom remarks on how little they've seen of the Plegian Guard. Frederick reports that some of their scouts spotted an engagement downfield, and Chrom prepares everyone to intervene. The Shepherds discover that a group of hostiles are attacking a manakete named Nowi and her self-appointed protector, the mercenary Gregor. The Shepherds step in and eliminate the enemies. After the battle, the Shepherds take Nowi into their care; if Gregor survived the battle, they hire him as well. Frederick explains that the attackers were likely members of the Grimleal, a fanatical cult dedicated to the worship and resurrection of the fell dragon Grima.
Summary
Chrom and Lissa learn their sister is to be put to death, and launch a rescue mission. On the way, they battle the Grimleal: the fell dragon's loyal followers.
Chapter data
Character data
Characters
New Units
Returning Characters
Note: The returning characters list does not include any characters recruitable in paralogues, as the player may not have taken on any available paralogue chapters yet. The list also does not include any bonus units, as they are recruitable at the player's discretion.
Item data
Shop data
After clearing this chapter, the shop at this location will become available.
Armory contents
Normal stock Possible merchant items
Column 16, row 11: On a plain tile six squares east of an Iron Lance Cavalier
Column 6, row 19: Near the oasis, north of another Iron Lance Cavalier
Enemy data
Stats with two figures separated by a ~ are presented as a range, representing stats that vary due to random growths. The figures to the left and right of the ~ are the stat's minimum and maximum possible values respectively.
Name
Class
Lv
#
HP
Str
Mag
Skill
Spd
Lck
Prf
Def
Res
Cha
Con
Mov
Inventory and Skills
Unknown
Fighter
8
2
25~26
10~11
0
9~10
7~8
6~7
4~5
0~1
5

Steel Axe

--

Unknown
Myrmidon
8
1
21~22
8~9
1
11~12
12~13
6~7
4~5
2~3
5

Killing Edge

--

Unknown
Dark Mage
8
4
23~24
1
6~7
5~6
5~6
3~4
4~5
3~4
5

Flux

The northern three immediately begin moving unprovoked.
Unknown
Fighter
8
3
25~26
10~11
0
9~10
7~8
6~7
4~5
0~1
5

Iron Axe

Immediately begins moving unprovoked.
Unknown
Dark Mage
8
1
23~24
1
6~7
5~6
5~6
3~4
4~5
3~4
5

Fire

Immediately begins moving unprovoked.
Unknown
Myrmidon
8
3
21~22
8~9
1
11~12
12~13
6~7
4~5
2~3
5

Iron Sword

Immediately begins moving unprovoked.
Unknown
Cavalier
8
1
23~24
9~10
0
8~9
8~9
5~6
6~7
1~2
7

Steel Lance

Immediately begins moving unprovoked.
Unknown
Cavalier
8
3
23~24
9~10
0
8~9
8~9
5~6
6~7
1~2
7

Iron Lance

Immediately begins moving unprovoked.
Unknown
Dark Mage
8
1
23~24
1
6~7
5~6
5~6
3~4
4~5
3~4
5

Thunder

Immediately begins moving unprovoked.
Chalard
Dark Mage
12
1
31
2
10
8
9
5
7
10
-

Nosferatu

•

Energy Drop

--
Boss data
Main article: Chalard
Strategy
This section details unofficial strategies that may help with completion of the chapter. This may not work for everybody.
On Lunatic difficulty, this is the first chapter in the game to give enemies forged weaponry (tied with A Strangled Peace, unlocked at the same time).
This map is a very good map to be a Pegasus Knight. The enemy forces are comprised of Fighters and Cavaliers who are impeded by the desert terrain, and Dark Mages who are poor in combat and countered by Pegasus Knights. Cordelia, who joined in the previous chapter with good bases, should have no trouble acquiring a few levels. If you can get her to level 10 by Chapter 10, you can promote her to Falcon Knight and have the utility of a flying healer.
At the start of the map, send Robin south to clear a path so Nowi and Gregor can escape. Note that Nowi has six movement, so keeping Gregor as her pair-up partner. Once they're safe, give Robin as many kills as she needs to hit level 20 and give the rest to Cordelia. Have Robin unequip her weapons and hit the southwest village to claim the first Master Seal. Promote her immediately to make her borderline unstoppable, claim the other two villages, and obliterate Chalard and his goons.
Etymology and other languages
Names, etymology and in other regions
Language
Name
Definition, etymology, and notes
English

The Grimleal

--

Japanese

邪竜のしもべ

Servants of the Evil Dragon

Spanish

La Orden de Grima

The Order of Grima

French

Disciples des ténèbres

Disciples of darkness

German

Die Grimleal

The Grimleal

Italian

I Seguaci di Grima

Grima's Followers
Gallery
---
This section has been marked as a stub. Please help improve the page by adding information.
---