Site News
Warning: This wiki contains spoilers. Read at your own risk!


Social media: If you would like, please join our Discord server, and/or follow us on Twitter (X) or Tumblr!
Quintessence
From Fire Emblem Wiki, your source on Fire Emblem information. By fans, for fans.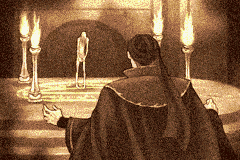 | | | | |
| --- | --- | --- | --- |
| " | The substance of the human spirit... Power. Energy. The essence of life itself. | " | — Nils |
Quintessence (Japanese: エーギル Ægir) is the life force of all living things, which can be used for a variety of goals. Quintessence serves a central narrative role in Fire Emblem: The Blazing Blade, though references to this concept exist as early as Fire Emblem: Genealogy of the Holy War.
Overview
Characteristics
Quintessence is a fairly simple concept: it is the energy behind all living things. All living things possess quintessence.[1][2][3] The amount of quintessence a living being possesses seems to vary by a large margin, with Nils mentioning that strong-willed people have more,[4] though whether quintessence makes someone strong-willed, or being strong-willed makes someone produce a lot of quintessence is unspecified. Quintessence can be used for a variety of purposes; it can be used to fuel powerful magic like Ereshkigal, it can be used to create creatures like morphs, and—at least with Valkyrie—it is involved in properly reviving the dead.[1]
According to Shouzou Kaga, quintessence – at least in Genealogy of the Holy War – represents a "force of fate" which is tied to the pre-ordained destiny of individuals. The Valkyrie Staff can only be used to resurrect people who were not actually destined to die yet and thus presumably still possess their quintessence, or force of fate. Accordingly, the staff cannot save people who actually have met their pre-ordained death, such as the first-generation cast after the Battle of Belhalla, presumably because they no longer have a force of fate.[5]
In both games that it appears and is mentioned in, dragons appear to be the first ones to utilize quintessence. In Elibe, the dragon research in Arcadia mentions how to harness quintessence, and in Jugdral, the dragon-created Valkyrie Staff utilizes quintessence in some manner.
History
Unlike The Blazing Blade, quintessence serves more as a background world-building element than something of central plot importance. When Claud was traveling to Bragi Tower with Tailtiu he started explaining it to her, but she interrupted him. He states that the Valkyrie staff uses quintessence in some way or another, and it is involved with the ritual to revive someone from death, though he fails to elaborate as he is interrupted by Tailtiu.
In The Blazing Blade quintessence takes a far more central role in the game's plot. The main antagonist, Nergal, had been experimenting with quintessence for roughly half a millennium to recover his wife since the Scouring. Along the way, his dabbling in the dark arts slowly erased his memories of his original goal, though he did not realize this until shortly before his death. Nergal's primary source of power was quintessence, which he took mostly from humans; he had plans for using dragon quintessence to further his goals, though he was unsuccessful. Nergal also used quintessence to create his army of morphs and to speak to, and control, dragons beyond the Dragon's Gate.[6]
In gameplay
Outside of the fact that the Valkyrie Staff uses quintessence in some way as well as quintessence being used to craft morphs, which the player has to fight, quintessence has no gameplay functions, and is purely a concept pertaining to living things in Elibe and Jugdral.
Trivia
Etymology and other languages
Names, etymology, and in other regions
Language
Name
Definition, etymology, and notes
English

Quintessence

A word derived from Latin quinta essentia, or "fifth essence". Being the fifth element of the other fundamental elements, which are generally fire, water, earth, and air.[7]

English
(unofficial)

Aegir

Used in earlier Fire Emblem: Genealogy of the Holy War fan translations.

Japanese

エーギル

From Ægir, a jötunn in Norse mythology associated with the ocean.

Spanish

Quintaesencia

Quintessence

French

Quintessence

--

German

Quintessenz

Quintessence. Occasionally abbreviated to "Essenz" in certain dialogues.

Italian

Quintessenza

Quintessence
Gallery
References