Site News
Warning: This wiki contains spoilers. Read at your own risk!


Social media: If you would like, please join our Discord server, and/or follow us on Twitter or Tumblr!

Engage info: As the game has only recently released, we lack much key information. Please help add any info that you can.
Elbert
From Fire Emblem Wiki, your source on Fire Emblem information. By fans, for fans.
For the character from Berwick Saga, see Saga:Elbert.
---
This page has been marked as a stub. Please help improve the page by adding information.
---
| | |
| --- | --- |
| Gender | Male |
| Race | |
| Family | |
| Nationality | |
| Title(s) | Marquess Pherae |
| Starting class | |
| Appearance(s) | |
| | | | |
| --- | --- | --- | --- |
| " | Eliwood... Turn back... Take the girl and flee... ...Please...... | " | — Elbert |
Elbert (Japanese: エルバート Elbert) is the father of Eliwood and the husband of Eleanora, and the marquess of Pherae during the first major arcs of Fire Emblem: The Blazing Blade; his disappearance is a major plot point of the first major arc of Eliwood's and Hector's tales.
Role
About six months prior to the events of chapter 11, Elbert is contacted by Darin of Laus concerning a possible rebellion against Ostia; during this time, he attempted to convince Darin and Ephidel to have the Black Fang driven out of Lycia, presumably in refusing to join such a rebellion. This contributed to his disappearance at the hands of Ephidel roughly five months afterward, along with a number of his sworn men; the event of Elbert's disappearance is the catalyst for the start of Eliwood's journey, and indirectly does so for Hector as well.
Elbert and his men were taken by Ephidel to the Dragon's Gate; a number of of Elbert's men were presumably killed not too much later in order to have their quintessence harvested by Nergal, but Elbert himself was kept alive in order to watch over Nergal's two children, Ninian and Nils. During Elbert's time at the Dragon's Gate, he set Nergal's children loose in order to attempt to foil Nergal's plans.
Elbert first appears physically in chapter 18 (19 Hector), not too long after having set Nergal's children loose, to be informed of Eliwood's arrival on Valor with Ninian at his side; in the following chapter, Elbert defends himself against Nergal as Nergal prepares for his ritual, willing to put Ninian's life before his own, getting injured by Jaffar and later suffers a fatal wound by Ephidel's hand. Eliwood and his company arrive to Elbert's side, where Elbert makes one last offensive against Nergal, inflicting a grievous wound against him, before eventually dying in Eliwood's arms. Eliwood would eventually succeed Elbert as Marquess Pherae.
Starting stats and growth rates
Elbert appears to have some unused unit data within the game's code.
Recruitment: None; this data is unused.

Inventory
--

Weapon Levels

| | | | | | | | |
| --- | --- | --- | --- | --- | --- | --- | --- |
| | A | | A | | -- | | -- |
| | -- | | -- | | -- | | -- |
Personality and character
---
This section has been marked as a stub. Please help improve the page by adding information.
---
Other appearances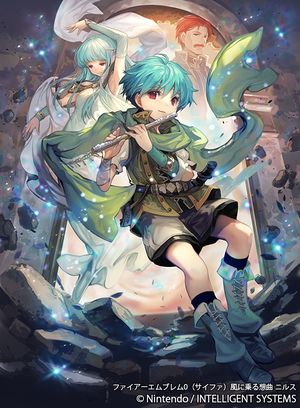 While Elbert has yet to get his own card, he does make a cameo appearance in one of Nils's cards.
Flavor text
Etymology and other languages
Names, etymology and in other regions
Language
Name
Definition, etymology, and notes
English

Elbert

Dutch variant of Adelbert.[1]

Japanese

エルバート

Elbert

Spanish

Elbert

--

French

Elbert

--

German

Elbert

--

Italian

Elbert

--

Portuguese

Elbert[2]

--

Traditional Chinese

艾爾巴特[3]

Elbert
Gallery
References
| | |
| --- | --- |
| | This article is part of Project Characters, a project focused on writing articles for every character present in the Fire Emblem series. |