Site News
Warning: This wiki contains spoilers. Read at your own risk!


Social media: If you would like, please join our Discord server, and/or follow us on Twitter or Tumblr!

Engage info: As the game has only recently released, we lack much key information. Please help add any info that you can.
Trickster
From Fire Emblem Wiki, your source on Fire Emblem information. By fans, for fans.
Trickster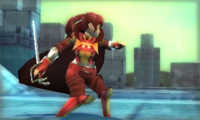 Anna as a Trickster in Awakening.
---
A sword user who can use some magic, the Trickster toys with their foes by employing quick movement.
The Trickster (Japanese: トリックスター Trickster) is an advanced class debuting in Fire Emblem Awakening. It is one of the class change options available to Thieves, and acts as a mixed class with access to both swords and staves. While comparatively lacking in both of its offensive stats, with magic being the higher of the two, it excels in skill and speed and possesses good resistance.
The class appears in Three Houses as downloadable content, as part of the Cindered Shadows side story. It becomes available in the main story after completing the first chapter of this side story.
Stats
Base stats
Max stats
Class growth rates
See
class growth rate
for more details on the mechanics of class growths in each game.
Class modifiers
Class skills
In Three Houses, Tricksters can additionally use black magic, white magic, and dark magic. However, they are limited to half of their uses.
Class change
Awakening
Base class
Promotion method
Advanced class

Thief
Using a

Master Seal

after reaching Level 10.

Trickster
or

Assassin
Promotion choice criteria: The player can freely choose
Three Houses
Base class
Certification requirements
Special class
Any class
Level 20


Abyssian Exam Pass


B, B

Trickster
This class is only available for units that have passed the Thief certification exam.
Warriors
Warriors: Three Hopes
Beginner class
Method
Intermediate class
Method
Advanced class
Method
Master class

Myrmidon
Using an

Intermediate Seal

after mastering Myrmidon.

Thief
Using an

Advanced Seal

after mastering Thief.
File:Ma fewa2 assassin playable.gif
Assassin
Using a

Master Seal

after mastering Assassin.
File:Ma fewa2 trickster playable.gif
Trickster
Playable Tricksters
Notable enemy Tricksters
Notable neutral Tricksters
Flavor text
---
This section has been marked as a stub. Please help improve the page by adding information.
---
Game
Text
(English)
Text
(Japanese)

Awakening

A seasoned thief and infamous
rogue. Wields swords, staves.
華やかで神出鬼没な怪盗。
剣に加え、杖も使える上級職。

Three Houses

A sword user who can

use some magic

, the
Trickster toys with their foes by employing
quick movement. Requires Thief certification.
素早い動きで敵を翻弄する魔剣士。
習得には盗賊の資格が必要。


魔法が少し使える兵種。

Warriors: Three Hopes

A sword user who can use some magic, the
Trickster toys with their foes by employing
quick movement.
??
Trivia
Every named enemy Trickster in Awakening wields a Levin Sword at some point, as do most of the generic enemy ones. Furthermore, Anna is the only Trickster in the game who doesn't wield a Levin Sword by default; however, she is depicted as wielding one against Havetti in a piece of artwork in the Fire Emblem Background website.
Although Tricksters share the same idle stance as the Hero class in Three Houses while wielding a sword, their attack animations are distinctly different from the latter. This contrasts towards other classes that share the same attack animations and idle stance while wielding certain weapons such as the Swordmaster and Mortal Savant class.
Etymology and other languages
Names, etymology and in other regions
Language
Name
Definition, etymology, and notes
English

Trickster

One who tricks or deceives.

Japanese

トリックスター

Officially romanized as Trickster.

Spanish

Truhan

Rogue

French

Baladin

A comedian or entertainer, historically with the context of a travelling practitioner of these arts.

German

Gauner

Trickster

Italian

Ladro acrobata

Acrobatic thief

Korean

트릭스터

Trickster

Simplified Chinese

欺诈师

Cheating expert

Traditional Chinese

欺詐師

Cheating expert
Gallery
The generic Risen Trickster portrait in Awakening.

Linhardt as a Trickster in Three Houses.

Ingrid as a Trickster in Three Houses.
References
See also
| | |
| --- | --- |
| | This article is part of Project Classes, a project focused in writing articles for every class present in the Fire Emblem series. |