Site News
Warning: This wiki contains spoilers. Read at your own risk!


Social media: If you would like, please join our Discord server, and/or follow us on Twitter or Tumblr!

Engage info: As the game has only recently released, we lack much key information. Please help add any info that you can.
Ephidel
From Fire Emblem Wiki, your source on Fire Emblem information. By fans, for fans.
| | |
| --- | --- |
| Gender | Unknown (referred to as male by other characters) |
| Race | |
| Family | Nergal (creator) |
| Starting class | Sage* |
| Appearance(s) | |
| | | | |
| --- | --- | --- | --- |
| " | Humans... They are so very fragile. | " | — Ephidel commenting on Darin |
Ephidel (Japanese: エフィデル Ephdel) was a morph appearing in Fire Emblem: The Blazing Blade, he was created by Nergal. Ephidel was primarily an informant and manipulator, and is never witnessed participating in combat.
Despite appearing in cutscenes with a Sage map sprite, Ephidel's data is generic.
Role
Ephidel appears to be a major antagonist in the first ten chapters of Eliwood's and Hector's tale. His first appearance is speaking to marquess Santaruz, Helman. Helman is at least partially in league with the Lycian rebellion, however, Helman's resolve is faltering. Ephidel notices this and fatally wounds marquess Helman, though Helman is still able to tell Eliwood to find Darin.
He also manipulates Darin's desires, causing the man to abandon is son Erik and flee to Nergal on the Dread Isle. Darin is under the impression that Nergal will give him leadership of the world.
Ephidel is destroyed, in Chapter 19: Dragon's Gate, by the collapsing Fire Dragon Nergal partially summoned.
Personality and character
Ephidel matches most morph behavior as emotionless and calculating. However, his screaming during his death and commenting somewhat condescendingly to Darin behind his back,[1] indicates he may have some emotional capability, as in both instances emulating those emotions would have been of no benefit.
Ephidel seemed to have some expectation of protection by Nergal, as he yells out Nergal's name several times before dying.
Death quote
| | | | |
| --- | --- | --- | --- |
| " | Hyaaaa! Stop... You mustn't come here!! Lord Nergal! Lord Nergal! Please......!!! Guwaaaaaaahhh!!!!!! | " | — Ephidel |
Other appearances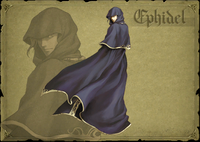 Ephidel's official artwork from The Blazing Blade can be viewed in Path of Radiance's extras menu if a copy of The Blazing Blade is connected to a copy of Path of Radiance.
Ephidel is featured on one card in Fire Emblem Cipher.
Fire Emblem Cipher data for Ephidel
Chilling Golden Eyes, Ephidel
"I am Ephidel. Pleased to make your acquaintance."
Attack: 60
Support: 20
Range: 1-2
Deploy Cost: 4
Class: Sage
Tier: Advanced
Class Change Cost: 3
False Friends:

[Trigger]

[Once per turn]

During your turn, when your opponent's support card fails to support an enemy, until the end of the turn, this unit gains +20 attack.
Thread Spun in Darkness:

[Trigger]

[] When this unit's attack destroys an enemy, you may pay the cost and if you do: Your opponent choses 1 card from their hand, reveals it, and places it at the top of their deck.
Card #B13-044HN • Artist: Setsu
Some card information translation provided by Serenes Forest.
For more detailed strategic information on these cards, see their TCG wiki article on Ephidel .
Trivia
Despite not having proper data, he has an assigned inventory during his cutscene appearances. He holds a Bolting, a Fimbulvetr, and a Fortify.
Etymology and other languages
Names, etymology and in other regions
Language
Name
Definition, etymology, and notes
English

Ephidel

Uncertian etymology. May be related to the Latin fidelis, meaning "faithful."

Japanese

エフィデル

Officially romanized as Ephdel.

Spanish

Ephidel

--

French

Ephidel

--

German

Ephidel

--

Italian

Ephidel

--

Portuguese

Ephidel

Used in the Choose Your Legends polls for Fire Emblem Heroes.

Traditional Chinese

艾菲迪魯

Ephdel; used in the Choose Your Legends polls for Heroes.
Gallery
References
| | |
| --- | --- |
| | This article is part of Project Characters, a project focused on writing articles for every character present in the Fire Emblem series. |