Site News
Warning: This wiki contains spoilers. Read at your own risk!


Social media: If you would like, please join our Discord server, and/or follow us on Twitter (X) or Tumblr!
The Future Past 3
From Fire Emblem Wiki, your source on Fire Emblem information. By fans, for fans.
| | |
| --- | --- |
| | It has been requested that image(s) be placed in this page or section. Please submit images to help improve this page and talk on this page's talk page about what images are needed. Remove this when this has been fixed. |
The Future Past 3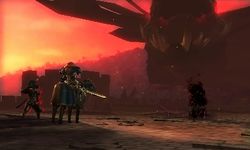 | | | | |
| --- | --- | --- | --- |
| " | The enemy snuck into the castle. Lady Tiki took a blow for me and fell... It's my fault... I should have been paying closer attention... | " | — Lucina |
The Future Past 3 (Japanese: 絶望の未来3 Future of Despair 3) is a downloadable content xenologue chapter in Fire Emblem Awakening. As a xenologue chapter, it does not officially bear a chapter number; if all xenologues are purchased and its list is viewed at the Outrealm Gate, The Future Past 3 is the twenty-fourth one from the top in the North American version of the game. Officially in Japan and unofficially in North America, The Future Past 3 is part of the second series of DLC releases, a distinction that does not exist in the PAL regions.
This chapter was first made available on October 18, 2012 in Japan, May 23, 2013 in North America, and June 20-21 in the PAL regions.
In this chapter, Naga tasks the Shepherds into protecting a princess and three other children in a bleak alternate Ylissean future in their quest to protect a Gemstone and the Fire Emblem long enough for the other Gemstones to arrive and the princess can perform a rite. As it turns out, the children tasked to be protected are two girls and two boys familiar to the Shepherds.
Plot
Main article: The Future Past 3/Script
See also: The Future Past 3/Conversations
This article or section does not meet Fire Emblem Wiki's quality standards. Please improve it as you see fit. Editing help is available.

---

This article has been flagged since This is supposed to be a summary, not a play-by-play; that's what the script page is for.
Before the battle
Chrom and Naga have gathered in an intermediate Outrealm, where Naga tells the Shepherds they have been well met; noting he's talking to Naga, Chrom deduces that the matter at hand is about that bleak alternate future Outrealm again, to which Naga confirms. Thanks to the Shepherds, the eight children they assisted managed to reach Ylisstol; meanwhile, three more took the Fire Emblem and the final Gemstone to the princess--but their time also grows short, as those four are soon fated to die at Grima's hands. If the princess is lost, nothing can save their world from its demise, to which Naga asks the Shepherds intervene before it's too late; Chrom tells Naga not to worry, the Shepherds will save them all. Naga thanks Chrom, and states she shall send the Shepherds to the brink, the moment in time before the alternate future world falls; she then offers the same counsel, the world the Shepherds are about to visit bears a great resembelance to their own, and they may encounter people they know or love--and if they do, to fight by their sides, as that will give them great courage and strength, to which Chrom states he understands. Naga reveals that this will likely be the Shepherds' final battle in this world--now that her Voice there has been silenced, she cannot bind the worlds together for long; Naga states she believes the Shepherds will find the faint light of hope sleeping within Grima, and that they can work a miracle greater than any despair he/she can sow. Naga sends the Shepherds off, asking them to let destiny once again be reshaped by their hands. Preparations take place at this point.
Once preparations are finished, Lucina tells Laurent, Gerome, and Severa, the last of which is seen on the screen at the time, that she's glad they're all safe, to which Severa states it's good to see Lucina as well--then gives her one Gemstone and the Fire Emblem, then asks Lucina if she's happy, as these were not easy for them to get; Laurent asks Severa if it would hurt her to just hand them over without being condescending, to which Severa states she can hand them over any way she likes--then tells Laurent he's the one being obnoxious, to which Lucina notes that Severa hasn't changed a bit, which comes as a relief to her. Lucina tells the three others that she cannot thank them enough for retreiving the objects, to which Gerome tells Lucina to keep them close--they need to be ready to start the rite the moment they have all of the Gemstones, to which Lucina states she knows; Severa asks how things are in the area and if the people are safe, to which Lucina states they've managed to keep casualties to a minimum before falling silent. Severa asks Lucina what is wrong, to which Lucina apologizes and states she failed Tiki, after which both Severa and Gerome ask about Tiki's fate; Lucina reveals that the enemy snuck into the castle, to which Tiki took a blow for her and fell--to which Lucina takes the blame, that she should have been paying closer attention. Laurent tells Lucina she's not to blame--they should be grateful that she survived, to which Severa apologizes that the others weren't there for her; Lucina states it's all right, she needs to pull herself together--Tiki said they must have faith, revealing that her last words were to believe that mankind still had hope, having also said to believe that the others would come back, to which all three of them now stand before her and saying she knows the others are safe as well. Gerome states he believes the others are safe as well, and states that once the others have returned safely, they'll need to depart for Mount Prism at once, and it's there Lucina can perform the Awakening; Laurent states that Mount Prism is no doubt already teeming with Risen, and if they come to blows, the others will hold off the Risen while Lucina is to run for the altar, with Severa asking how the Risen would like it once the Awakening is complete--the group will destroy the Risen and Grima alike and restore peace to the world, to which Lucina thanks the others.
Shortly afterward, Grima arrives on the scene and notes the scheme Lucina and her friends hatched up as darling; Lucina notices Grima and asks who he/she is, to which Grima introduces himself/herself as the wings of despair and the breath of ruin--he/she is the fell dragon, Grima, then notes how good it is to see Lucina again and asks when it was they last met, before revealing they last met when he/she killed Tiki. Lucina gives an expected reaction to Grima being Tiki's murderer, which Grima confirms--he/she was hoping to end Lucina's life, but he/she rid himself/herself of a pest all the same, and soon he/she will send this world into its final death throes; Grima reveals that energy has been drawn away from the Dragon's Table since a theft occurred there, and reveals that even incomplete, one Gemstone and the Fire Emblem possess considerable power, and tells Lucina he/she has to take them back now. Lucina tells Grima he/she can try, to which Grima states that Lucina could just give them to him/her--stating that they're worthless to Lucina, and it's not like she'll be seeing the other Gemstones anytime soon; Gerome asks Grima if he/she is implying that the others are dead, to which Grima states he/she does not imply--he/she has sent the finest of his/her Grimleal[sic] to dispatch of their comrades, and states that they are almost certainly dead by now. Gerome states "almost certainly" doesn't sound very certain to him, and states that the corpse of his/her little servant should be of more concern to Grima, with Severa stating that their friends are no wimps--they've outwitted death more times than Grima can imagine, then asking Grima if he/she thinks he/she can scare them with baby threats; Laurent tells Grima that, if the others were dead, he/she would have proof--he/she has no proof, hence the others are not dead, noting that Grima's bluffing begs for practice. Grima asks the group if they refuse to return what they have taken, to which Lucina confirms; Grima states that he/she was hoping to not have to flex any muscle, then goes on to launch an attack at the group.
Lucina cries out in pain and asks the others if they're all right, to which Grima states he'll/she'll kill the four with his/her next blow, then demands the Gemstone and Fire Emblem at that point, which Lucina refuses; Grima asks if Lucina still resists him, and tells her to die if she wishes, to which Severa states he/she will have to go through her. Lucina asks Severa what she's doing, to which Grima asks what stupidity is going on, to which Severa states she'll stop Grima's attacks even if it kills her, then tells the others to run while they've still got the chance; Lucina tells Severa she can't run, to which Severa tells Lucina she has to run--if Lucina dies, they all die, the world will come to an end. Lucina states she knows this, but before Lucina can get in another word, Severa states that her mother said that her greatest pride as a pegasus knight was defending the exalted family--she may not be a pegasus knight herself, but she can still share in their duty, and she can still protect Lucina; Grima, noting Severa as an impertinent little brat, asks what she could ever hope to protect--she's less than a shadow of her mother, and if Grima could break Cordelia, he/she will have no trouble breaking Severa. Laurent states that Grima doesn't give Severa enough credit, as she deduced this would be their best chance and acted swiftly--and she will not stand alone, Grima will have to go through Laurent as well; Laurent asks Grima if he/she can defeat them both before Lucina escapes, or if the others are sardonic quips--to which Severa tells Laurent they don't both have to die, with Laurent asking Severa if she thinks it's some noble gesture, revealing he's following the wisest course. Laurent states that a shield twice as thick serves twice as well, to which Severa states Laurent's intention is indeed a noble gesture but thanks Laurent anyway; Laurent tells Severa her life is worth the effort, to which Severa states she knows. Gerome states he's also staying--by Laurent's logic, a shield thrice as thick would be an improvement, but he can make it four times as strong; Laurent tries to talk Gerome out of it, stating that the group cannot lose him and Minerva as well, to which Gerome states that Minerva wishes to fight for Lucina--she told him as much before, and more importantly she insists that she and Gerome meet their destinies together, and if death is to come, it must take them both. Gerome asks Lucina to forgive the others, but that they must leave the hardest task to her--find the rest of their friends and put Grima out of his/her misery; Lucina states that the others don't have to do what they're planning to do, to which Severa states that there's no time to debate, with all three of the others asking Lucina to get away. Lucina states that this can't be happening, asking if she must abandon her friends and run like a dog, if that's the price of saving the world--too many have died already, to which Lucina asks someone to grant her the power to change things. Grima notes the situation as precious and asks Lucina what her choice is--will she buy a few more minutes of life by watching her friends get butchered, or stay behind and render their sacrifice meaningless, and states that he/she will enjoy it either way; Grima asks Lucina to see that humantity is finished, the group has no future, Lucina's mother and father are dead, and now the exalted line ends with her. A surprise voice states that's not quite the case, surprising Grima.
We cut to a shot of the Parallel Falchion, which begins to glow to Lucina's notice, to which Lucina states she knows the surprise voice; the voice tells Lucina to stay strong, that he and his group are here to help--not one of them needs to die this day. Grima states that the owner of the voice is dead and he/she buried him himself/herself and there's no way he could be in the area--this future has already been set in stone; the voice tells Lucina what Grima says isn't true, that anything can change, and he's going to prove it to her right then and there.
The Shepherds warp into the area and surround Grima, to which Chrom (the owner of the mystery voice) asks if everyone is ready--this will be their final battle in this realm, and they have to be certain everyone pulls through; Severa asks how the Shepherds got to this area, to which Laurent states that all that matters is that the Shepherds appear to be on their side. Gerome states that this could be a trap and asks the others to stay vigilant, with Lucina noticing her father's presence and stating it doesn't make any sense; Grima states he/she sees that Naga has played her last card in summoning help from another world, stating that Naga should realize by now that she has already lost and there's no going back, yet she instead wastes his/her time with petty tricks. Grima shifts into battle position, stating that it makes no difference--a mountain of maggots is as easily crushed as one, and if it's a reunion they seek, his/her soldiers shall welcome them on his/her behalf, and they will soon be begging for the quick death he/she was willing to give them; the Risen soldiers teleport onto the scene, to which Chrom notes. Grima states he/she has missed fighting with Chrom, and asks him to come to his/her side like he used to--nothing would pleasure him/her more than stabbing him in the back a second time. The Shepherds and this world's children shift into their battle positions, and the battle finally begins at this point; before the player can take any action, however, the game takes time to state that, if blood relatives wait near the green units, they will sometimes trigger special conversations.
The battle and immediate aftermath
If the player lets certain units wait near the NPC characters, special conversations can trigger. The units that can speak to the NPC units are the playable versions of the same units, as well as that character's parents.
Once the battle ends, Chrom asks if the ordeal is over, to which Grima asks how he/she was defeated and tells Chrom that this is not his world--he should not be able to draw upon the kind of power he just did; Grima tells Chrom to wait, he/she is not finished with him yet, and no matter how much he struggles, Grima vows to see Chrom destroyed, asking Chrom to die. Grima begins to attack Chrom but suddenly stops, to which Chrom asks why Grima isn't attacking, to which Grima asks Chrom to run, which Chrom questions; Grima tells Chrom he has to get away from him/her, to which Chrom asks him/her what he/she is talking about, after which Grima states that there's no time--he/she doesn't want to kill Chrom and can't bear to watch him die again, to which Chrom recognizes a voice within Grima and notes it can't be possible. The Shepherds are warped away from the scene at this point.
Back in the intermediate Outrealm, Chrom asks if he's back in his own world, to which Naga asks the Shepherds why they have returned, if they have failed in their task; Chrom states he can't be certain, they were fighting and then a great force spirited them away. Naga reveals Grima was the one that sent the Shepherds back, to which Chrom notes that Grima was appearing to try to save them--then asks who else is in the area asking them to show themselves; the other world's Tiki appears to Naga's surprise, as that Tiki died in that world--to which Tiki confirms and reveals that only her spirit remains, but states that she is here to tell Naga something important before she takes her place in that world, before she becomes tied to that world forever. Naga asks how Tiki can take her place, to which Tiki tells her she knows what she means and why; Tiki reveals that everything will turn out all right and tells Naga they have her to thank for sending the Shepherds, and thanking the Shepherds for giving that help. Tiki reveals that, in her world, Naga is dead, yet the Shepherds fought in her stead and gave the world's natives hope, to which Tiki cannot thank Chrom enough; Tiki states that the world's natives will always remember something before she vanishes, to Chrom's notice and asking Naga what happened--which Naga states they have won. Naga reveals that the other world is about to be saved, to which Chrom states he doesn't understand; Naga states that the Shepherds' efforts have pulled the children of the other world out of the pit of despair, to which Chrom ask if they'll all be safe--to which Naga states she is certain of it, thanking Chrom and Robin and stating she was right to place her trust in them.
Lucina asks where Chrom went, to which Grima states he must have escaped to his own world--then reveals the former owner of his/her body (this world's Robin) appears to still have a faint hold on it, cursing Robin out and stating that he/she wanted to savor killing Chrom all over again, to which Lucina states she would never let that happen; Grima states that Robin loved Chrom, that he/she would have died to protect him, and in sending him away just now, his/her spirit has finally just perished--and now the games will cease, the only world in which Lucina will see her father again is the world of death. Grima notices something happening in the distance, to which Lucina states it cannot be; Cynthia, Kjelle, Noire, and Nah rush onto the scene, with Cynthia saying they're back and apologizing that they're late, to which Lucina thanking the gods that the four girls are safe. Grima states that this situation should be impossible, the four girls should be dead by now--then notes that Naga must have interfered, meaning Morgan has failed him; Kjelle compliments Noire on her nice shot, and states that she thought for certain they were out of range, to which Noire states she's glad she could help. Severa mockingly tells them how nice it was for them to take their time, and asks if they knew how worried her group has been; Cynthia states there's no need to worry, they've got their Gemstones right there. Nah asks Lucina if she's ready to perform the Awakening, to which Lucina says they aren't quite yet--they still need Argent and Sable--to which a mystery voice asks if she meant the Argent and Sable he has; Inigo (the owner of the mystery voice), Owain, Brady, and Yarne rush onto the scene to Lucina's notice, to which Inigo states his group saw Grima attack Ylisstol and came as fast as they could, apologizing for not making it sooner. Gerome notes nothing could kill those four boys, to which Owain confirms and states that a true vanquisher of evil must wait for the moment of truth before he can triumph; Laurent tells the other boys that they're all wrecks, but at least everyone's together again, to which Yarne states he's glad none of the others are extinct. Brady asks if somebody ordered Gemstones and asks Lucina to catch them, to which Lucina thanks Brady and all of the others--they have done magnificently, the Fire Emblem and its true power finally belong to Ylisse again; Grima states either that the Morgan he sent after Inigo's group failed as well or Morgan has failed her twice and gives up on manipulating the child's sympathies, then states that it matters little--the Fire Emblem gives Lucina no power over him/her now that Naga is dead, prompting a shocked reaction from Lucina. Grima reveals he/she killed Naga ages ago, and asks Lucina if she really thought he/she would let Naga live and risk somebody performing the Awakening, to which Lucina accuses Grima of lying; Grima tells Lucina he/she is sure she wishes he/she was lying, but this time he/she speaks the truth--their only hope died with Naga, to which Lucina asks if everything she and the others have done has been meaningless, which Grima confirms. Grima states he/she will grant Lucina no escape from this coil of despair, that each and every one of them is destined to die right then and there; Tiki appears and tells Grima he/she has not accounted for everything, to which Grima recognizes Tiki's voice and Lucina gives a happy reaction. Tiki tells Lucina she will help her perform the Awakening as this world's new Naga, to which Grima states there is no new Naga--he killed Tiki; Tiki reveals that Grima took her life but not her spirit and reveals that Robin intervened--he/she wanted Tiki to be present to ensure Grima's destruction. Grima asks if there is no end to Naga's meddling, then states none of what transpired matters--they need to be on Mount Prism to perform the Awakening, yet he/she will kill everyone before they even get there; Tiki tells Grima he/she is wrong again, and tells him/her that he/she forgets why the exalts performed the Awakening on Mount Prism in the first place--it was because Naga's power was strongest there. Now that Grima's Risen have defiled Mount Prism, that area no longer has any power, and thus Naga's power has focused elsewhere in response; Tiki asks Grima if he/she knows where Naga's power has refocused, then reveals it's within her own remains, which he/she was foolish enough to leave in Ylisstol. Tiki tells Grima if he/she had left Mount Prism alone, he/she might have stood a chance--instead, he/she has brought the Awakening to his/her feet; Tiki then asks Lucina if she is ready, and if so, to speak the words, to which Lucina states she is ready. Grima states he/she will not leave Lucina the time, he/she will kill her; at this point, Grima finds himself/herself unable to move, asking why--to which point he deduces this as Robin's interference.
Lucina calls out to Tiki that she bears proof of their sacred covenant; in the name of the exalted blood, she asks Tiki for her power--to baptize her in fire so she may become her true daughter. Tiki reveals Lucina's heart has been tested and deemed worthy--cleansed in her fire, her desire has been proven to burn the stronger; Tiki then states she shall now imbue her blade with her power, to which Lucina thanks Tiki. Grima states he/she would crush the others if he/she could just control his/her body, then asks Robin why he/she still refuses to become one with him/her and why he/she interferes; Grima curses Robin out and reveals that the others will pay. Tiki tells Lucina her first task as exalt is at hand--wipe Grima from existence and usher hope back into this land; the other children will then give words of encouragement to Lucina. Grima tells Lucina he/she is ready for her to end it, to which Lucina swears to the others that their days of suffering end right then and there--then asks Chrom and her mother to watch over her, because she's about to take their world back; a battle scene begins where Lucina attacks and defeats Grima in a single critical hit.
Grima states that, at last, he/she can rest and no one else will suffer because of him/her; he/she then thanks Lucina, and states he/she hopes that the others' lives are filled with joy, then asks Morgan to forgive him/her for having been put through so much, before fading away. Lucina reveals that it's all over, peace has come at last, calling out to Chrom that she has done it; Tiki congratulates Lucina and the others on saving the world, to which Lucina stated it wasn't them--they have Tiki to thank, as well as the Shepherds of the other world, as without them they would have perished as well as all hopes for the world. Tiki states that they only had the chance to help them because they held fast--even against terrible odds, they refused to give up, and the others should be proud; from this day on, Lucina shall be the pillars on which a peaceful future is built, to which Lucina states the same is true of Tiki, only for Tiki to reveal to Lucina that her role is finished, she cannot stay with Lucina--she is no longer the divine dragon's Voice, but the divine dragon herself, and as such, she must not meddle in human affairs. Lucina cries out, to which Tiki tells Lucina not to worry, she'll be watching over her just like Marth and Chrom continue to do so; Tiki states she may be out of reach, but will always be close, to which Lucina thanks Tiki--telling her that, as long as she's watching, she will not let her down, promising to bring this world an era of peace that can never be broken. Tiki tells Lucina she knows she will, and states that she hopes they will one day meet again--there will always be a place for the Twelve Heroes at Naga's side; Tiki vanishes at this point.
After some silence from Lucina, Severa notes that Tiki's gone, to which Lucina states she will be missed, yet believes she will see her again, to which Severa agrees; Severa states that the group will certainly have their hands full in the meantime, given that they have just saved the world. Severa states that her mother and father never expected her to do anything half as amazing as what she's just done--revealing that she's not a letdown of a daughter, and stating she wishes her parents were there with her; Gerome states that there's no bringing them back, but they can keep them alive by protecting this world they dreamed of and died for, asking Minerva if that's right, with a roar as a response. Gerome states he agrees with Minerva and that the parents will be watching over every step of the way; Laurent states that what's going on appears so strange, that he feels he's stepped into another existence--all of their struggles, such as their battle with Risen, their journey into Plegia, already feel like they happened to someone else. Laurent states that he used to wish that he would wake up to find it had all been a nightmare, but now when he wakes, he shall be overjoyed at the knowledge that this is no dream; Lucina states that what matters is that this is real, and had she lost even one of the others along the way, they would not be where they are--each of them played an irreplacable part in this victory, thanking them and stating that Ylisse is lucky to have them. Cynthia states that they're lucky to have Lucina, the hero of all heroes; Kjelle states she's proud to know everyone, their strength and determination inspires her; Noire states she's glad everyone is safe, that there were times she assumed the worst; Nah states that they'll never be apart again, and their whole lives are ahead of them. Owain states that there are no words he can say, cursing his tears that flow unbidden; Inigo tells Owain to enjoy it, that he's hoping this is their last good cry in a good long while; Brady tells Inigo he's right, he's going to let it all out right now; Yarne thanks the gods that they survived, and he could do somersaults. Lucina states that they should be off, their first peaceful night for as long as she can remember will fall soon--they need to tell as many people as they can so that they can also rest at ease; a new sun will rise on Ylisse the following day, and many did not survive to see it, yet those who will must dedicate their lives to protecting that light, thanking Tiki and her friends again--as well as Chrom, who crossed between worlds to save her, wishing the gods keep him safe.
Not even a year later
Laurent asks where everyone is, saying that they're late, to which Noire tells Laurent the meeting doesn't start for another ten minutes; Laurent states that the others ought to be early so they can start on time, revealing that the Shepherds don't gather just for ceremony--it's been less than a year since they defeated Grima, and already the others are acting as if the world is immune to crisis, to which Noire apologizes. Laurent tells Noire she doesn't need to apologize, as she got here even earlier than he did; Noire stated she could work on good-luck charms while she waited, to which Laurent states he heard Noire started making those charms for the people and has been told they're quite the hit--it must be the happiness curse Noire put on the charms, to which Laurent asks if he could look at one, to which Noire tells Laurent not to, his clumsy hands will only destroy her creation. Kjelle arrives and notes Noire and Laurent are early, stating she thought she'd be the first one there; Noire asks Kjelle if she's finished evaluating the new recruits, to which Kjelle confirms and reveals them to be quite tough--although that probably goes without saying, considering the horrs that they have survived, and they'll make fine Shepherds, asking Owain if he agrees. Owain states that the new recruits are something, with Noire surprised at what Owain said--asking him who he is and what he's done with Owain; Kjelle tells Noire if she hasn't heard that Owain's word has been shattered, to which Laurent asks how, with Owain revealing that he doesn't understand--the world finally speaks his language. People no longer look at Owain funny when he states his sword hand twitches, they now say Owain will show the forces of evil what's what or not to mess with the blood of the exalt; the people now actually say what he expects them to, and he doesn't know how to cope. Kjelle asks Owain to enjoy it while he can, the novelty will soon wear off; Owain tells her that's what she thinks, he's already toying with the idea of adapting his adventures for the theater--just imagine "The Tales of the Great and Mighty Owain", now with song and dance, to which Laurent says he'd rather not imagine that.
Kjelle notices Inigo, Brady, and Yarne arriving, then calls them over to the gathering; Inigo states it's good to see them again, asking how long it's been, with Brady stating it feels like yesterday they were fighting Grima, to which Yarne asks Brady to keep it down--he'll give away his position. Owain asks Yarne if he's still worried about going extinct, to which Yarne states he's trying to get away from the lunatic conservationalists; Inigo states that the Ylisseans apparently found out how rare the taguel are, and they've now started a Save the Taguel foundation. Yarne states that if he tries to eat anything remotely suspect, they pin him to the ground; they won't let him shape-shift either in case he "becomes a target", and he's so sick of being treated like a pet that he could retch. Noire tells Yarne it's not exactly a dream come true, to which Yarne states it's nice to not worry about dying out, but the conservationalists follow him everywhere--and he means everywhere, to which Nah states she knows the feeling; Yarne notes Nah's arrival, to which Nah states it's good to see everybody, yet Laurent and Brady note some serious bags under Nah's eyes. Nah states she can barely sleep--now that Tiki's gone, everyone has started worshipping her, going even as far as to call her Tiki's Voice, and that she can't even step outside without being hounded; Yarne states Nah is someone who knows his pain, and the rest of them are lucky they're human. Nah states that the people give her anything she asks for, which is kind of nice, then asks the others to let her know if they need anything--she has them covered; Yarne states that Nah really doesn't understand his pain after all.
Yarne then reacts to a wyvern's roar, thinking it to be an enemy, to which Gerome, without his mask, chews out Yarne for speaking so rudely of a fine creature; Yarne, not recognizing Gerome without his mask, asks him to stay away, to Gerome's shocked reaction and Nah stating she doesn't recognize Gerome either. Kjelle, also not recognizing Gerome, asks him if he's one of the new recruits, and she'll find someone to take care of him; Gerome reacts silently, to which Owain, also not recognizing Gerome, states that he apologizes for the trouble but there are a few papers Gerome has a few papers he needs to fill out first. Gerome tells the others if they're daft, then stating he's him; Owain notices Gerome's shape, followed by Noire asking Gerome where his mask is. Gerome states that he no longer needed his mask, and he hasn't worn it in some time--he honestly states that the mask made it harder for him to see the wyverns; Noire asks Gerome how the wyvern conservation project is going, to which Gerome states it's going well enough--and states that the best part of taking off his mask is that nobody recognizes him, nobody treats him like a hero, and that he's completely, blissfully anonymous. Kjelle tells Gerome he's lucky, then states that the others should have worn masks during their struggles--or maybe the others should go buy some right now; Inigo mocks Kjelle's plan, implying that masks would not stop them from standing out. Inigo states he likes being a celebrity, and the house is packed when Grima's slayer takes the dance floor; Nah asks if Inigo finally became a dancer, to which Inigo states he became someone who dances--it makes people smile, and that makes him happy as well, and if things go well he might start taking offers to dance at festivals. Nah finds Inigo's prospect amazing, and tells Inigo to think of the girls who would throw themselves at his feet; Inigo states he's sort of over that, although not quite, to which Nah asks if the world's most notorious womanizer has retired. Inigo states that, now that he dances, girls smile back even without a terrible pickup line--and he's busy with his Shepherd duties, dance practice, and the like; Brady tells Inigo he's not kidding, he messed up his steps in the third song in that day's set. Inigo asks if that was obvious, to which Brady states it was obvious--he thought he was playing the wrong song; Brady tells Inigo he can mess up all he wants to in practice, but he better shape up for the real deal, although he could stand to work on his playing as well--to which Inigo states it would probably help if Brady gave up weeping during his own accompaniment. Laurent asks Inigo if Brady's playing for him, to which Brady states he writes the songs and plays violin, while Inigo dances along; Brady states that he always wanted to be a composer, so that was a good fit, and reveals Maribelle wanted that as well when she was alive, to which Noire states it's wonderful that both Inigo and Brady made their dreams come true. Brady thanks Noire, to which he reveals he brews a mean cup of tea as well, and one of these days he'll run with that--but right now he's got other things on the slate; Inigo states Owain's going to join them, asking him what the idea was again, to which Owain says he's going to immortalize his numerous adventures through song and dance--then states his vocal cords twitch, which Kjelle notices the old Owain starting to return.
Laurent asks if everyone is present, that they should get started, to which Lucina asks if she could join the gathering, surprising both Laurent and Inigo; Brady asks Lucina if she should be in the castle, to which Lucina states she's left Ylisstol in the hands of capable soldiers, and it'll be fine while she's away. Gerome states that they're not worried about Ylisstol, they're worried about Lucina--as gifted as she is with a sword, the exalt shouldn't be walking around alone; Lucina asks who said she was alone, with Gerome reacting accordingly. Cynthia arrives at the scene and reveals she's with the all new Ylissean pegasus knights; Kjelle asks Cynthia where she came from, to which Cynthia stated her entrance was great, then reveals she dreamed Phila's knights would one day ride again--and if the Shepherds get another shot, who says the pegasus knights can't as well. Lucina states Cynthia begged her, and she just couldn't say no; Cynthia states that, either way, Lucina needs protection, with Cynthia stating that she and her sisters won't let anyone put a scratch on Lucina. Noire asks who else is in the pegasus knights, to which Severa silently enters; Noire asks Severa why she hasn't been seen at the Shepherds' camp, and asks if she's enlisted in the pegasus knights, to which Severa asks if it matters--she wasn't going to say no to Cynthia, and tells Noire not to get it into her head that she wants to be like her mother, to which Noire states why would she ever think that. Cynthia reveals Severa's amazing, she handles a lance better than anyone, and they should see her toss a javelin--betting Cordelia herself couldn't throw half as far, the rest of them have a lot of catching up to do; Nah states that she sees the capital is in good hands, with Lucina stating she is as well, telling the others to put their worries to rest. Lucina asks the others if they can blame her for coming to the gathering--they've gathered everyone together and didn't invite her, then reveals that she's missed them; Owain tells Lucina she takes after her father, at least from what he's heard. Owain then notices the Twelve Heroes have all gathered, and asks Laurent to get the meeting started, to which Laurent confirms.
Laurent thanks everyone for coming to this regular meeting of the Shepherds. After some time, Laurent states he has a report about the restoration of Mount Prism, but hears a wyvern roar before he can reveal anything about it; Laurent tells Gerome to keep Minerva quiet during the meeting, with Gerome asking Minerva what's going on. Gerome notes the situation is bad, Minerva says she senses Risen nearby, with Lucina reacting shockingly; Gerome notes it's only a few of them, but is himself surprised--he thought they got rid of them all. Yarne states he guesses peace is an ongoing project, to which Inigo states they'll finish the Risen off--these things take time; Owain states that the mighty heroes fight on, uncertain as to whether their tale would end, to which Brady states they should let the Risen come so they can knock them into next week. Nah states it's been awhile since they've really flexed their muscles, to which Kjelle states she's going to enjoy scattering the Risen, with Noire stating she's glad she brought her bow; Laurent asks the others to hold on a moment, asking if they're all marching out there to face just a handful of Risen, to which Brady states one can never be too sure, with Yarne stating that they shouldn't spare any resources when it comes to keeping the locals safe. Gerome states it's better too many than too few, to which Inigo asks Laurent to stop complaining and get his equipment, with Laurent stating he didn't volunteer, before agreeing to join; Owain tells the Risen to look out, Chrom's New Shepherds are about to ruin their day.
Cynthia gets Lucina's attention shortly afterward, to which Lucina asks Cynthia what's wrong; Cynthia asks if the others are going to be all right, with Severa saying they can handle things against a handful of Risen. The others haven't even been gone an hour, then Severa says she guesses Cynthia wants to try her new battle cries; Cynthia states that's not the case, she's just worried, to which Lucina tells Cynthia she understands and to check on the others, and to consider it an order from her exalt, to which Cynthia thanks Lucina. Severa asks Lucina if she's sure she should be sending one of her guards away, to which Lucina says she still has Severa--and not to forget that she has herself, as she's smashed apart her share of Risen; Severa states that if any enemy thinks the exalt is an easy target, they're in for a nasty surprise--Lucina doesn't even really need pegasus knights to protect her. Lucina says she does need the pegasus knights, they're the source of her strength and she means it, to which Severa states Cynthia's got her orders, asking if she and Lucina wait for her at the castle, and she'll give Lucina a ride--let her get saddled up and she'll be right back; Lucina thanks Severa and notes that the sky that day is lovely, asking Chrom if he agrees. Lucina states she cannot tell him how happy she is, how lucky to be safe with her friends, but she feels guilty as well--guilty knowing Chrom, her mother, and so many others cannot share in this joy; if only her sword would glow again and bring the real Chrom to her side. Lucina reveals that wish is silly, and states that even an exalt has her flights of fancy. Severa states she's ready, to which Lucina says she'll be right there; Chrom tells Lucina the sky is lovely, just the sort of sky they'd fought to see again, stating he is already at her side and always will be--her sword might not flash and she may not hear his voice, but all of his friends are just a whisper away watching ove them, asking Robin if that's right, to which Robin agrees. The word "fin" comes up on the screen afterward.
Website summary
American: In this future filled with despair, war reaches its climactic finish. Can you alter the children's future?[1]
European: In this alternate future filled with despair, the war reaches its climactic finish. Can you alter the children's fate and save them from destruction?
North American eShop summary
Rescue Lucina, Gerome, Severa, and Laurent in this bleak tale from an alternate future.
Chapter data
Victory: Defeat Grima
Player
Other
Enemy
Defeat: Chrom, Robin, or the NPC Lucina dies
1–14

4

48

+∞

Difficulty rating: ★★★★★
Map dimensions:
19 columns by 19 rows
Block sizes:
Japan: ??
North America: 50


PAL region

: 53
Map phase music: "Divine Decree", originating in the base game
Battle phase music: "Annihilation", originating in the base game
Boss music: "Id (Hope)", originating in this DLC set
Note: Most DLC chapters are known to have flaws with their music system that may cause their normal music to not play. It is unknown if this chapter has those flaws due to all music used in this chapter already existing in the vanilla Awakening game to begin with.
Pricing:
Japan: ¥250
United States: $3.00
Europe: €2.49
United Kingdom: £2.29
Australia: $3.25
New Zealand: $4.25
Also available in: Future Past Pack

United States: $6.50
Europe: €5.99
United Kingdom: £5.39
Australia: $7.80
New Zealand: $10.20
Character data
Characters
New units
Required characters

Available characters











Note: The returning characters list represents the minimum characterbase recruitable by the point the player can first access the Outrealm Gate. If more chapters along the main story path are cleared, or if any paralogues are cleared, the player can have access to characters not listed here by the point the chapter is first started. As bonus units are recruitable at the player's discretion, the returning characters list does not list them either.
Item data
There are no items available in this chapter.
There are no event tiles in this chapter.
Enemy data
---
This section has been marked as a stub. Please help improve the page by adding information.
---
Stats with two figures separated by a ~ are presented as a range, representing stats that vary due to random growths. The figures to the left and right of the ~ are the stat's minimum and maximum possible values respectively.
Reinforcements
Reinforcements, infinite in number, will spawn from the stairs and sigils each turn, starting on turn 2. Enemies that spawn from sigils will generally have the same skills that starting enemies have, while enemies that spawn from the stairs can have very different setups.
Enemies that spawn from the sigils include:
Enemies that spawn from the stairs include:
NPC data
Note: Normal inheritance rules apply to the variable skills. Skills are determined at the point the preparations phase is reached.
Boss data
Main article: Grima
Normal Hard Lunatic Lunatic+
Strategy
This section details unofficial strategies that may help with completion of the chapter. This may not work for everybody.
---
This section has been marked as a stub. Please help improve the page by adding information.
---
Trivia
This chapter is one of only two chapters in Awakening (the other being chapter 6 in the base game) where the player gets a Game Over if someone specific other than Chrom or Robin dies.
This chapter is one of only two DLC chapters that are the third to be released within their three-chapter packs to not be released in conjunction with the first chapter of another pack in the North American region (the other being Infinite Regalia); this chapter was instead released in conjunction with the standalone chapter Apotheosis.
This chapter the only one of the Future Past chapters to allow the use of Rescue staves.
This chapter is the only one in Awakening that refers to the entity Grima itself as being the same gender as Robin.
In the final scripted battle scene where Lucina slays Grima once and for all, Lucina deals a critical hit of 99 damage to perform the task, slaying a fully-healed Grima in one hit. This sequence ignores gameplay mechanics, as she is unable to do this if one were to do the calculations.
The game attempts to display five total alignment-faction combinations in a space that allows for only four. Displayed are one playable faction (Halidom of Ylisse), two enemy factions (Grimleal and Risen), and one NPC faction (Other). There is, however, a second NPC faction (Halidom of Ylisse) in play that does not get displayed by default, leading to the illusion of the game miscounting NPC characters. The NPC Halidom of Ylisse faction (Lucina and Laurent) can become displayed should the two in the NPC Other faction (Severa and Gerome) both be killed, or at any point Grima is the only enemy left on the field.
Etymology and other languages
Names, etymology, and in other regions
Language
Name
Definition, etymology, and notes
English

The Future Past 3

--

Japanese

絶望の未来3

Future of Despair 3

Spanish

Futuro Pasado 3

Future Past 3

German

Vergangene Zukunft 3

Future Past 3

Italian

Futuro anteriore 3

"Future perfect 3". The "future perfect" is a verb form used to reference to an event happening before a time of reference in the future. Also literally translates to "Prior future 3".
Gallery
---
This section has been marked as a stub. Please help improve the page by adding information.
---
References