Site News
Warning: This wiki contains spoilers. Read at your own risk!


Social media: If you would like, please join our Discord server, and/or follow us on Twitter or Tumblr!

Engage info: As the game has only recently released, we lack much key information. Please help add any info that you can.
Aenir
From Fire Emblem Wiki, your source on Fire Emblem information. By fans, for fans.
Aenir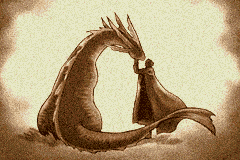 Ending CG featuring Aenir (left) and Nergal (right).
| | |
| --- | --- |
| Gender | Female |
| Race | |
| Family | |
| Nationality | |
| Appearance(s) | |
Aenir (Japanese: エイナール Aenar) was an ice dragon from Elibe who disappeared during the Scouring.
Biography
Aenir was a dragon who lived in Ilia in the era before the Scouring, and was the wife of Nergal.[1] She and Nergal had two children together: Nils and Ninian. During the Scouring, Aenir disappeared and Nergal left their children on Valor to search for her, instructing them to depart through the Dragon's Gate if he did not return. He presumably never found her, as the activities of Nergal in the 500 years before he met Athos and after the Scouring are never elaborated, and he never retrieved his children, who went through the Dragon's Gate.
In the following thousand years, Nergal forgot about Aenir as he immersed himself in pursuing dark powers. In his last moments, he seemed to remember her briefly as he tried to recall why he wanted power, suggesting that originally, at least, he was motivated by a desire to bring her back by any means necessary.[2] Meanwhile, Nils and Ninian believed Aenir to be long dead, and had only one memento of her: the Ninis's Grace ring.[3]
Role
Aenir only serves a background role in Fire Emblem: The Blazing Blade, being only mentioned in passing by other characters. However, a picture of her is an obscure reward for clearing the game under certain conditions, only available in Hector's story. If the player has successfully completed all three of the Kishuna-related sidequests (19x pt 2, 23x, and 32x), the final "Fin" screen will display a CG image of Aenir, in dragon form, with Nergal (pictured above).
The bonus GC may be the the painting Ninian was found staring at after she ran off in 19x pt 2.[4]
Translation errors
In the English version of Fire Emblem, all dialogue mentioning Aenir subject to a translation error or some sort of ambiguity, that may also be a translation error in itself. This has led to much confusion to the name of Ninian's mother, with many people thinking Ninis's Grace is named after her mother. This also significantly changed the implications in Nergal's death quote, as well as Nils' crying after Nergal's death.
| | | | |
| --- | --- | --- | --- |
| " | Daddy has to go to Aenir... I'm going to get Mommy. | " | — Nergal in Chapter 19x pt 2H |
The first issue is in Chapter 19x pt 2H, a Hector mode exclusive sidequest with obtuse unlock requirements. In a scene where Nergal is instructing his children, Ninian and Nils, to go through the Dragon's Gate if he does not return, he mentions "Aenir" but the localization's wording is most likely to be read as "Aenir" being the location that their mother is at. The Japanese version explicitly refers to Aenir as the mother.[5]
| | | | |
| --- | --- | --- | --- |
| " | [...] More power... I must be...stronger... I... Why? Why did I... want power? ......Quintessence? | " | — Nergal's death quote |
The second issue is his previously mentioned death quote. In the Japanese version Nergal refers to Aenir instead of quintessence. The words are similar in the Japanese version, as quintessence is called "Ægir". Compounding on the issue, the way Nergal says it in Japanese seems to make it intentionally ambiguous as to him saying "Ægir" or "Aenir".[6]
However, close scrutiny at the spelling of his dialogue shows he is remembering Aenir in his death quote.[7] This nuance is lost in the English release for several reasons, though mostly due to Ægir being renamed Quintessence and the localization seemingly not catching that Aenir was the name of Nergal's wife in the first place.
Personality and character
Aenir never appears, and she isn't even described. Nothing is known about her personality.
However, Florina does mention a particularly friendly ice dragon helping the Ilian people survive winter, with a mountain, Ice Dragon Mountain, being where the dragon lived.[8] Ninian mentions she was born near this mountain,[9] which may imply that the dragon was Aenir.
Etymology and other languages
Names, etymology and in other regions
Language
Name
Definition, etymology, and notes
English

Aenir

Japanese

エイナール

Aenar
Gallery
Ending CG featuring Aenir (left) and Nergal (right).
References