Site News
Warning: This wiki contains spoilers. Read at your own risk!


Social media: If you would like, please join our Discord server, and/or follow us on Twitter or Tumblr!

Engage info: As the game has only recently released, we lack much key information. Please help add any info that you can.
Ullr
From Fire Emblem Wiki, your source on Fire Emblem information. By fans, for fans.
Ullr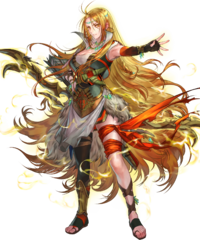 Artwork of Ullr from Heroes.
---
One of the 12 crusaders who gathered at the Tower of Dahna. With her holy bow Yewfelle, she has felled many a foe.
| | |
| --- | --- |
| Gender | Female |
| Race | Human |
| Family | Ring, Brigid, Edain, Andrey, Febail, Patty, Lester, Lana, Scipio (descendants) |
| Title(s) | |
| Voiced by | |
| Appearance(s) | |
| | | | |
| --- | --- | --- | --- |
| " | Yngvi's ruling family of master archers are descended from Ullr, the God of Archery. | " | — A Grannvale villager |
Ullr (pronounced /⁠ˈuːlɚ⁠/[key][1]; Japanese: ウル Ulir), dubbed the "Bowmaster" (Japanese: 弓使い Bow User), was a member of the Twelve Crusaders, the original wielder of Yewfelle and the founder of Grannvale's House Yngvi.
Biography
As with the other Crusaders, Ullr was a warrior fighting in a revolution against the tyranny of the Loptrian Empire, and was one of the survivors barricaded in Dahna Fortress when the tide turned against their movement. It was at this fortress that the Miracle of Dahna occurred, changing the tide of the war: Ullr was chosen by an unidentified member of the twelve dragon "gods" who descended upon the fortress, to undergo a blood-bond with said dragon, transforming her into one of the Crusaders. She was granted Yewfelle, sealed to her new holy lineage, by this dragon.
With the other Crusaders, Ullr fought in the rest of the Holy War and contributed to the downfall of the Loptrian Empire. At the war's conclusion, Ullr and five other Crusaders founded the six states of Grannvale, the kingdom founded by their leader Saint Heim, with Ullr founding Yngvi.
Role
Ullr is the game's twenty-second Mythic Hero, and was added to the game in a dedicated Mythic Hero update, made available for summoning as part of a summoning event released on July 29, 2021. Only one variation of Ullr is currently available in Heroes, based on her appearance in Genealogy of the Holy War.
Starting stats
Ullr: The Bowmaster is only available at 5★ rarity.
Rarity
★★★★★
Weapon type
Movement type

Mythic Hero




Initial Stats Level 40 Stats

Skills
Holy Yewfelle


--


Night Sky

Skill set
Skill set
Skill
Rarity
SP cost
Iron Bow
Innate
Steel Bow
Innate
Silver Bow
Innate
Holy Yewfelle
Innate
Night Sky
Innate
Glimmer
★★★★★
200 SP
Deadeye
★★★★★
500 SP

A

Life and Death 1
★★★★★
50 SP

A

Life and Death 2
★★★★★
100 SP

A

Life and Death 3
★★★★★
200 SP

A

Life and Death 4
★★★★★
300 SP

B

Yngvi Ascendant
★★★★★
300 SP

C

Time's Pulse 1
★★★★★
60 SP

C

Time's Pulse 2
★★★★★
120 SP

C

Time's Pulse 3
★★★★★
240 SP
Quotes
Heroes quotes
Main article: Ullr/Quotes (Heroes)
Flavor text
Game
Text
(English)
Text
(Japanese)

Heroes

One of the 12 crusaders who gathered at the
Tower of Dahna. With her holy bow Yewfelle,
she has felled many a foe. Appears in Fire
Emblem: Genealogy of the Holy War.
ダーナ砦に集った十二聖戦士の一人。
聖弓【イチイバル】で幾多の敵を射抜いてきた。
(登場:『ファイアーエムブレム 聖戦の系譜』)
Etymology and other languages
Names, etymology and in other regions
Language
Name
Definition, etymology, and notes
English

Ullr

Ullr is an archery god in Norse mythology.

English
(unofficial)

• Ulir
• Ullur

• Used in older versions of the Genealogy of the Holy War and Thracia 776 fan translations.
• Icelandic version of Ullr. Used in the "Project Naga" patch.

Japanese

ウル

Officially romanized as Ulir; from Ullr.

Spanish

Ullr

--

French

Ullr

--

German

Ullr

--

Italian

Ullr

--

Portuguese
(Brazil)

Ullr

--

Traditional Chinese

烏勒爾

Ullr
Gallery
References
| | |
| --- | --- |
| | This article is part of Project Characters, a project focused on writing articles for every character present in the Fire Emblem series. |