Site News
Warning: This wiki contains spoilers. Read at your own risk!


Social media: If you would like, please join our Discord server, and/or follow us on Twitter or Tumblr!

Engage info: As the game has only recently released, we lack much key information. Please help add any info that you can.
Waltz
From Fire Emblem Wiki, your source on Fire Emblem information. By fans, for fans.
| | |
| --- | --- |
| Gender | Male |
| Race | |
| Starting class | |
| Appearance(s) | |
| | | | |
| --- | --- | --- | --- |
| " | Heh... Ain't met anybody in the whole world who can take me! | " | — Waltz |
Waltz (Japanese: ヴォルツ Waltz) is one of the sub-bosses of Chapter 2 of Fire Emblem: Genealogy of the Holy War and a close friend of Beowolf.
Biography
Following the fall of Heirhein to Sigurd, Macbeth ordered Waltz's mercenary unit to deploy to fight Sigurd, but both Waltz and Beowolf held back until Sigurd's army drew close out of suspicion toward Macbeth.[1] During the skirmish, Waltz decided to fight Sigurd's forces as they drew close to Infini but ultimetly died against them.
Role
Waltz is a boss of Infini in Chapter 2.
Stats
See also: Crisis in Agustria
Personality and character
Even though he and Beowolf were close friends and partners, both accepted that one day the two may be enemies to each other in the employ of conflicting parties, which ultimately happened in Agustria.[2]
Quotes
Battle quotes
"
Waltz: Heh... Beowolf. You ain't even close to a match for me yet.
Beowolf: Oh, definitely... But this is what they're payin' me for.
"

— Waltz, against Beowolf, in Chapter 2 of

Genealogy of the Holy War

.
Death quotes
Other appearances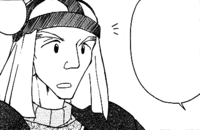 Waltz has a minor role in Fujimori Nuttsu's Genealogy of the Holy War manga, which adapts the events of the first generation of the game in a more comedic manner. Similarly to chapter 2 of Fire Emblem: Genealogy of the Holy War, after Sigurd had invaded Agustria, Macbeth had ordered Waltz's mercenary band to attack Sigurd's army while they were distracted defending the nearby villages from the bandits pillaging them, which Macbeth had Waltz gathered.
En route to Sigurd's army, Waltz mentioned to Beowolf that Princess Lachesis had joined Sigurd's army, causing Beowolf to feel conlicted due to his friendship with Eldigan; Waltz, unaware of this, thought that Beowolf was feeling down because they were essentially helping bandits raid villages and sympathized with him, but acknowledged that they were mercenaries and they need to execute their jobs as they had been paid. Beowolf, realizing that he had already been paid, abandoned Waltz's mercenary band to join Sigurd's army, confusing Waltz. The actual battle between Waltz's mercenary band and Sigurd's army is not shown.
Etymology and other languages
Names, etymology and in other regions
Language
Name
Definition, etymology, and notes
English
(unofficial)

Waltz

Used in the Genealogy of the Holy War fan translation.

Japanese

ヴォルツ

Officially romanized as Waltz.
Gallery
References
↑ "Waltz: Hrmph. There's the order to move in. Guess we don't 'ave much of a choice now. Bet he's gonna send us in, then 'ave his men turn tail right when we need 'em. I'm stayin' put till I see how this all plays out. Oi, Beowolf, how 'bout you?
Beowolf: Yeah, I ain't up for this at all, Waltz. That Macbeth swine really rubs me the wrong way. I'm this close to just walking off the job." — Waltz and Beowolf, Fire Emblem: Genealogy of the Holy War
↑ "Waltz: Well, do as you see fit. As a mercenary you're free to work for whomever you please. Strange how one day we're fighting side by side... the next day who knows.
Beowolf: Sure is. I just hope I don't gotta face you ever. I wouldn't stand a chance." — Waltz and Beowolf, Fire Emblem: Genealogy of the Holy War
| | |
| --- | --- |
| | This article is part of Project Characters, a project focused on writing articles for every character present in the Fire Emblem series. |