Site News
Warning: This wiki contains spoilers. Read at your own risk!


Social media: If you would like, please join our Discord server, and/or follow us on Twitter or Tumblr!

Engage info: As the game has only recently released, we lack much key information. Please help add any info that you can.
Tirnanog
From Fire Emblem Wiki, your source on Fire Emblem information. By fans, for fans.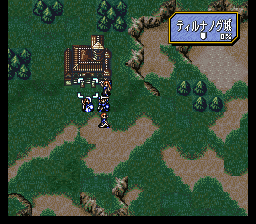 | | | | |
| --- | --- | --- | --- |
| " | Anyway, we can't just turn our backs on Tirnanog. The people here have done far too much for us already. | " | — Seliph, on the impending assault on Tirnanog. |
Tirnanog (Japanese: ティルナノグ Tilnanogue) is a village located in the north-western reaches of Isaach in Jugdral. Isolated and remote from all other settlements in the country, it is prominent as the birthplace of the revolution against the Grannvale Empire led by Seliph Baldos Chalphy, and was the place where Seliph grew up in hiding from Grannvale following his father's death.
History
Shortly the year Grann 760, a collection of refugees from the persecution of Sigurd in Grannvale travelled to and settled in Tirnanog; it was Sigurd's assumption that despite Isaach now being under the rule of Danann of Grannvale, his rule would not have spread to the country's furthest reaches yet and thus isolated regions of Isaach would serve as an ideal hiding place for his infant son, Seliph. The journey was led by Oifey and Shannan, taking with them the infants Seliph, Larcei, Scáthach, and Diarmuid;[1][2] at some point after the Battle of Belhalla, they were joined by Edain and her young children, Lana and Lester.[3]
In the following seventeen years, Oifey, Shannan and Edain raised and trained the children, while slowly mustering support for a revolution against Grannvale. In Grann 777, while Oifey and Shannan were on expeditions to neighboring nations for various reasons, Danann learned of Tirnanog's role as the hiding place of Seliph and Shannan's revolution, and ordered a strike against the town while its two adult protectors were absent. In response, Seliph emerged from hiding, and fought and defeated the occupation of Isaach before moving out to formally commence the revolution.
Characters from Tirnanog
Gameplay
Tirnanog acts as the home "castle" of Chapter 6 of Fire Emblem: Genealogy of the Holy War, and the starting point of Seliph's army.
Castle data
Trivia
Etymology and other languages
Names, etymology and in other regions
Language
Name
Definition, etymology, and notes
English

Tirnanog

As of Fire Emblem Awakening.[4] From Tír na nÓg (Old Irish: "land of the young"), a fabled land in Irish mythology said to be a paradise for supernatural creatures and legendary heroes.

English
(unofficial)

Tilnanogue

Used in the Genealogy of the Holy War fan translation[which?] and widely used in the fandom.

Japanese

ティルナノグ

Officially romanized as Tilnanogue; a corruption of Tír na nÓg, as above.

Spanish

Tirnanog

--

French

Tirnanog

--

German

Tirnanog

--

Italian

Tirnanog

--

Portuguese
(Brazil)

Tirnanog

Used in Heroes.[5]

Traditional Chinese

提爾納諾

Tirnano; used in Heroes.[6]
Gallery
References