Site News
Warning: This wiki contains spoilers. Read at your own risk!


Social media: If you would like, please join our Discord server, and/or follow us on Twitter or Tumblr!

Engage info: As the game has only recently released, we lack much key information. Please help add any info that you can.
Forseti (character)
From Fire Emblem Wiki, your source on Fire Emblem information. By fans, for fans.
| | |
| --- | --- |
| Gender | Male |
| Race | |
| Title(s) | Wind God |
| Starting class | Sage (Genealogy opening demo only) |
| Appearance(s) | |
| | | | |
| --- | --- | --- | --- |
| " | I am the wind, a wind whose breath is meant to guide the warm radiance of light. And that light is there in the heart of each and every one of you. | " | — Forseti |
Forseti (Japanese: フォルセティ Holsety) is an ancient Archanean divine dragon. In the Miracle of Dahna, he passed his power onto the sage Ced of the Twelve Crusaders, providing him with the wind tome which bears his name. In Silesse, the nation ruled by Ced's descendants, Forseti is revered as the "Wind God".
Biography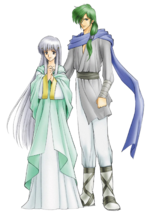 The Miracle of Dahna
Forseti was one of the eleven dragons who joined Naga in coming to the aid of the people of Jugdral, after Naga had learned of the tyranny of the Loptrian Empire and the role of the rogue earth dragon Loptous in creating it. With the others, Forseti descended upon the fortress of Dahna in the event which later became known as the Miracle of Dahna. He underwent the rites of making a blood pact with the resistance fighter Ced, thus bestowing his power upon the human and transforming him into one of the Twelve Crusaders, and granted him a wind tome bearing his name to use in battle against Loptous. This wind tome carried not only Forseti's power, but also his passion and love for humanity, causing Ced to be strongly influenced by Forseti's persona and will.[1]
Possessing Lewyn
In Grann 760, the Book of Forseti entered the possession of Lewyn, Ced's latest heir, and from the moment he received it Forseti's persona began to inhabit him.[2] Lewyn later died in a duel against Manfroy in the Battle of Belhalla, but Forseti revived and possessed him. This act, one traditionally considered forbidden among the dragonkin, resulted in parts of Lewyn's original persona being irrevocably surrendered so Forseti could do what he had to, and so at the war's conclusion and Forseti's departure, Lewyn was incapable of returning to his original life as Silesse's king.[3]
Seventeen years later, Forseti (in Lewyn's guise) acted as a guide to Seliph Baldos Chalphy in his revolution against the Grannvale Empire, advising Seliph on tactical matters and relating to him the true history of the Crusaders and Loptous, in order to ensure Loptous's downfall and the return of peace to Jugdral. Only at the end of the war did he reveal his true identity of Forseti to Seliph, before departing to go on an unspecified journey.[4]
Role
Forseti is technically a major character throughout the second half of Genealogy of the Holy War, owing to his possession of Lewyn; it is uncertain how much of Lewyn's dialogue is actually Lewyn himself and how much is Forseti speaking. If the player completes Genealogy twelve times, a scene is added to the opening demo reel in which Forseti, represented as a Sage, uses the Valkyrie Staff to resurrect Lewyn following his death at Manfroy's hands.
Personality and character
Compared to Naga, Forseti is somewhat younger and more idealistic. Whereas the majority of dragons are more reserved and conservative in their dealings with mankind, Forseti takes a keener level of interest and sympathy with the welfare and path of mankind. Had Naga not intervened, Forseti would most likely have chosen to live with mankind on Jugdral as their protector. Forseti's passion and love for mankind are imbued in the Forseti tome as a result; unlike the other Crusader weapons, this allows the wielder of the Forseti tome to inherit Forseti's will as well as his power, causing Forseti to influence their decisions at minimum or outright possess them at maximum.[5] This effect on the wielder's personality is also why the Holy Blood line associated with the Forseti tome is named for Forseti himself, rather than the respective Crusader, as it is a facet all other holy weapons (save for the Naga and Loptous tomes) lack.[6]
Quotes
| | | | |
| --- | --- | --- | --- |
| " | I understand now... All my life, I've heard tales of how the dragonkin feared becoming entangled in the sorry affairs of mankind. But you were different... You guided us where your kin never would. So long as our world lives on, humanity will never forget your kindness... Lewyn... No... A hero of a distant land... Forseti of the Wind... | " | — Seliph |
Etymology and other languages
Names, etymology and in other regions
Language
Name
Definition, etymology, and notes
English

Forseti

As of Fire Emblem Awakening. From Forseti, a Norse deity of justice. Forseti was the son of Baldr and Nanna.

English
(unofficial)

Holsety

Popularly known by this name prior to the English release of Awakening.

Japanese

フォルセティ

Officially romanized as Holsety. Misromanization of "Forseti".

Spanish

Forseti

As above.

French

Forseti

As above.

German

Forseti

As above.

Italian

Forseti

As above.

Portuguese

Forseti

--

Traditional Chinese

弗魯賽提

Forseti
Gallery
References
| | |
| --- | --- |
| | This article is part of Project Characters, a project focused on writing articles for every character present in the Fire Emblem series. |