Site News
Warning: This wiki contains spoilers. Read at your own risk!


Social media: If you would like, please join our Discord server, and/or follow us on Twitter (X) or Tumblr!
Díthorba
From Fire Emblem Wiki, your source on Fire Emblem information. By fans, for fans.
Díthorba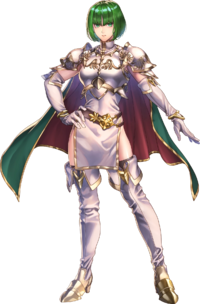 Artwork of Díthorba from Heroes.
---
One of the Four Heavenly Knights of Silesse. Comes to serve Lord Myos, youngest brother of the late king.
| | |
| --- | --- |
| Gender | Female |
| Race | |
| Family | |
| Nationality | |
| Starting class | |
| Voiced by | |
| Appearance(s) | |
| | | | |
| --- | --- | --- | --- |
| " | Behold: You now face Díthorba, one of the Four Heavenly Knights of Silesse! This is where your journey ends! | " | — Díthorba |
Díthorba (Japanese: ディートバ Deet'var) is one of the sub-bosses of Chapter 4 of Fire Emblem: Genealogy of the Holy War and one of the Four Heavenly Knights of Silesse, joining Myos and Daccar in their rebellion.
Biography
While Sigurd and his companions took refuge in Silesse under the protection of Queen Lahna, the king's brothers Myos and Daccar launch a rebellion to seize control of Silesse with the support of Andrey and the traitorous Grannvale dukes. Díthorba was assigned to the army of Tófa Castle with the task of attacking Sigurd's forces[3] but ultimetly died against them.
Role
Díthorba is a boss of Tófa in Chapter 4.
Stats
See also: Dance in the Skies
Role
Díthorba is one of the characters added to the game in the The Vital Blade update, and was made available to players in the fifty-second Grand Hero Battle, which initially ran from February 17, 2021 through February 25, 2021. Only one variation of Díthorba is currently available in Heroes, based on her Genealogy of the Holy War incarnation.
Díthorba: Cutting Knight
Starting stats
Initial Stats Level 40 Stats

Note: This unit requires the usage of Trait Fruit to access any flaws and assets.
Skill set
Personality
Díthorba is presented as devoted to Myos. It is supposed that she is also jealous of Annand and Erinys like Pamela. Díthorba is shown to be cruel as she planned to cut off Eriny's head and take it as a battle trophy.
Quotes
Battle quotes
"
Díthorba: Ohohoho! Erinys, is it? Fancy seeing you here! Your head will make a fine gift for Lord Myos' mantelpiece!
Erinys: I'll never let you win here, Díthorba! I've come a long way from the Erinys you once knew!
Díthorba: Pfeh. Don't make me laugh! Once a weakling, always a weakling! Some things will never change!
"

— Díthorba, against Erinys, in Chapter 4 of

Genealogy of the Holy War

.
Death quotes
Heroes' quotes
Main article: Dithorba/Quotes (Heroes)
Other appearances
Díthorba was featured on a TCG card.
Fire Emblem Cipher
Díthorba is featured on one card in Fire Emblem Cipher.
The below card's epithet is still in raw, untranslated Japanese; it needs translation.
Fire Emblem Cipher data for Díthorba
死を告げる翼, Díthorba
"I am Díthorba, of the Four Falcons of Silesse. Alas, for now you die!"
Attack: 50
Support: 30
Range: 1
Deploy Cost: 3
Class: Falcon Knight
Tier: Advanced
Class Change Cost: 2
Skycleaving Sword of Ice:

[Always]

During your turn, this unit gains +10 attack per other ally.
Heavens Flier:

[Activate]

[Once per turn]

Move this unit. This skill is only usable if this unit is untapped.
Card #B19-090HN • Artist: 40hara
Some card information translation provided by Serenes Forest.
For more detailed strategic information on these cards, see their TCG wiki article on Dithorba .
Flavor text
Game
Text
(English)
Text
(Japanese)

Heroes

One of the Four Heavenly Knights of Silesse.
Comes to serve Lord Myos, youngest brother
of the late king. Appears in Fire Emblem:
Genealogy of the Holy War.

シレジア四天馬騎士の一員。
先王の末弟にあたるマイオス公に仕える。
(登場:『ファイアーエムブレム 聖戦の系譜』)
Etymology and other languages
Names, etymology, and in other regions
Language
Name
Definition, etymology, and notes
English

Díthorba

Used in Fire Emblem Heroes. In Irish legend, Díthorba one of three grandsons of Airgetmar alongside Áed Rúad and Cimbáeth, whom each ruled as the High King of Ireland in rotation for seven-year periods.

English
(unofficial)

Dithorba

Used in the Genealogy of the Holy War fan translation.

Japanese

ディートバ

Officially romanized as Deet'var. Alteration of "Díthorba".

Spanish

Díthorba

--

French

Díthorba

--

German

Díthorba

--

Italian

Díthorba

--

Portuguese

Díthorba

--

Traditional Chinese

蒂托芭

Díthorba
Gallery
Heroes artwork
References
↑ "Ugh... Díthorba, my beloved mother... I'll see you soon..." — Misha's death quote, Fire Emblem: Thracia 776
↑ "Nikalaf: I've heard tell your mother was killed by the traitor Sigurd during the civil war. Is that true?
Misha: ......
Nikalaf: Ah. I take it that's why you became a mercenary fighting on behalf of the Empire?
Misha: This isn't about my mother." — Misha and Nikalaf, Fire Emblem: Thracia 776
↑ "Myos: Díthorba! Is the army ready to deploy yet?
Díthorba: Yes, sir. Bishop Cuvuli's wind mage unit has infiltrated the forests near Sailane. They await your command, sir.
Myos: Very well. Relay my orders to Cuvuli: move in on Sailane! Díthorba, I trust your pegasus corps are already briefed on your mission?
Díthorba: Yes, sir. Our task is clear. My squadron is to raid the enemy from above, disrupting their tactics.
Myos: Good. Now get to work! Grannvale will owe us a handsome reward for bringing them the heads of their infamous traitors! Heh heh heh..." — Myos and Díthorba, Fire Emblem: Genealogy of the Holy War
| | |
| --- | --- |
| | This article is part of Project Characters, a project focused on writing articles for every character present in the Fire Emblem series. |