Site News
Warning: This wiki contains spoilers. Read at your own risk!


Social media: If you would like, please join our Discord server, and/or follow us on Twitter or Tumblr!

Engage info: As the game has only recently released, we lack much key information. Please help add any info that you can.
Fire Emblem: Treasure
From Fire Emblem Wiki, your source on Fire Emblem information. By fans, for fans.
Fire Emblem: Treasure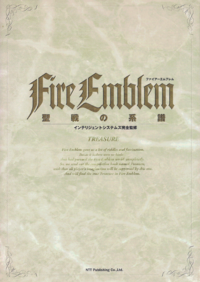 The book's cover.
Game(s) represented
ISBN

4757180144 (ISBN-10)
978-4757180147 (ISBN-13)

Publisher

NTT

Price

¥1,900

Release date

1999 ???
| | | | |
| --- | --- | --- | --- |
| " | Fire Emblem gave us lot of riddles and fascination. But,as it is,there were no books that had pursued the Fire Emblem world completetly.[sic] So, we send out the compilation book named Treasure, wish that all player's imagination will be supported by this one. And will find the true Treasure in Fire Emblem. | " | — The book cover |
Fire Emblem: Treasure (Japanese: Fire Emblem 聖戦の系譜: TREASURE Fire Emblem Genealogy of the Holy War: Treasure) is a supplementary book containing materials on Fire Emblem: Genealogy of the Holy War. It features artwork for the cast of Genealogy of the Holy War illustrated by the late Mayumi Hirota as well as developer notes from Shouzou Kaga. It also contains statistical data such as growth rates and other information for playable characters.
Overview
The book totals at 131 pages and focuses entirely on Fire Emblem: Genealogy of the Holy War.
Establishment
This section features information on Jugdral and all the countries on it. It also includes family tree information for the royal families and a listing of the classes appearing in Fire Emblem: Genealogy of the Holy War.
Character Profile 757~760 and Character Profile 777~778
These sections feature character artwork and profiles of the first generation and second generation characters in the game. The sections is mostly comprised of playable characters but also features several important antagonists and supporting characters.
Special Column
Main article: Fire Emblem: Treasure/Special Column
The two special column sections features information on backstory events regarding Ayra, Bragi Tower, the house of Edda, Brigid, and Arvis and Azelle.
Special Data
This section contains miscellaneous game data for Fire Emblem: Genealogy of the Holy War. It includes character portraits, battle sprites, and growth rate data for the playable characters. It also contains pictures of the various alternate opening demos unlocked from multiple playthroughs of Genealogy of the Holy War.
Table of contents
This is the table of contents provided within book itself.
Table of contents
Page #
Description
2

加賀昭三氏 • 読者へのメッセージ

, Massage[sic] from Syouzou Kaga
--
ESTABLISHMENT
6

ユグドラル大陸勢力図

, Map of powers of the Jugdral continent
10

国家紹介

, Country Information
12

グランベル王国

, The Kingdom of GRANDBELL
14

アグストリア諸公運合

, Dominion of the Lords AGUSTRIA
16

イザーク王国

, Kingdom of ISAAC
18

トラキア王国

, Kingdom of THRACIA
20

レンスター王国

, Kingdom of LENSTER
22

ヴェルダン王国

, Kingdom of VERDANE
24

シレジア王国

, Kingdom of SILESIA
26

キャラクター紹介

, Character Information
28
Genealogy of Royal famiry[sic] & St.Knight
30

職業と階級

, Job & Class
--
CHARACTER PROFILE 757~760
34

グランベル王国

, The Kingdom of GRANDBELL
38

アグストリア諸公運合

, Dominion of the Lords AGUSTRIA
40

イザーク王国

, Kingdom of ISAAC
42

トラキア王国 • レンスター王国

, Kingdom of THRACIA • Kingdom of LENSTER
44

ヴェルダン王国

, Kingdom of VERDANE
46

シレジア王国

, Kingdom of SILESIA
48
JOINED SOLDIER
--
SPECIAL COLUMN

デザイナーズノート

51

アイラ放浪の謎

, The secret of Ira's wandering
52

ブラギの塔の謎

, The Secret of Blagi-tower
53

エッダ教団の謎

, The secret of Edda-order
54

ブリギッド失踪の謎

, The Secret of Briggid's disappearance
--
CHARACTER PROFILE 777~778
56

固定キャラクター

, Fixed Character
66

子供 (恋愛)

, Second Generation Character
74

代替 (非恋愛)

, Substitute Character
82
all character's illustration
--
SPECIAL COLUMN

デザイナーズノート

84

アルヴィスとアゼルの謎

, The secret of Alvis and Azel
85

加賀昭三氏インタビュー

, SPECIAL INTERVIEW
--
SPECIAL DATA
96

キャラクターデータ&グラフィックス

, CHARACTER DATA & GRAPHICS
120
SPECIAL DATA LIST
123
OPENING DEMO COLLECTION
129

インデックス

, Index
131

編集後記
Etymology and other languages
Names, etymology and in other regions
Language
Name
Definition, etymology, and notes
Japanese

Fire Emblem 聖戦の系譜: TREASURE

Fire Emblem Genealogy of the Holy War: TREASURE
Gallery
References