Site News
Warning: This wiki contains spoilers. Read at your own risk!


Social media: If you would like, please join our Discord server, and/or follow us on Twitter or Tumblr!

Engage info: As the game has only recently released, we lack much key information. Please help add any info that you can.
Goldmary
From Fire Emblem Wiki, your source on Fire Emblem information. By fans, for fans.
---
This article's subject is about a recently released game or expansion. As such, key information is likely to be missing. Please help out and add the information that you can.
---
---
This page has been marked as a stub. Please help improve the page by adding information.
---
Goldmary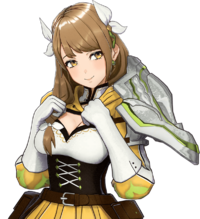 Portrait render of Goldmary.
---
Princess Hortensia's retainer. She seems demure on the surface, but is conceited to the core.
| | |
| --- | --- |
| Gender | Female |
| Race | Human |
| Age | 19 |
| Birthday | July 18th |
| Height | 173 cm (5'8") |
| Nationality | |
| Starting class | |
| Voiced by | |
| Appearance(s) | |
Goldmary (Japanese: ゴルドマリー Goldmary) is a playable character in Fire Emblem Engage.
Biography
Goldmary is a palace soldier of Elusia and a retainer of Hortensia.[1]
Role
Goldmary is a playable character.
Starting stats and growth rates
Playable
For EXP calculation purposes, Goldmary is considered to have gained 17 levels in a base class before reclassing to Hero.
| | |
| --- | --- |
| | Recruitment: Chapter 16, automatically from turn 1 |
Enemy - Chapter 7
Enemy - Chapter 10
---
This section is missing stats, calculations, or growth rates which may be currently unknown. If this information is available, please help improve the page by adding it.
---
Personality and character
She is shy and timid, loves herself, and is reserved but makes bold remarks.[1]
Endings
Elegant Talent Goldmary
Through she was dubbed a knight for her service, Goldmary soon discovered that her true gift was teaching. She became a top instructor at Elusia's academy.
So many of her students went on to do great things that she felt a need to apologize to her classes for the pressure placed on them.
Divine Dragon Alear & Elegant Talent Goldmary
Alear became the new Divine Dragon Monarch. His/Her bonds with the rulers of each nation resulted in lasting peace.
After graduating from Elusia's academy, Goldmary moved to Lythos to be with her partner. She became known as an elegant and skillful teacher of children.
Quotes
Battle quotes
| | | | |
| --- | --- | --- | --- |
| " | I'm going to ask you nicely—please die. | " | — Goldmary in Chapter 7 |
"
Goldmary: Up close, you're only half as captivating as I thought, Divine Dragon.
Alear: That's what you care about? Here, in battle? Let's just settle this.
"

— Goldmary and Alear in Chapter 7
| | | | |
| --- | --- | --- | --- |
| " | I'm sorry the others are dragging this out. We both know my belief in you is already enough. | " | — Rosemary in Chapter 26. |
Critical quotes
| | | | |
| --- | --- | --- | --- |
| " | What's the point of you? | " | — Goldmary |
| | | | |
| --- | --- | --- | --- |
| " | You can die now. | " | — Goldmary |
| | | | |
| --- | --- | --- | --- |
| " | Don't make me angry. | " | — Goldmary |
Defeat quotes
| | | | |
| --- | --- | --- | --- |
| " | You're horrible. That's it... I'm leaving. | " | — Goldmary in Chapter 7 |
Flavor text
Game
Text
(English)
Text
(Japanese)

Engage

Princess Hortensia's retainer. She
seems demure on the surface, but
is conceited to the core.

オルテンシアの臣下。
内気そうに見えるが、たいへんな自信家。
Etymology and other languages
Names, etymology and in other regions
Language
Name
Definition, etymology, and notes
English

Goldmary

From "marigold", a type of flower.

Japanese

ゴルドマリー

Officially romanized as Goldmary.

Spanish

Goldmary

--

French

Goldmary

--

German

Goldmary

--

Italian

Goldmary

--

Korean

골드마리

Goldmary

Simplified Chinese

戈尔德玛莉

Goldmary

Traditional Chinese

戈爾德瑪莉

Goldmary
Gallery
References
| | |
| --- | --- |
| | This article is part of Project Characters, a project focused on writing articles for every character present in the Fire Emblem series. |