Site News
Warning: This wiki contains spoilers. Read at your own risk!


Social media: If you would like, please join our Discord server, and/or follow us on Twitter or Tumblr!
Squad Assault
From Fire Emblem Wiki, your source on Fire Emblem information. By fans, for fans.
---
This page has been marked as a stub. Please help improve the page by adding information.
---
Squad Assault' (Japanese: 縛鎖の迷宮 Labyrinth of Bonds) is a game mode in Fire Emblem Heroes. Squad Assault allows players to challenge extremely difficult teams on a combination of existing maps while using unique teams for each of them; players cannot use the same character twice during the same session of Squad Assault. Players who complete a Squad Assault win unique Sacred Seals along with two Orbs.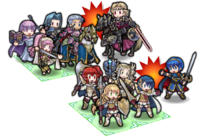 List of Squad Assaults
Maps
Premiere date
Unique Sacred Seal
1st Assault
B1 C1-1: Mystery Trial
B1 C2-1: Conquest Trial
B1 C3-1: Binding Trial
B1 C4-1: Awakening Trial
B1 C5-1: Return to Mystery
July 5, 2017

Squad Ace A 1
2nd Assault
B1 C6-1: Birthright Trial
B1 C7-1: Blazing Trial
B1 C8-1: Sinister Shadow
B1 C9-1: Loyalty and Ambition
B1 C10-1: Radiant Mercenaries
August 7, 2017

Squad Ace B 1
3rd Assault
P1-1: Sacred Bond
P2-1: Brothers and Sisters
P3-1: Vengeful Mercenary
P4-1: Bright Blooms
P5-1: Legendary Hero
September 6, 2017

Squad Ace C 1
4th Assault
P6-1: Martial Bliss
P7-1: Wayward One
P8-1: Sunny Sneak Attack
P9-1: Nohr on the Shore
P10-1: A Lecture Fit for Royalty
October 9, 2017

Squad Ace D 1
5th Assault
B1 C1-2: Willful Warrior
B1 C2-2: Lovely Bloom
B1 C3-2: Two Noblewomen
B1 C4-2: Blade and Dancer
B1 C5-2: Captive Princess
November 28, 2017

Squad Ace E 1
6th Assault
B1 C6-2: Vain Prince
B1 C7-2: Lovely Bloom
B1 C8-2: Napping Dragon
B1 C9-2: Nobility and Vanity
B1 C10-2: A Mercenary's Pride
January 10, 2018

Squad Ace F 1
7th Assault
P1-2: Holy War's Bond
P2-2: Siblings of Thunder
P3-2: Sword Demon
P4-2: Painted Eggs
P5-2: Into the Forest
February 9, 2018

Squad Ace G 1
8th Assault
P6-2: Groomed for Combat
P7-2: Led by the Nose
P8-2: Seaside Trouble
P9-2: Shipwrecked
P10-2: The Heirs of Frelia
March 8, 2018

Squad Ace H 1
9th Assault
B1 C1-3: Wind and Light
B1 C2-3: Callous Prince
B1 C3-3: Desert Dragons
B1 C4-3: Big Ambush
B1 C5-3: No Way Out
April 10, 2018

Squad Ace I 1
10th Assault
B1 C6-3: Blunt Princess
B1 C7-3: Baffling Labyrinth
B1 C8-3: Ravishing Battle
B1 C9-3: Big Ambush
B1 C10-3: The Imperial Prince
May 9, 2018

Squad Ace J 1
11th Assault
P1-3: Unbreakable Bond
P2-3: Courage and Devotion
P3-3: Death and the Child
P4-3: Spring Stars
P5-3: Alm's Heroic Stand
June 8, 2018

Squad Ace K 1
12th Assault
P6-3: Battle of the Bouquet
P7-3: Three Assassins
P8-3: Taking the Beachhead
P9-3: A Vacation in Ruins
P10-3: The Silver Knight
July 9, 2018

Squad Ace L 1
13th Assault
B1 C1-4: Dual Cavaliers
B1 C2-4: Bewitching Princess
B1 C3-4: Quirky Family
B1 C4-4: Surprising Villager
B1 C5-4: Three Sisters Fly
August 9, 2018

Squad Ace M 1
14th Assault
B1 C6-4: Shy Princess
B1 C7-4: The Guardian
B1 C8-4: Divine Dragon Returns
B1 C9-4: The Unknown
B1 C10-4: The Last Line of Defense
September 7, 2018

Squad Ace N 1
15th Assault
B1 C1-5: Prince of Mystery
B1 C2-5: Prince of Conquest
B1 C3-5: Nobles of Binding
B1 C4-5: Prince of Awakening
B1 C5-5: Divine Dragon Princess
October 8, 2018

Squad Ace O 1
16th Assault
B1 C6-5: Prince of Birthright
B1 C7-5: Blazing Noblemen
B1 C8-5: Future Princess
B1 C9-5: Princess of Death
B1 C10-5: Radiant Hero
November 8, 2018

Squad Ace P 1
17th Assault
B1 C11-1: Caring Princess
B1 C12-1: Battle at the Sluice Gate
B1 C13-1: Bruno's Secret
B2 C1-1: Undying Flame
B2 C2-1: Lady of Snow
December 10, 2018

Squad Ace Q 1
18th Assault
B2 C3-1: The Road to Nifl
B2 C4-1: Protecting the People
B2 C5-1: Snowfield Pursuit
B2 C6-1: A Distant Dream
B2 C7-1: Echoing Dreams
January 10, 2019

Squad Ace R 1
19th Assault
B2 C8-1: Prayer of the Child of Ice
B2 C9-1: The Infernal Jailer
B2 C10-1: To the Castle
B2 C11-1: The Enemy of My Enemy
B2 C12-1: Suspicion
February 7, 2019

Squad Ace S 1
20th Assault
P11-1: Mercenary and the Lady
P12-1: A Heartfelt Dance
P13-1: Baldr's Holy Knight
P14-1: Creatures of the Night
P15-1: Sword and Sorcery
March 7, 2019

Squad Ace T 1
21st Assault
P16-1: Get Those Gifts!
P17-1: New Year's Greetings
P18-1: Devoted Youth
P19-1: The Hare Pair
P20-1: Here Comes the Groom
April 9, 2019

Squad Ace U 1
22nd Assault
P21-1: A Fighting Family
P22-1: A Distracted Duo
P23-1: Honoring the Land
P24-1: Princesses in Contrast
P25-1: The Spooky Trio
May 9, 2019

Squad Ace V 1
23rd Assault
B1 C11-2: Pirates!
B1 C12-2: A Desperate Pursuit
B1 C13-2: A Triple Decker
B2 C1-2: Mountains Burn
B2 C2-2: Children of the Light
June 10, 2019

Squad Ace W 1
24th Assault
B2 C3-2: The Silver-Haired Maiden
B2 C4-2: Crimson Flash
B2 C5-2: Dance of the Witch
B2 C6-2: The Branded Knight
B2 C7-2: Blade of the Mage Knight
July 8, 2019

Squad Ace X 1
25th Assault
B2 C8-2: Tame the Savage Flame
B2 C9-2: The Demon Sword
B2 C10-2: Misplaced Wisdom
B2 C11-2: Flower Fortunes
B2 C12-2: Scion of a Crusader
August 6, 2019

Squad Ace Y 1
26th Assault
P11-2: The Lion and the Princess
P12-2: A Bittersweet Melody
P13-2: Od's Swordswoman
P14-2: Treat-Seeking Mischief
P15-2: The Dorcas Gambit
September 5, 2019

Squad Ace Z 1
27th Assault
P16-2: Tinsel Tussle
P17-2: Princesses at the Shrine
P18-2: Devoted Dads
P19-2: Duty-Bound Bunnies
P20-2: Veiled Insecurities
October 8, 2019

Squad Ace AA 1
28th Assault
P21-2: Shimmering in the Sun
P22-2: A Playful Pair
P23-2: The Gods Pass On...
P24-2: Lords in Accord
P25-2: Two More Horrors
November 6, 2019

Squad Ace AB 1
29th Assault
B1 C11-3: The Mountain of Fear
B1 C12-3: Desert Stronghold Siege
B1 C13-3: Shadow over the Port
B2 C1-3: Steam Billows
B2 C2-3: Children of the Shadow
December 5, 2019

Squad Ace AC 1
30th Assault
B2 C3-3: Ensnared by Beauty
B2 C4-3: Princesses in Shadow
B2 C5-3: The Fell Dragon Rises
B2 C6-3: The Tactician's Daughter
B2 C7-3: Indomitable Spirits
January 8, 2020

Squad Ace AD 1
31st Assault
B2 C8-3: Unquenchable, Undying
B2 C9-3: The Goddess of Thunder
B2 C10-3: Family of Fangs
B2 C11-3: From the Depths of Hell
B2 C12-3: Prowling Beast
February 6, 2020

Squad Ace AE 1
32nd Assault
P11-3: The Dream We Shared
P12-3: The Finale
P13-3: Bound by Blood
P14-3: Trick or Treat!
P15-3: Offbeat Heroes
March 5, 2020

Squad Ace AF 1
33rd Assault
P16-3: If You're Good...
P17-3: Wishes for the New Year
P18-3: Truth and Ardor
P19-3: Rabbiting On
P20-3: Love and War
April 7, 2020

Squad Ace AG 1
34th Assault
P21-3: Sounds of the Ocean
P22-3: A Little Drawn Out
P23-3: The Wind Itself
P24-3: The Princess's Request
P25-3: Grab Those Gourds!
May 7, 2020

Squad Ace AH 1
35th Assault
B1 C11-4: More Pirates!
B1 C12-4: Before the Goddess
B1 C13-4: Armies Clash
B2 C1-4: Stars Become Cinders
B2 C2-4: Shadows and Light
June 5, 2020

Squad Ace AI 1
36th Assault
B2 C3-4: A Menacing Swordsman
B2 C4-4: The Young Dragon
B2 C5-4: The Dark Emperor
B2 C6-4: The Tactician's Son
B2 C7-4: Book and Blade
July 6, 2020

Squad Ace AJ 1
37th Assault
B2 C8-4: Vessel Filled with Power
B2 C9-4: Dancer of Flames
B2 C10-4: Sword Vassal
B2 C11-4: Dance in the Sky
B2 C12-4: Led by the Breeze
August 6, 2020

Squad Ace AK 1
38th Assault
B1 C11-5: The Dark Domain
B1 C12-5: The Mask Cracks
B1 C13-5: A Bond Renewed
B2 C1-5: Enchantress of the Mist
B2 C2-5: Ruler of Flame
September 7, 2020

Squad Ace AL 1
39th Assault
B2 C3-5: Steel Sears the Land
B2 C4-5: Fiery Resolve
B2 C5-5: Hunted by the Flames
B2 C6-5: Sheathed Steel
B2 C7-5: Sheathed Steel
October 7, 2020

Squad Ace AM 1
40th Assault
B2 C8-5: Rite of Frost
B2 C9-5: Into the Blaze
B2 C10-5: The King's Demise
B2 C11-5: Burnt-Bone Gorge
B2 C12-5: The Traitor
November 5, 2020

Squad Ace AN 1
41st Assault
B3 C1-1: The Dead Arrive
B3 C2-1: The King's Order
B3 C3-1: The Scar Remembers
B3 C4-1: No Cheating Death
B3 C5-1: Loss
December 8, 2020

Squad Ace AO 1
42nd Assault
B3 C6-1: Tragedy upon Tragedy
B3 C7-1: Familiar Scenery
B3 C8-1: Ruinous Land
B3 C9-1: A Pause in Hostilities
B3 C10-1: Truth of Her Name
unknown

Squad Ace AP 1
43rd Assault
B3 C11-1: Seeking a Path
B3 C12-1: Sharena's Counterpart
B3 C13-1: Obey Me
P26-1: Dark and Darker
P27-1: Friends
unknown

Squad Ace AQ 1
44th Assault
P28-1: A Snowy Playtime
P29-1: Fire and Ice
P30-1: The Men's Bath
P31-1: A Deputy's Devotion
P32-1: Bunny Prince & Princess
unknown

Squad Ace AR 1
Etymology and other languages
Names, etymology and in other regions
Language
Name
Definition, etymology and notes
English

Squad Assault

--

Japanese

縛鎖の迷宮

Labyrinth of Bonds

Spanish
(Spain)

Asalto de ejército

Army's assault

Spanish
(Latin America)

Escuadrón de asalto

Squadron assault

French

Assaut en équipes

Assault in teams

German

Gruppenüberfall

Groups Assault

Italian

Assalto a squadre

Assault in squads

Portuguese
(Brazil)

Esquadrão de ofensivas

Squad offensive

Traditional Chinese

縛鎖迷宮

Binding labyrinth