Site News
Warning: This wiki contains spoilers. Read at your own risk!


Social media: If you would like, please join our Discord server, and/or follow us on Twitter (X) or Tumblr!
Birth of a Holy Knight
From Fire Emblem Wiki, your source on Fire Emblem information. By fans, for fans.
Birth of a Holy Knight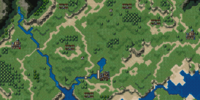 Birth of a Holy Knight (Japanese: 聖騎士誕生 Birth of a Holy Knight) is the prologue chapter of Fire Emblem: Genealogy of the Holy War. The chapter chronicles the short-lived Verdane invasion of a relatively defenseless Grannvale, Sigurd's movement to defend Yngvi and rescue its Lady Edain, his rise as a Holy Knight of Grannvale, and the beginning of his slow descent into a grave predicament.
Plot
While the bulk of the armies of Grannvale are off to war in Isaach, the country itself is largely undefended. Grannvale's former ally Verdane takes advantage of this in a surprise assault led by Prince Munnir, storming the country and assaulting the dukedom of Yngvi. In response to this news and the threat facing Yngvi's Lady Edain, neighboring Chalphy's Lord Sigurd convenes what few knights remain in Chalphy to depart to aid Edain. As the fight passes, others arrive to support him - first Azelle of Velthomer and Lex of Dozel, both against the wishes of their family, then Quan, Ethlyn and Finn of Leonster. Meanwhile, at Yngvi, Midir of the Yngvi knights is gravely wounded by Munnir in attempting to protect Edain, allowing the Verdane forces to seize the castle. Munnir takes Edain back with him to Yngvi, leaving DiMaggio in charge of the Grannvale effort.
Upon reclaiming Yngvi, Sigurd finds Midir, who informs him of Edain's capture and volunteers to assist despite his injury. Meanwhile, at Evans Castle on the other side of the border, Gerrard of the Verdane army learns of Dimaggio's failure and orders that the bridge across the Jun River be restored, and that the remaining forces move in. At this time, Duke Arvis of Velthomer arrives from the north to observe the situation; he finds Sigurd and entrusts him with a Silver Sword, a gift from King Azmur, then departs. Sigurd eventually seizes Evans Castle; finding Edain was not there, he establishes a headquarters there and prepares to sortie directly into Verdane to find her. Filat arrives as a messenger arrives from Belhalla, delivering the news that Sigurd had been appointed a Holy Knight of Grannvale for his efforts and commissioning him to guard the Verdane border.
Chapter data
Chapter Data
Conditions
Unit Data
Victory: Seize Evans
Defeat: Sigurd dies or Chalphy Castle is seized

Player:
4

+6

Partner:
1

+1

−2

Other:
0
Enemy:
32

+15

−1

Chapter Map

Map dimensions:
62 columns by 30 rows
Combatants and castles
Army
Commander
Affiliation
Units
Castles
Guardian
Notes
Sigurd's
Sigurd
Player
4
Chalphy
Arden
Home castle
Evans
Munnir

*

/
Gerrard
Enemy
32

+15

Evans
Gerrard
Main objective
Yngvi
DiMaggio
• Seized by Munnir on turn 1; DiMaggio then becomes the guardian.
• Once seized by Sigurd, the west bridge will be lowered and 15 additional units will appear from Evans
Yngvi
Midir
Partner
1
Midir
--
Arvis
Partner
1
--
--
• Appears once Sigurd seizes Yngvi.
• Does not have a faction, castle, or phase, and moves at the end of Evans Phase.
Character data
Characters
New units
Available characters
None
Item data
In addition, five villages are present on the map, which can be visited to obtain up to 5,000 gold each.
Castle data
While the town can be visited from the Chalphy or, once conquered, Yngvi castles, the arena and armory are unavailable. The other four facilities—the blacksmith, pawnbroker, supply, and augury—are normally accessible.
Event data
Unit data
Evans
Reinforcements
Once Yngvi has been seized, 10 Barbarians and 5 Hunters emerge from Evans Castle.
Yngvi
Arvis
Major units
Evans
Inventory
Skills

Steel Axe


2,000 Gold

--

Weapon Levels

| | | | | | | | | | |
| --- | --- | --- | --- | --- | --- | --- | --- | --- | --- |
| | -- | | -- | | A | | -- | | -- |
| | -- | | -- | | -- | | -- | | -- |
DiMaggio is the guardian of Yngvi Castle and a sub-boss affiliated with Evans.
Gerrard is the guardian of Evans Castle, and the boss of Evans after Munnir leaves.
Munnir is only present in the chapter for the first turn. He departs after a cutscene where he defeats Midir at Yngvi, and as such is unfought.
Yngvi
Midir is the guardian of Yngvi Castle and boss of Yngvi before being defeated by Munnir in a cutscene.
Arvis
Inventory
Skills

Valflame




Recover Ring


5,000 Gold

Adept




Nihil

Weapon Levels

| | | | | | | | | | |
| --- | --- | --- | --- | --- | --- | --- | --- | --- | --- |
| | -- | | -- | | -- | | -- | | B |
| | ★ | | B | | B | | B | | -- |
Arvis appears on the turn Yngvi Castle is seized, and departs after Sigurd talks to him. He will actively seek out Sigurd and will only attack enemies which get in his way.
Strategy
Objective 1: Yngvi Castle
Objective: Your first goal is to retake Yngvi Castle, which was seized by Munnir and his bandits. Munnir has defeated Midir, the castle's defender, and has taken Princess Edain captive.
Starting Characters: You begin at Chalphy Castle with Sigurd, Naoise, Alec, and Arden. Let Arden defend Chalphy in case of enemy attacks.
Villages: Villages provide information and money. The more damage they take, the less money you receive when rescuing them.
Important Village: The southernmost village gives you a Speed Ring, which boosts speed by 5 points.
Churches: Churches can heal your units for a fee (5 coins per hit point).
Boss: DiMaggio is a level 10 Axe Fighter with a Steel Axe and high HP. He's not too challenging, and you can use Azelle's magic to attack him. Midir joins after conquering Yngvi's castle.
Training Strategy: Consider training your under-leveled characters on this boss, gaining EXP when hitting him and visiting the church when injured.
Preparing for Yngvi: Before conquering Yngvi, position all your units (except Sigurd) near the forest or have Arden guard the bridge.
Objective 2: Evans
Objective: After reclaiming Yngvi, Gerrard will send a group of bandits to counterattack, aiming to cross the broken bridge.
Defensive Strategy: Position your units near the forest or have Arden defend the bridge, allowing you to engage the enemy bandits one by one.
Arvis' Arrival: Arvis will appear in the north part of the map by the church as an NPC and offer assistance. He'll have a conversation with Sigurd and give him a Silver Sword.
Boss: Gerrard is a level 20 Axe Fighter with both a Steel Axe and a Hand Axe. He's an excellent choice for training due to his high level.
Seizing the Castle: After dealing with the enemy threats, you can seize the castle to complete the mission.
Etymology and other languages
Names, etymology, and in other regions
Language
Name
Definition, etymology, and notes
English

Birth of a Holy Knight

From the title of the song "Prologue: Birth of a Holy Knight" in Fire Emblem Heroes. "Holy Knight" is the byname of Sigurd, and also that of his Crusader ancestor Baldr.

English
(unofficial)

• Birth of the Holy Knight
• Birth of a Crusader

• Used in earlier fan translations.
• Used in the Project Naga fan translation.

Japanese

聖騎士誕生

Birth of a Holy Knight. Along with the above, "Holy Knight" is additionally the term for the Paladin class used in dialogue in Japanese.

Spanish
(Spain)

Nace el caballero sacro

Birth of the Holy Knight; from Heroes.

Spanish
(Latin America)

Nace un caballero sagrado

Birth of a Holy Knight; from Heroes.

French

Naissance d'un chevalier sacré

Birth of a Holy Knight; from Heroes.

German

Geburt eines Heiligen Ritters

Birth of a Holy Knight; from Heroes.

Italian

Genesi del sacro cavaliere

Genesis of the Holy Knight; from Heroes.

Portuguese
(Brazil)

Nasce um cavaleiro sagrado

Birth of a Holy Knight; from Heroes.

Traditional Chinese

聖騎士誕生

Birth of a Holy Knight; from Heroes.
Gallery