Site News
Warning: This wiki contains spoilers. Read at your own risk!


Social media: If you would like, please join our Discord server, and/or follow us on Twitter (X) or Tumblr!
Four Heavenly Knights
From Fire Emblem Wiki, your source on Fire Emblem information. By fans, for fans.
Four Heavenly Knights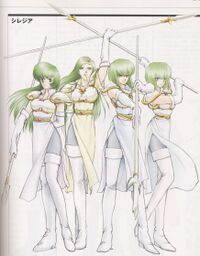 The Four Heavenly Knights (from left to right: Erinys, Annand, Pamela, Díthorba).
| | |
| --- | --- |
| Leader | |
| Headquarters | |
| Group type | Order of knights |
| Purpose | To serve Silesse |
| Appearance(s) | |
The Four Heavenly Knights (Japanese: 四天馬騎士 Four Pegasus Knights) is an order of knights in the service of Silesse. The unit is initially comprised of Annand, her younger sister Erinys, Pamela and Díthorba. It is an airborne military unit; all of its members ride pegasi.
Overview
By the year Grann 759, the younger brothers of the late king, Daccar and Myos, had grown disgruntled with the favored heir to the throne being the king's son, Lewyn, and so sought to incite a civil war and seize Silesse for themselves. While Annand sided with the Queen Lahna and Erinys joined Sigurd's army, Pamela and Díthorba sided with Daccar and Myos in their rebellion. The conflict resulted in the death of Annand at the hands of Andorey and the Beige Ritter as well as the deaths of Pamela, Díthorba, Myos, and Daccar by Sigurd's forces.
Following the Battle of Belhalla, Silesse was conquered by the newly-minted Grannvale Empire, and remained subjugated as part of its territorial holdings for the next seventeen years. During this time, the reigning queen Erinys tried to help the nation as much as she could, but died of illness. At the peak of Seliph's liberation war in Grann 777, the daughter of the late Díthorba, Misha[1], as well as the pegasus knight Karin[2] would join the Heavenly Knights and help the people of Silesse in their rebellion against Grannvale's hold on the nation. Following the crowning of Prince Ced, Lewyn's son, Misha became the commander of the new Heavenly Knights.[3]
Members
Etymology and other languages
Names, etymology, and in other regions
Language
Name
Definition, etymology, and notes
English

Four Heavenly Knights

As of Fire Emblem Heroes.

Japanese

四天馬騎士

Four Pegasus Knights

Italian

Quattro cavaliere celesti

Four heavenly knights; as of Fire Emblem Heroes.
Gallery
References
↑ "After returning home, Misha joined the Silessean Heavenly Knights." — Misha's Ending, Fire Emblem: Thracia 776
↑ "Returning to her native Silesse, Karin finally fulfilled her dream of joining the Order of Pegasus Knights." — Karin's Ending, Fire Emblem: Thracia 776
↑ "She later particpated in the Silessean Liberation War, and after the New Kingdom of Silesse was established, she became the first commander of the new Silessean Heavenly Knights." — Misha's Ending, Fire Emblem: Thracia 776