Site News
Warning: This wiki contains spoilers. Read at your own risk!


Social media: If you would like, please join our Discord server, and/or follow us on Twitter or Tumblr!

Engage info: As the game has only recently released, we lack much key information. Please help add any info that you can.
Limstella
From Fire Emblem Wiki, your source on Fire Emblem information. By fans, for fans.
Limstella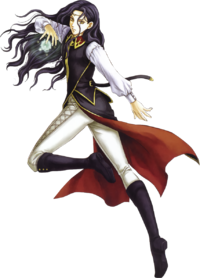 Artwork of Limstella from The Blazing Blade.
---
The strongest of the morphs Nergal created.
| | | | |
| --- | --- | --- | --- |
| " | As you wish. | " | — Limstella to Nergal |
Limstella (Japanese: リムステラ Limstella) was a powerful morph and sage appearing in Fire Emblem: The Blazing Blade that was created by Nergal. Nergal claimed that they were his masterpiece, and his most powerful morph.
Role
Limstella is a major antagonist appearing sparingly throughout Fire Emblem's entirety. Serving under Nergal, they collect the quintessence of various Black Fang leaders killed by Eliwood's party.
They also kill Lloyd or Linus, due to them catching on to Nergal's and Sonia's treachery within the Black Fang's leadership.
Their final appearance is in Chapter 30E/32H, where they are killed, despite being granted with immense power by Nergal shortly beforehand,[3] by Eliwood's, Hector's, and Lyn's combined forces.
Stats
See also: Victory or Death
Stats with two figures separated by a ~ are presented as a range, representing stats that vary due to random growths. The figures to the left and right of the ~ are the stat's minimum and maximum possible values respectively.
Normal Eliwood Hard Hector Hard
In Normal Mode, Limstella uses a custom variant of the Sage class with increased Defense and Resistance stat caps; in Hard Mode, they use the standard female one.
Role
Limstella is one of the characters added to the game in the Closing In update, and was made available to players in the sixty-eighth Grand Hero Battle, which initially ran from June 9, 2022 through June 18, 2022. Only one variation of Limstella is currently available in Heroes, based on their The Blazing Blade incarnation.
Starting stats
Initial Stats Level 40 Stats

Note: This unit requires the usage of Trait Fruit to access any flaws and assets.
Skill set
Skill set
Skill
Rarity
SP cost
Wind
Innate
Elwind
Innate
Rexcalibur
★★★
200 SP
Morph Fimbulvetr
★★★★★
400 SP
Chilling Wind
★★★
100 SP
Glacies
★★★★
200 SP

A

Def/Res Form 1
★★★
60 SP

A

Def/Res Form 2
★★★
120 SP

A

Def/Res Form 3
★★★★
240 SP

B

Sabotage Atk 1
★★★
60 SP

B

Sabotage Atk 2
★★★★
120 SP

B

Sabotage Atk 3
★★★★★
240 SP
Personality and character
Limstella, like most other known morphs, is distant, calculating, and eternally loyal to their master and creator Nergal. They do not outwardly express any emotions, and follow Nergal's every command without question.
Limsella conducts interactions with subordinates in a formal and impersonal manner. They keep their tone neutral and states things plainly even when informing others of their failures.[4][5] Sonia seems to have been the only person to come anywhere close to provoking a reaction from Limstella. If Limstella is present to witness Sonia's death in the conclusion of Night of Farewells, Limstella makes a comment that "Puppets have no essence to harvest."; "puppet" is a rather informal word for Limstella to use, though it is a word Sonia herself would use often when berating morphs.[6]
Limstella may possess some unintended emotional capacity, which can be gleaned from speculation stated by Canas and Renault,[7] as well as their dying words.[8] In particular, they express sorrow during their death. While it is technically ambiguous as to what they are sorrowful about, it is likely to be due to the fact that their time in service to Nergal has ended.
Quotes
Battle quotes
| | | | |
| --- | --- | --- | --- |
| " | I will take your life and your essence. All for the sake of my master. | " | — Limstella |
Death quote
| | | | |
| --- | --- | --- | --- |
| " | I am not human. This body and this heart are constructs. Yes, as is this sorrow. | " | — Limstella |
Heroes quotes
Main article: Limstella/Quotes (Heroes)
Other appearances
Fire Emblem Cipher
Limstella is featured on one card in Fire Emblem Cipher.
Fire Emblem Cipher data for Limstella
Genesis, Limstella
"I will take your life and your essence. All for the sake of my master."
Attack: 60
Support: 50
Range: 1-2
Deploy Cost: 4
Class: Sage
Tier: Advanced
Class Change Cost: 3
Life Drain:

[Support]

Destroy one allied non-Main Character unit, except for the unit currently battling.
Card #B07-048HN • Artist: cuboon
Some card information translation provided by Serenes Forest.
For more detailed strategic information on these cards, see their TCG wiki article on Limstella .
Flavor text
Game
Text
(English)
Text
(Japanese)

The Blazing Blade

The strongest of the
morphs Nergal created.

ネルガルに創られた
最も強力な【モルフ】

Heroes

A constructed being known as a morph,
created with ancient magics. They serve
Nergal with absolute loyalty. Appears in
Fire Emblem: The Blazing Blade.

古代魔道により創り出された【モルフ】と呼ばれる者。
創造主たるネルガルに忠実に仕える。
(登場:『ファイアーエムブレム 烈火の剣』)
Trivia
Etymology and other languages
Names, etymology and in other regions
Language
Name
Definition, etymology, and notes
English

Limstella

Aside from the fact that the -stella suffix is generally feminine, uncertain etymology.

Japanese

リムステラ

Officially romanized as Limstella.

Spanish

Limstella

--

French

Limstella

--

German

Limstella

--

Italian

Limstella

--

Portuguese

Limstella

--

Traditional Chinese

莉姆思黛拉

Limstella
Gallery

Sprite Gallery
Sage

Anima

Staff

*
Heroes artwork
References
| | |
| --- | --- |
| | This article is part of Project Characters, a project focused on writing articles for every character present in the Fire Emblem series. |