Site News
Warning: This wiki contains spoilers. Read at your own risk!


Social media: If you would like, please join our Discord server, and/or follow us on Twitter or Tumblr!

Engage info: As the game has only recently released, we lack much key information. Please help add any info that you can.
Citrinne
From Fire Emblem Wiki, your source on Fire Emblem information. By fans, for fans.
---
This article's subject is about a recently released game or expansion. As such, key information is likely to be missing. Please help out and add the information that you can.
---
---
This page has been marked as a stub. Please help improve the page by adding information.
---
Citrinne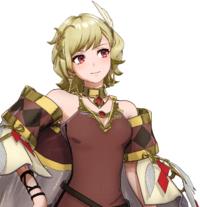 Portrait render of Citrinne.
---
Prince Alcryst's retainer. Despite her fierce demeanor, she's a noble who cares deeply for her friends.
Citrinne (Japanese: シトリニカ Citrinica) is a playable character in Fire Emblem Engage.
Biography
Citrinne is palace soldier of Brodia and is a retainer of Prince Alcryst.[1][2] She is a noble,[2] and is a cousin to Alcryst and Diamant.[1]
Role
Citrinne is a playable character.
Starting stats and growth rates
| | |
| --- | --- |
| | Recruitment: Chapter 7, automatically from turn 1. |
Analysis
This character analysis section may not be accurate to every player's experience.
With poor stat growths and a concerning inability to absorb damage, Citrinne is a questionable unit to deploy under most circumstances. In general combat, she's outclassed by Anna, Chloé, Jean and even generalists like Framme who, with better personal growths, can more easily afford to level up as a Mage Knight or Sage, classes in which Citrinne will be slow and dangerously fragile.
While Citrinne's stats are poor outside of Mag, she can perform adequately in roles where Spd is less important or subject to a low cap. With a realistic amount of investment, she can ORKO most non-boss targets with Dire Thunder, she's a good user of this ability since her Mag cap modifier of +3 lets her reach one-rounding thresholds as a High Priest whereas most characters would be pushed towards the slower and more fragile Sage; Citrinne also retains access to A-rank tomes in the former class. The same cap modifier is also very useful in martial classes with magical weapons, such as a Radiant Bow Warrior, a role in which Citrinne can reliably one-shot fliers throughout the game and still deal respectable damage to ground units. A martial path such as Warrior into Bow Knight will also help her gain enough speed and bulk to eventually fight on the enemy phase as well, especially considering that a Bow Knight can use a Levin Sword.
Personality and character
Citrinne tends to be seen as haughty by others, but is actually kindhearted and cares about her friends.[1]
Endings
Caring Noble Citrinne
Citrinne redoubled her efforts to sway Brodian nobles away from warfare by advocating for peace. Some were unmoved, but many took her words to heart.
Despite the great weight on her shoulders, her graceful smile was ever present—especially at the balls and galas that she so loved.
Divine Dragon Alear & Caring Noble Citrinne
Alear became the new Divine Dragon Monarch. His/Her bonds with the rulers of each nation resulted in lasting peace.
Citrinne used her vast wealth and connections to aid postwar recovery across Elyos. A statue of her and the Divine Dragon Monarch was erected in Brodia.
Quotes
---
This section has been marked as a stub. Please help improve the page by adding information.
---
Battle quotes
| | | | |
| --- | --- | --- | --- |
| " | I suppose this a time when riches aren't much help...but I shall pray with all my heart! | " | — Citrinne in The Last Engage. |
Critical quotes
| | | | |
| --- | --- | --- | --- |
| " | I will protect everyone! | " | — Citrinne |
| | | | |
| --- | --- | --- | --- |
| " | Care to join me? | " | — Citrinne |
| | | | |
| --- | --- | --- | --- |
| " | I have a gift for you! | " | — Citrinne |
| | | | |
| --- | --- | --- | --- |
| " | Allow me to dazzle you! | " | — Citrinne |
Defeat quotes
Flavor text
Game
Text
(English)
Text
(Japanese)

Engage

Prince Alcryst's retainer. Despite her
fierce demeanor, she's a noble who
cares deeply for her friends.

スタルークの臣下。
見かけによらず優しくて仲間想いの貴族。
Etymology and other languages
Names, etymology and in other regions
Language
Name
Definition, etymology, and notes
English

Citrinne

From citrine, a variety of quartz.

Japanese

シトリニカ

Officially romanized as Citrinica.

Spanish

Citrinne

--

French

Citrinne

--

German

Citrinne

--

Italian

Citrinne

--

Korean

시트리니카

Citrinica

Simplified Chinese

希特丽妮卡

Citrinica

Traditional Chinese

希特麗妮卡

Citrinica
Gallery
References
| | |
| --- | --- |
| | This article is part of Project Characters, a project focused on writing articles for every character present in the Fire Emblem series. |