Site News
Warning: This wiki contains spoilers. Read at your own risk!


Social media: If you would like, please join our Discord server, and/or follow us on Twitter or Tumblr!

Engage info: As the game has only recently released, we lack much key information. Please help add any info that you can.
Flavia
From Fire Emblem Wiki, your source on Fire Emblem information. By fans, for fans.
---
This page has been marked as a stub. Please help improve the page by adding information.
---
Flavia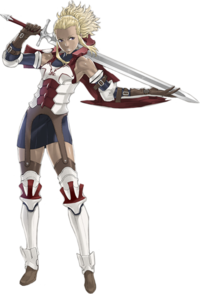 Artwork of Flavia from Awakening.
---
The affable, battle-hardened khan regnant of Regna Ferox.
| | |
| --- | --- |
| Gender | Female |
| Race | |
| Birthday | October 28th |
| Nationality | |
| Starting class | |
| Voiced by | |
| Appearance(s) | |
| | | | |
| --- | --- | --- | --- |
| " | A khan must have her fun. I'm even bringing my insignificant other. | " | — Flavia |
Flavia (Japanese: フラヴィア Flavia) is a playable character appearing in Fire Emblem Awakening. As the Eastern Khan of Ferox, she is a friend and rival of Basilio, her counterpart, the Western Khan of Ferox. She is a brave, heroic, and strong-minded ruler.
Role
After Chrom defeated Raimi to prove that the Shepherds were not impostors, Raimi escorted them to Flavia. Chrom asked Flavia to provide troops for the upcoming war, but she revealed that she did not rule Ferox at this point, as she lost to Basilio, the current ruler, in the last tournament. Flavia offered Chrom and the Shepherds the opportunity to be her representatives in another tournament, which Chrom accepted. After fighting and winning against Basilio's representative, Marth, Flavia became the ruler of Ferox and granted Chrom's request.
After Emmeryn returned to Ylisstol, Flavia walked in on Sumia punching Chrom to get himself together after he failed to convince her to come with them. She informed Chrom that the army was ready and expressed her intention of joining in the fight. After learning that Emmeryn was abducted by Gangrel's army, Flavia, Basilio, and Robin devised a rescue plan, with Flavia knocking out Emmeryn's executioner. The plan failed when Aversa summoned Risen archers to kill Phila and her pegasus knight reinforcements. After witnessing Emmeryn fall from the cliff as a selfless sacrifice, the group was forced to flee into the Midmire, where they encountered and defeated Mustafa. After Chrom renewed his vow to defeat Gangrel, Flavia led the assault on Gangrel's army.
Two years later, Flavia summoned Chrom to Ferox, where she and Basilio introduced him to Virion and Cherche, who explained that their homeland of Roseanne was taken over by Walhart. The khans accompanied the Shepherds to Valm. When Lucina revealed that Basilio would die in a battle against Walhart, Basilio brushed off her warning and left to try to avert it, not before Flavia insisted she come too. Both fought valiantly against Walhart, but Basilio was defeated, as Lucina had foretold. Basilio used the last of his strength to entrust one of the Fire Emblem's gemstones to Flavia to pass on to Chrom. After mourning Basilio's loss, Flavia returned to Ylisse and gave the Gemstone to Chrom. The Shepherds then proceeded to defeat Walhart in a final stand.
Flavia found Basilio alive and accompanied him to Plegia Castle, where they joined the Shepherds and subsequently helped defeat Grima and the Grimleal.
Starting stats and growth rates
Reclassing options
Growth rates when reclassed
Promotion stat gains
Skill set
Skill set
Skill
Learned at
Armsthrift

Mercenary, level 1

Patience

Mercenary, level 10

Sol

Hero, level 5

Axebreaker
Hero, level 15
Rally Skill
Bow Knight, level 5
Bowbreaker
Bow Knight, level 15
Locktouch
Thief, level 1
Movement +1
Thief, level 10
Lethality
Assassin, level 5
Pass
Assassin, level 15
Lucky Seven
Trickster, level 5
Acrobat
Trickster, level 15
Defense +2
Knight, level 1
Indoor Fighter
Knight, level 10
Rally Defense
General, level 5
Pavise
General, level 15
Luna
Great Knight, level 5
Dual Guard+
Great Knight, level 15
The above skill list does not include skills obtained exclusively via DLC.
Role
Flavia is one of the characters added to the game in the Book VI update, and became available for summoning by players on December 7, 2021. Only one variation of Flavia is currently available in Heroes, based on her Awakening incarnation.
Starting stats
Flavia: Feroxi East-Khan is only available at 5★ rarity.
Skill set
Skill set
Skill
Rarity
SP cost
Iron Sword
Innate
Steel Sword
Innate
Silver Sword
Innate
Lioness Blade
Innate
Dragon Gaze
Innate
Draconic Aura
★★★★★
200 SP

A

Atk/Spd Push 1
★★★★★
60 SP

A

Atk/Spd Push 2
★★★★★
120 SP

A

Atk/Spd Push 3
★★★★★
240 SP

A

Atk/Spd Push 4
★★★★★
300 SP

C

Red Feud 1
★★★★★
60 SP

C

Red Feud 2
★★★★★
120 SP

C

Red Feud 3
★★★★★
240 SP
Personality and character
---
This section has been marked as a stub. Please help improve the page by adding information.
---
Supports
Main article: Flavia/Supports
Endings
Flavia, Khan Lioness (single ending)
After Grima was vanquished, Flavia returned home and did a marvelous job of whipping Regna Ferox into shape. They say that each time a tournament drew close, she would ask Chrom to lend his sword.
Robin, High Deliverer & Flavia, Khan Lioness
Many wrote of Robin's legendary exploits, but accounts of his origins and character varied. Scholars, poets, and bards agreed on one thing alone—he loved his wife, Flavia, above all else.
Quotes
Main articles: Flavia/Quotes (Awakening) and Flavia/Quotes (Heroes)
Other appearances
Flavia is featured on two cards in Fire Emblem Cipher.
Fire Emblem Cipher data for Flavia
Khan Lioness, Flavia
"I've been itching for a fight for a long time."
Attack: 60
Support: 10
Range: 1
Deploy Cost: 3
Class: Hero
Tier: Advanced
Class Change Cost: 2
The East and West Khans:

[Always]

While this unit is being supported by "Basilio", this unit gains +30 attack.
Levin Sword:

[Activate]

[] Until the end of this turn, this unit's range becomes 1-2, this unit loses -10 attack, gains the affinity and range 1-2.
Card #B04-079N • Artist: Yoneko
East-Khan of Ferox, Flavia
"For the sake of history and all our fallen comrades... We will bring this empire crashing down!"
Attack: 70
Support: 10
Range: 1
Deploy Cost: 4
Class: Hero
Tier: Advanced
Class Change Cost: 3
Rival as Friend:

[Always]

The deployment cost of any "Basilio" in your hand and Retreat Area becomes 1.
Gathering of the Allied Forces:

[Always]

If you have two or more other allies in the Front Line, this unit gains +10 attack.
Card #B12-064HN • Artist: Ippei Soeda
Some card information translation provided by Serenes Forest.
For more detailed strategic information on these cards, see their TCG wiki article on Flavia .
Flavor text
Game
Text
(English)
Text
(Japanese)

Awakening

The affable, battle-hardened
khan regnant of Regna Ferox.
フェリア王国の統一王
豪快で男勝りな性格の女傑

Heroes

East-Khan of Regna Ferox, a country led by
its preference for battle over politics. Boldly
faces even the most perilous situations without
fear. Appears in Fire Emblem Awakening.
軍事国家フェリアの東の王。
豪快な性格で、修羅場にも臆することがない。
(登場:『ファイアーエムブレム 覚醒』)
Trivia
Flavia is one of only two characters in Awakening or Fates who has a support with a character of the opposite gender who is not related to them that can only reach A-rank, the only other, being her partner in said support, is Basilio.
Etymology and other languages
Names, etymology and in other regions
Language
Name
Definition, etymology, and notes
English

Flavia

Feminine form of Flavius, from Latin flavus "yellow, golden".[1]

Japanese

フラヴィア

Officially romanized as Flavia.

Spanish

Flavia

As above.

French

Flavia

As above.

German

Flavia

As above.

Italian

Flavia

As above.
Gallery
References