Site News
Warning: This wiki contains spoilers. Read at your own risk!


Social media: If you would like, please join our Discord server, and/or follow us on Twitter or Tumblr!

Engage info: As the game has only recently released, we lack much key information. Please help add any info that you can.
Rival Domains
From Fire Emblem Wiki, your source on Fire Emblem information. By fans, for fans.

Rival Domains (Japanese: 制圧戦 Conquest Battle) is a game mode in Fire Emblem Heroes, and one of a number of types of the game's Special Maps. It is a type of Special Maps that debuted on March 8, 2018, whose core maps rotate weekly every Saturday at 7:00 AM UTC starting on March 17.
At present, all Rival Domains maps use Rival Domains: Event Map (Japanese: 定期更新 制圧戦 Conquest Battle: Periodical Update) as its map title. Prior to the version 2.9 update, Rival Domains maps used Rival Domains: Weekly (Japanese: 毎週更新 制圧戦 Conquest Battle: Weekly Update) as its title; this naming style was discontinued as a result of its schedule intertwining with the Relay Defense mode and thus no longer occurring on a weekly schedule.
Overview
Rival Domains takes place on larger game maps than normal gameplay, and allow players to deploy teams of up to 20 characters, of which up to eight can be on the map at any given time; whenever one of the player's characters is defeated, another character will appear as a reinforcement from their fortress, provided the player has characters in reserve. There are some restrictions on character deployment, namely that players may deploy a maximum of one character that can use Sing or Dance and cannot deploy duplicate characters.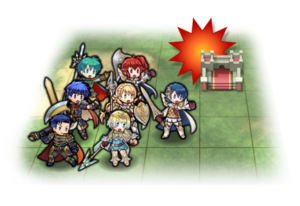 Forming a brigade
In addition to their own characters, players also have the option of deploying characters chosen by those on their friend lists; the character at the top left of a player's first listed team is the one made available to other players. If a player leaves empty slots in their deployment, any missing slots will be filled with a randomly-selected 5★ character chosen from all normal-variation characters available in the regular summoning pools that do not wield staves, Sing, or Dance.
Unlike other types of Special Maps, the enemies on Rival Domains maps are randomly generated more in the vein of the Tempest Trials, also taken from all normal-variation characters minus performers and staff-wielders in the regular summoning pools, but the enemy army ignores the "no duplicates" rule and fixes its selection to those characters available when the map most recently rotated in (ex. the the Week 1 map did not include the Morgans as available enemy units as they did not become available until after the map started, but did allow the Morgans as player reinforcements as the player reinforcement pool is not bound by the same rule).
Victory
Each team can make use of two types of special tiles to their advantage, fortresses and camps. Characters can freely warp between fortresses, camps, and three chosen squares adjacent to them. Fortresses can be taken out with three attacks, and doing so automatically ends the battle; camps can be taken out with two attacks, and when this happens, the camp's alignment will switch.
There are two ways to win a Rival Domains battle. The first is to destroy the opposing fortress, and the second is to survive ten turns. The player can accumulate a score during a battle; points are awarded for defeated enemies, held camps, the health of the fortresses, and bonus categories that vary per map, and meeting the target score yields rewards.
Difficulty options
Rival Domains can be played on four difficulties: Normal, Hard, Lunatic, and Infernal. It is notably the first game mode in Heroes to offer four distinct difficulties at once, and also the first game mode to offer both Lunatic and Infernal simultaneously (all other game modes that offer difficulties offer either Lunatic or Infernal, or otherwise neither, but never both).
Enemy level and rarity
Enemy skills
Rewards
Normal
3★, Lv. 30
Third weapon skill only
×1
Hard
4★, Lv. 35
Fourth weapon skill only
×500
(Color varies by event)
Lunatic
5★, Lv. 40
Entire skill kit
×500
Infernal
Entire skill kit
Weapon skills have gone through the Weapon Refinery whenever possible
×10
List of maps
Note: All date ranges begin at 7:00 AM UTC on the first listed date and end at 6:59 AM UTC on the second listed date.
List of Rival Domains maps
First-run dates
Map
Notes
Week 1
March 8, 2018 – March 17, 2018
Badge color for Hard reward: Scarlet
Week 2
March 17, 2018 – March 24, 2018
Badge color for Hard reward: Azure
Week 3
March 24, 2018 – March 31, 2018
Badge color for Hard reward: Verdant
Week 4
March 31, 2018 – April 7, 2018
Badge color for Hard reward: Transparent
Week 5
April 7, 2018 – April 14, 2018
Badge color for Hard reward: Scarlet
Week 6
April 14, 2018 – April 21, 2018
Badge color for Hard reward: Azure
Week 7
April 21, 2018 – April 28, 2018
Badge color for Hard reward: Verdant
Week 8
April 28, 2018 – May 5, 2018
Badge color for Hard reward: Transparent
Week 9
May 5, 2018 – May 12, 2018
Badge color for Hard reward: Scarlet
Week 10
May 12, 2018 – May 19, 2018
Badge color for Hard reward: Azure
Week 11
May 19, 2018 – May 26, 2018
Badge color for Hard reward: Verdant
Week 12
May 26, 2018 – June 2, 2018
Badge color for Hard reward: Transparent
Week 13
June 2, 2018 – June 9, 2018
Badge color for Hard reward: Scarlet
Week 14
June 9, 2018 – June 16, 2018
Badge color for Hard reward: Azure
Week 15
June 16, 2018 – June 23, 2018
Badge color for Hard reward: Verdant
Week 16
June 23, 2018 – June 30, 2018
Badge color for Hard reward: Transparent
Week 17
June 30, 2018 – July 7, 2018
Badge color for Hard reward: Scarlet
Week 18
July 7, 2018 – July 14, 2018
Badge color for Hard reward: Azure
Week 19
July 14, 2018 – July 21, 2018
Badge color for Hard reward: Verdant
Week 20
July 21, 2018 – July 28, 2018
Badge color for Hard reward: Transparent
Week 21
July 28, 2018 – August 4, 2018
Badge color for Hard reward: Scarlet
Week 22
August 4, 2018 – August 11, 2018
Badge color for Hard reward: Azure
Week 23
August 11, 2018 – August 18, 2018
Badge color for Hard reward: Verdant
Week 24
August 18, 2018 – August 25, 2018
Badge color for Hard reward: Transparent
Week 25
August 25, 2018 – September 1, 2018
Badge color for Hard reward: Scarlet
Week 26
Event 26
September 1, 2018 – September 8, 2018
Badge color for Hard reward: Azure
Individual map naming style changed during this event, making it the only Rival Domains event to use both "Weekly" and "Event Map" monikers
Event 27
September 22, 2018 – September 29, 2018
Badge color for Hard reward: Verdant
Event 28
September 29, 2018 – October 6, 2018
Badge color for Hard reward: Transparent
Event 29
October 6, 2018 – October 13, 2018
Badge color for Hard reward: Scarlet
Event 30
October 27, 2018 – November 3, 2018
Badge color for Hard reward: Azure
Event 31
November 3, 2018 – November 10, 2018
Badge color for Hard reward: Verdant
Event 32
November 10, 2018 – November 17, 2018
Badge color for Hard reward: Transparent
Event 33
November 17, 2018 – November 24, 2018
Badge color for Hard reward: Scarlet
Event 34
November 24, 2018 – December 1, 2018
Badge color for Hard reward: Azure
Event 35
December 1, 2018 – December 8, 2018
Badge color for Hard reward: Verdant
Event 36
December 8, 2018 – December 15, 2018
Badge color for Hard reward: Transparent
Event 37
December 15, 2018 – December 22, 2018
Badge color for Hard reward: Scarlet
Event 38
December 22, 2018 – December 29, 2018
Badge color for Hard reward: Azure
Event 39
December 29, 2018 – January 5, 2019
Badge color for Hard reward: Verdant
Event 40
January 5, 2019 – January 12, 2019
Badge color for Hard reward: Transparent
Event 41
January 12, 2019 – January 19, 2019
Badge color for Hard reward: Scarlet
Event 42
January 19, 2019 – January 26, 2019
Badge color for Hard reward: Azure
Event 43
January 26, 2019 – February 2, 2019
Badge color for Hard reward: Verdant
Event 44
February 2, 2019 – February 9, 2019
Badge color for Hard reward: Transparent
Event 45
February 9, 2019 – February 16, 2019
Badge color for Hard reward: Scarlet
Event 46
February 16, 2019 – February 23, 2019
Badge color for Hard reward: Azure
Event 47
February 23, 2019 – March 2, 2019
Badge color for Hard reward: Verdant
Event 48
March 2, 2019 – March 9, 2019
Badge color for Hard reward: Transparent
Event 49
March 9, 2019 – March 16, 2019
Badge color for Hard reward: Scarlet
Event 50
March 16, 2019 – March 23, 2019
Badge color for Hard reward: Azure
Event 51
March 23, 2019 – March 30, 2019
Badge color for Hard reward: Verdant
Event 52
March 30, 2019 – April 6, 2019
Badge color for Hard reward: Transparent
Event 53
April 6, 2019 – April 13, 2019
Badge color for Hard reward: Scarlet
Event 54
April 13, 2019 – April 20, 2019
Badge color for Hard reward: Azure
Event 55
April 20, 2019 – April 27, 2019
Badge color for Hard reward: Verdant
Event 56
April 27, 2019 – May 4, 2019
Badge color for Hard reward: Transparent
Event 57
May 4, 2019 – May 11, 2019
Badge color for Hard reward: Scarlet
Event 58
May 11, 2019 – May 18, 2019
Badge color for Hard reward: Azure
Event 59
May 18, 2019 – May 25, 2019
Badge color for Hard reward: Verdant
Event 60
May 25, 2019 – June 1, 2019
Badge color for Hard reward: Transparent
Event 61
June 1, 2019 – June 8, 2019
Badge color for Hard reward: Scarlet
Event 62
June 8, 2019 – June 15, 2019
Badge color for Hard reward: Azure
Event 63
June 15, 2019 – June 22, 2019
Badge color for Hard reward: Verdant
Event 64
June 22, 2019 – June 29, 2019
Badge color for Hard reward: Transparent
Event 65
June 29, 2019 – July 6, 2019
Badge color for Hard reward: Scarlet
Event 66
July 6, 2019 – July 13, 2019
Badge color for Hard reward: Azure
Event 67
July 13, 2019 – July 20, 2019
Badge color for Hard reward: Verdant
Event 68
July 20, 2019 – July 27, 2019
Badge color for Hard reward: Transparent
Event 69
July 27, 2019 – August 3, 2019
Badge color for Hard reward: Scarlet
Event 70
August 3, 2019 – August 10, 2019
Badge color for Hard reward: Azure
Event 71
August 10, 2019 – August 17, 2019
Badge color for Hard reward: Verdant
Event 72
August 17, 2019 – August 24, 2019
Badge color for Hard reward: Transparent
Event 73
August 24, 2019 – August 31, 2019
Badge color for Hard reward: Scarlet
Event 74
August 31, 2019 – September 7, 2019
Badge color for Hard reward: Azure
Event 75
September 7, 2019 – September 14, 2019
Badge color for Hard reward: Verdant
Event 76
September 14, 2019 – September 21, 2019
Badge color for Hard reward: Transparent
Event 77
September 21, 2019 – September 28, 2019
Badge color for Hard reward: Scarlet
Event 78
September 28, 2019 – October 5, 2019
Badge color for Hard reward: Azure
Event 79
October 5, 2019 – October 12, 2019
Badge color for Hard reward: Verdant
Event 80
October 12, 2019 – October 19, 2019
Badge color for Hard reward: Transparent
Event 81
October 19, 2019 – October 26, 2019
Badge color for Hard reward: Scarlet
Event 82
October 26, 2019 – November 2, 2019
Badge color for Hard reward: Azure
Event 83
November 2, 2019 – November 9, 2019
Badge color for Hard reward: Verdant
Event 84
November 9, 2019 – November 16, 2019
Badge color for Hard reward: Transparent
Event 85
November 16, 2019 – November 23, 2019
Badge color for Hard reward: Scarlet
Event 86
November 23, 2019 – November 30, 2019
Badge color for Hard reward: Azure
Event 87
November 30, 2019 – December 7, 2019
Badge color for Hard reward: Verdant
Event 88
December 7, 2019 – December 14, 2019
Badge color for Hard reward: Transparent
Event 89
December 14, 2019 – December 21, 2019
Badge color for Hard reward: Scarlet
Event 90
December 21, 2019 – December 28, 2019
Badge color for Hard reward: Azure
Event 91
December 28, 2019 – January 4, 2020
Badge color for Hard reward: Verdant
Event 92
January 4, 2020 – January 11, 2020
Badge color for Hard reward: Transparent
Event 93
January 11, 2020 – January 18, 2020
Badge color for Hard reward: Scarlet
Event 94
January 18, 2020 – January 25, 2020
Badge color for Hard reward: Azure
Event 95
January 25, 2020 – February 1, 2020
Badge color for Hard reward: Verdant
Event 96
February 1, 2020 – February 8, 2020
Badge color for Hard reward: Transparent
Event 97
February 8, 2020 – February 15, 2020
Badge color for Hard reward: Scarlet
Event 98
February 15, 2020 – February 22, 2020
Badge color for Hard reward: Azure
Event 99
February 22, 2020 – February 29, 2020
Badge color for Hard reward: Verdant
Event 100
February 29, 2020 – March 7, 2020
Badge color for Hard reward: Transparent
Event 101
March 7, 2020 – March 14, 2020
Badge color for Hard reward: Scarlet
Event 102
March 14, 2020 – March 21, 2020
Badge color for Hard reward: Azure
Event 103
March 21, 2020 – March 28, 2020
Badge color for Hard reward: Verdant
Event 104
March 28, 2020 – April 4, 2020
Badge color for Hard reward: Transparent
Event 105
April 4, 2020 – April 11, 2020
Badge color for Hard reward: Scarlet
Event 106
April 11, 2020 – April 18, 2020
Badge color for Hard reward: Azure
Event 107
April 18, 2020 – April 25, 2020
Badge color for Hard reward: Verdant
Event 108
April 25, 2020 – May 2, 2020
Badge color for Hard reward: Transparent
Event 109
May 2, 2020 – May 9, 2020
Badge color for Hard reward: Scarlet
Event 110
May 9, 2020 – May 16, 2020
Badge color for Hard reward: Azure
Event 111
May 16, 2020 – May 23, 2020
Badge color for Hard reward: Verdant
Event 112
May 23, 2020 – May 30, 2020
Badge color for Hard reward: Transparent
Event 113
May 30, 2020 – June 6, 2020
Badge color for Hard reward: Scarlet
Event 114
June 6, 2020 – June 13, 2020
Badge color for Hard reward: Azure
Event 115
June 13, 2020 – June 20, 2020
Badge color for Hard reward: Verdant
Event 116
June 20, 2020 – June 27, 2020
Badge color for Hard reward: Transparent
Event 117
June 27, 2020 – July 4, 2020
Badge color for Hard reward: Scarlet
Event 118
July 4, 2020 – July 11, 2020
Badge color for Hard reward: Azure
Event 119
July 11, 2020 – July 18, 2020
Badge color for Hard reward: Verdant
Event 120
July 18, 2020 – July 25, 2020
Badge color for Hard reward: Transparent
Event 121
July 25, 2020 – August 1, 2020
Badge color for Hard reward: Scarlet
Event 122
August 1, 2020 – August 8, 2020
Badge color for Hard reward: Azure
Event 123
August 8, 2020 – August 15, 2020
Badge color for Hard reward: Verdant
Event 124
August 15, 2020 – August 22, 2020
Badge color for Hard reward: Transparent
Event 125
August 22, 2020 – August 29, 2020
Badge color for Hard reward: Scarlet
Event 126
August 29, 2020 – September 5, 2020
Badge color for Hard reward: Azure
Event 127
September 5, 2020 – September 12, 2020
Badge color for Hard reward: Verdant
Event 128
September 12, 2020 – September 19, 2020
Badge color for Hard reward: Transparent
Event 129
September 19, 2020 – September 26, 2020
Badge color for Hard reward: Scarlet
Event 130
September 26, 2020 – October 3, 2020
Badge color for Hard reward: Azure
Event 131
October 3, 2020 – October 10, 2020
Badge color for Hard reward: Verdant
Event 132
October 10, 2020 – October 17, 2020
Badge color for Hard reward: Transparent
Event 133
October 17, 2020 – October 24, 2020
Badge color for Hard reward: Scarlet
Event 134
October 24, 2020 – October 31, 2020
Badge color for Hard reward: Azure
Event 135
October 31, 2020 – November 7, 2020
Badge color for Hard reward: Verdant
Event 136
November 7, 2020 – November 14, 2020
Badge color for Hard reward: Transparent
Event 137
November 14, 2020 – November 21, 2020
Badge color for Hard reward: Scarlet
Event 138
November 21, 2020 – November 28, 2020
Badge color for Hard reward: Azure
Event 139
November 28, 2020 – December 5, 2020
Badge color for Hard reward: Verdant
Event 140
December 5, 2020 – December 12, 2020
Badge color for Hard reward: Transparent
Event 141
December 12, 2020 – December 19, 2020
Badge color for Hard reward: Scarlet
Event 142
December 19, 2020 – December 26, 2020
Badge color for Hard reward: Azure
Event 143
December 26, 2020 – January 2, 2021
Badge color for Hard reward: Verdant
Event 144
January 2, 2021 – January 9, 2021
Badge color for Hard reward: Transparent
Event 145
January 9, 2021 – January 16, 2021
File:Cm feh rd-145.png
Badge color for Hard reward: Scarlet
Event 146
January 16, 2021 – January 23, 2021
File:Cm feh rd-146.png
Badge color for Hard reward: Azure
Event 147
January 23, 2021 – January 30, 2021
Badge color for Hard reward: Verdant
Event 148
January 30, 2021 – February 6, 2021
Badge color for Hard reward: Transparent
Etymology and other languages
Names, etymology and in other regions
Language
Name
Definition, etymology, and notes
English

Rival Domains

--

Japanese

制圧戦

Conquest Battle

Spanish

Dominios rivales

Rival Domains

French

Domaines rivaux

Rival Domains

German

Revierkampf

Territorial Fight

Italian

Lotta di potere

Power Fight

Portuguese
(Brazil)

Domínios rivais

Rival Domains

Traditional Chinese

壓制戰

Conquest Battle
Gallery