Site News
Warning: This wiki contains spoilers. Read at your own risk!


Social media: If you would like, please join our Discord server, and/or follow us on Twitter or Tumblr!

Engage info: As the game has only recently released, we lack much key information. Please help add any info that you can.
Caelin
From Fire Emblem Wiki, your source on Fire Emblem information. By fans, for fans.
Caelin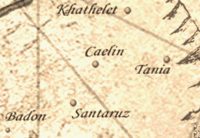 | | |
| --- | --- |
| Capital | Castle Caelin |
| Demonym | Caelin |
| Government | Duchy; part of the Lycian League |
| Continent | |
| | | | |
| --- | --- | --- | --- |
| " | I hail from the Caelin canton, home to men of passion and fire! | " | — Sain |
Caelin (Japanese: キアラン Ciaran) was a duchy of the Lycian League, situated at least partially on the south coast[1] and bordered by Laus to the west, Khathelet and Tuscana to the north, Tania to the east, and Santaruz to the south.[2][3] Among its holdings was Badon, a port city on the coast.
For a period of at least twenty years through to the year 980, Caelin was governed by Marquess Hausen. With his daughter Madelyn's eloping and abandonment of Caelin, the heir apparent was thought to be his younger brother Lundgren, until news came that Madelyn and Hassar had an eighteen-year-old daughter, Lyndis. This news of his line to the throne being potentially obstructed caused Lundgren to dispatch assassins, later Caelin knights to obstruct Lyndis and the two knights escorting her to Caelin, Sain and Kent, and to start poisoning Hausen to hasten his death and Lundgren's ascension to the throne. Lyn and her growing band defeated all of the opponents set after her by Lundgren and, at Caelin itself, killed him and saved Hausen.
From there, Lyndis stayed to live in Caelin with her grandfather, assuming many of the responsibilities over the affairs of the duchy while Hausen recovered from the severe effects upon his health caused by the poison. One year later, the Laus army led by its Marquess Darin, fleeing Laus itself while his son Erik stayed behind to fend off Eliwood and Hector, came to Caelin and conquered it in a surprise assault, occupying the castle. Lyndis and four of her knights were instructed to flee the castle by Hausen, who stayed behind and was cornered by Darin. Hausen's attempts to reason with Darin earned him a knife to the stomach from Ephidel, who then convinced Darin to also abandon Caelin and leave his army behind. The Laus occupation, now led by General Bernard, was defeated and the territory freed. The Ostian spy Leila arranged for Hausen to be healed, and when Lyndis's group defeated the Laus occupation and freed Caelin, she advised that they falsify reports that Hausen had died in order to ensure his temporary protection.
Some time after the defeat of Nergal in the year 981, Lord Hausen died. Lyndis ceded the Caelin territory to Ostia and left for Sacae, and so Caelin ceased to exist as an individual entity. Kent, a Caelin knight, was appointed the steward of the land formerly comprising the Caelin territory.
Characters from Caelin
Notable locations in Caelin
Badon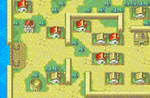 ---
This section has been marked as a stub. Please help improve the page by adding information.
---
Badon (Japanese: バドン Badon) is an important port city located on Caelin's south coast. Its local inn is favoured by many pirate groups and is frequented by them, among them Fargus and his crew.
Etymology and other languages
Names, etymology and in other regions
Language
Name
Definition, etymology, and notes
English

Caelin

Caelin was one of four brothers named by Bede as active in the early Anglo-Saxon Church. He was a chaplain at the court of Ethelwald, a nephew of King Oswiu of Northumbria.

Japanese

キアラン

Officially romanized as Ciaran.

Spanish

Caelin

As above.

French

Caelin

As above.

German

Caelin

As above.

Italian

Caelin

As above.

Portuguese

Caelin

Mentioned in Heroes.

Traditional Chinese

基亞蘭

Ciaran; mentioned in Heroes.
Gallery
References
↑ "Heading for the southern coast of Caelin, they seek passage in the port of Badon." — Opening narration of Chapter 16xE/17xH, Fire Emblem: The Blazing Blade
↑ "I've received word from Caelin's neighbors, Laus, Tuscana, Kathelet, Tania, and Santaruz." — Eliwood, Fire Emblem: The Blazing Blade
↑ The Blazing Blade World map, Serenes Forest, Retrieved: April 14, 2012