Site News
Warning: This wiki contains spoilers. Read at your own risk!


Social media: If you would like, please join our Discord server, and/or follow us on Twitter or Tumblr!

Engage info: As the game has only recently released, we lack much key information. Please help add any info that you can.
StreetPass
From Fire Emblem Wiki, your source on Fire Emblem information. By fans, for fans.
StreetPass (Japanese: すれ違い通信 Passer-by Communication) is a multiplayer networking feature of the Nintendo 3DS console, and the inter-player equivalent of SpotPass. When a 3DS is closed and in sleep mode, StreetPass is active; it detects other 3DS consoles in sleep mode within a radius of approximately 30 metres[1], and certain software titles activated to use StreetPass will exchange some player data between the two consoles; for example, StreetPass Mii Plaza uses StreetPass to swap the Mii characters of 3DS users between consoles, and players can use collected Miis to play minigames.
Overview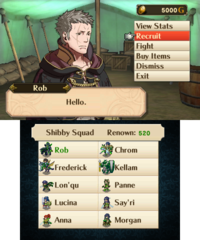 In Fire Emblem Awakening, StreetPass is employed in the game's multiplayer functionality. Players of Awakening can assemble squads of 10 of their units led by their Robin, which are transmitted to other players through StreetPass. When Awakening data is received from other players through StreetPass, the transmitted Avatars appear on the world map as neutral units. If a player of Awakening gets a StreetPass hit from a 3DS console which does not have Awakening StreetPass data (either from not having the game or not enabling StreetPass on it), then the game will automatically generate a random StreetPass team based on this StreetPass hit.
On the world map, the player may approach units received through StreetPass and parley with them: when parleying, the player can do the following:
View their team's stats and inventory.
Engage the Avatar's team in a skirmish with the reward of recruiting the Avatar free of charge.
Buy items from the Avatar, excluding certain restricted items. The player will be able to buy one of each allowed item in the team's inventories, with any forged items retaining their forged stats and name.
Dismiss the Avatar from the map without doing anything else, emptying the map location.
Once recruited, Avatars obtained through StreetPass function as bonus units.
Profile options
When assembling a StreetPass team, in addition to preparing the team itself, the player can also set up and modify a profile card accompanying their StreetPass team. These cards are viewed in the Avatar Logbook, if a StreetPass bonus unit is saved there. The card allows seven fields to be defined:
Trait: Select from a pool of provided adjectives to describe yourself; on the card, this is presented as the header, in the format: "(Avatar name)/(trait) (class)"; for example, "Robin/Shy Grandmaster".
Expression: Select one of five facial expressions worn by the Avatar's portrait on the card and when parleying; the options are Normal, Cocky, Angry, Cheerful and Distressed.
Home: Select a location of origin to be displayed. The options consist of both a wide selection of real countries and an array of Fire Emblem series locations from across the entire series.
Identity: Select something to "tell others what you really are". The options include actual real-life professions, titles from the Fire Emblem series, and joke options such as Total Loser, God, Babe, Hunk and Space Alien.
Values: Select something which you value most. The options include a number of facets relevant to real life, as well as numerous stats from Awakening itself.
Difficulty: Select whether or not you wish to share the difficulty mode to which the save file in question is set. If displayed, it also indicates whether the save file is on Classic or Casual Mode.
Message: The player can type in a brief message, displayed at the card's bottom.
In addition, the card will also display all unit marriages which occurred within the save file.
Restricted items
The following items cannot be purchased from StreetPass teams if the team possesses the item. However, units in the bonus team continue to possess these items when challenged to a skirmish and will wield the weapons as normal.
---
This section has been marked as a stub. Please help improve the page by adding information.
---
StreetPass Mii Plaza puzzle
An Awakening-themed puzzle for the Nintendo 3DS's StreetPass Mii Plaza has been released in Japan and the United States. After the April 2012 Nintendo Direct presentation, Japanese Nintendo 3DS consoles received the puzzle alongside a Mario Tennis Open puzzle; American consoles started receiving it approximately on January 30th, 2013, and European consoles on April 12th, 2013. In both countries, one initial piece is transmitted at random through SpotPass to Nintendo 3DS consoles, and the rest of the puzzle is collected through encountering other Nintendo 3DS owners through StreetPass and taking new pieces from them, or by purchasing new pieces at random through the player's accrued Nintendo 3DS Play Coins. The puzzle consists of 40 pieces, eight of which are special pink pieces which cannot be purchased with Play Coins, and depicts a brief animated loop of Chrom's duel with "Marth" in the Arena Ferox.
Despite 3DS consoles of different languages normally possessing compatibility with Mii Plaza puzzles, the Awakening puzzle was locked to Japanese consoles until January 2013; attempts to view the puzzle in an international 3DS console will inform the player that the puzzle is "not available yet" for non-Japanese players.[2] Presumably, American consoles can now freely exchange pieces of the Awakening puzzle with Japanese consoles, now that the puzzle has been internationally released.
Etymology and other languages
Names, etymology and in other regions
Language
Name
Definition, etymology, and notes
English

StreetPass

--

Japanese

すれ違い通信

Passer-by Communication

French

StreetPass

As above.
References
See also