Site News
Warning: This wiki contains spoilers. Read at your own risk!


Social media: If you would like, please join our Discord server, and/or follow us on Twitter or Tumblr!
Nintendo 3DS
From Fire Emblem Wiki, your source on Fire Emblem information. By fans, for fans.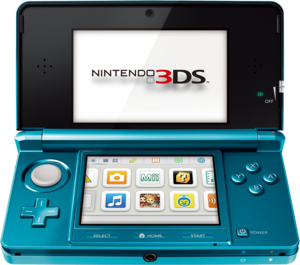 The Nintendo 3DS (Japanese: ニンテンドー3DS Nintendo 3DS) is Nintendo's eighth-generation portable video game console, and the successor of the Nintendo DS family of consoles.
The system's iconic feature for which it is named is its autostereoscopic top screen, which projects an illusion of 3D depth to the screen's contents internally through use of a parallax barrier; or, as the console's marketing puts it, provides "3D graphics without needing special glasses". In addition to its own library of games, the system is backwards compatible with almost all Nintendo DS games and with the enhancements previously unique to the Nintendo DSi. Like the Nintendo DSi and unlike all portable Nintendo consoles preceding the DSi, the 3DS is subject to a region lock divided into four regions: Japan, the United States and Canada, Europe and Australia, and South Korea.
A variant on the console, the Nintendo 3DS XL (Japanese: ニンテンドー3DS LL Nintendo 3DS LL), was released in mid-2012; this variation is larger than the standard model and features larger screens, and is intended as a complement to the basic model rather than a successor. Further variations include the Nintendo 2DS, an economy version with the 3D visuals removed, and the New Nintendo 3DS and New Nintendo 3DS XL, which boast greater processing power, enhanced 3D presentation, and amiibo support. A New Nintendo 2DS XL has been released mid-2017.
Three Fire Emblem series games have been released for the Nintendo 3DS console: Fire Emblem Awakening, Fire Emblem Fates, and Fire Emblem Echoes: Shadows of Valentia. The former two games were accompanied by special edition console models: an original Nintendo 3DS for Awakening in Japan and the United States, a Nintendo 3DS XL for Awakening in Europe, and a New Nintendo 3DS XL for Fates in all regions except Japan, where exclusive cover plates for the customizable New Nintendo 3DS were released instead. In addition to these games, several other Fire Emblem titles are available in Japan on the Virtual Console service.
Mainline games
Related titles
Virtual Console
Playable through backward-compatibility
Customization
As the 3DS underwent hardware and software upgrades, several methods of customization were implemented. The New Nintendo 3DS introduced removable face plates, which can be swapped for a variety of designs that are sold separately and, in most cases, exclusive to Japan. This is the case for the pair of plates inspired by Fire Emblem Fates, which are the only Fire Emblem related plates released to date.
Regarding software, the 3DS HOME Menu is highly customizable through the use of the 3DS Theme Shop, which allows users to purchase various themed skins, and Nintendo Badge Arcade, where players can collect decorative badges. Five themes are available in the 3DS Theme Shop which feature characters from Fates; two center around the royals of Hoshido and Nohr, two around the most popular male and female characters as determined by a Famitsu poll, and one around group artwork of all the main characters. Alongside the Japanese release of Shadows of Valentia, two more themes were added to the shop, one featuring characters from Alm's party and one featuring characters from Celica's party.
Three additional themes were distributed through download codes in Fire Emblem Cipher starter decks, and all three celebrate the 25th anniversary of the Fire Emblem series. The first two were included in Hoshido Chapter and Nohr Chapter, and feature pixel artwork of all the male and female lords from the series. The third was included in Path of Radiance Chapter, and features a pixel Marth on a stage while an operatic version of the Fire Emblem Theme plays in the background. Since Cipher has not seen an international release, these themes are exclusive to Japanese 3DS systems.
Gallery
The Awakening special edition Nintendo 3DS console.
References
External links