Site News
Warning: This wiki contains spoilers. Read at your own risk!


Social media: If you would like, please join our Discord server, and/or follow us on Twitter (X) or Tumblr!

Cross-Wiki Week 2023: From September 23 to October 1, make contributions to NIWA wikis that you normally don't edit for a chance to win a Nintendo eShop gift card! See here for more details.
Game Boy Advance
From Fire Emblem Wiki, your source on Fire Emblem information. By fans, for fans.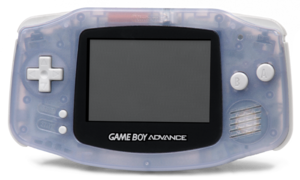 The Game Boy Advance (Japanese: ゲームボーイアドバンス Game Boy Advance) is Nintendo's sixth-generation portable video game system, and the successor of the Game Boy family of consoles. The system's hardware is roughly comparable to that of the Super Nintendo Entertainment System in terms of its power and capabilities, and so the system played host to a large number of ports of SNES titles, in addition to its sizable original library. More than any other Nintendo handheld console, connectivity with games on the concurrent Nintendo GameCube home console was a prominent feature. Two redesigns were released throughout the console's lifetime: the Game Boy Advance SP, a version featuring a clamshell lid for a screen, and the Game Boy Micro, a miniaturized version of the console which eschews backwards compatibility and external connectivity for the sake of form factor.
Three games in the Fire Emblem series were released for the Game Boy Advance, with the console playing host to Fire Emblem: The Blazing Blade, the first Fire Emblem game to be released outside of Japan. Even though the last of these games, Fire Emblem: The Sacred Stones, is set in a different universe from the other two Game Boy Advance games, owing to the near-identicality of stats and mechanics across the three games, the three are usually referred to as a group in colloquial terms, sometimes called "the Game Boy Advance trilogy". Similarly, the characters of The Sacred Stones are placed in the same group as those of the other two Game Boy Advance games in the Smash Brethren DLC series in Fire Emblem Awakening.
Fire Emblem series games available for the Game Boy Advance
Gallery