Site News
Warning: This wiki contains spoilers. Read at your own risk!


Social media: If you would like, please join our Discord server, and/or follow us on Twitter or Tumblr!

Engage info: As the game has only recently released, we lack much key information. Please help add any info that you can.
Nintendo Switch
From Fire Emblem Wiki, your source on Fire Emblem information. By fans, for fans.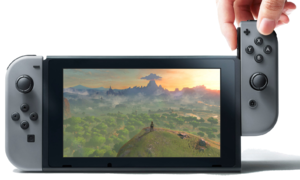 The Nintendo Switch (Japanese: ニンテンドースイッチ Nintendo Switch) is Nintendo's hybrid home-and-handheld video game console. It was known by the code name "NX" earlier in development.
It is a console with a screen and comes with two detachable controllers, called "Joy-Con". It can also be set into a dock and connected to a TV for use at one's home. The Joy-Con can be attached to the sides of the console to play similarly to the Wii U's GamePad, or each Joy-Con can be given to a player to play multiplayer games, usually held horizontally. The Joy-Con can also be connected to an attachment to more closely emulate a traditional controller.
Currently, Fire Emblem: Three Houses, Fire Emblem Engage, the spin-off games Fire Emblem Warriors, Fire Emblem Warriors: Three Hopes and Tokyo Mirage Sessions ♯FE Encore, and an English version of Fire Emblem: Shadow Dragon & the Blade of Light are the Fire Emblem series related titles released on the Nintendo Switch. Through purchasing a subscription to the Nintendo Switch Online service, a player has access to select games from certain older consoles, replacing the Virtual Console service; thus far, three Fire Emblem games have been released on this service and two more are upcoming.
Nintendo Switch Online
The GBA titles are available only to Expansion Pack subscribers.
Related titles
Gallery
References
External links