Site News
Warning: This wiki contains spoilers. Read at your own risk!


Discord and Twitter: If you would like, please join our Discord server, and/or follow us on Twitter at @FEWikiOfficial!
Nintendo Switch
From Fire Emblem Wiki, your source on Fire Emblem information. By fans, for fans.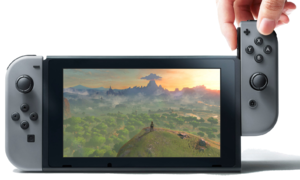 The Nintendo Switch (Japanese: ニンテンドースイッチ Nintendo Switch) is Nintendo's hybrid home-and-handheld video game console. It was known by the code name "NX" earlier in development.
It is a portable console with a screen and comes with two detachable controllers. It can also be set into a dock and connected to a TV for use at one's home. Its two included controllers, called "Joy-Con", can be used in a few different ways. The Joy-Con can be attached to the sides of the console to play similarly to the Wii U's tablet, or each Joy-Con can be given to a player to play multiplayer games on the tablet screen. The Joy-Con also connect to a controller attachment for when playing on a TV.
Currently, Fire Emblem: Three Houses, the spin-off games Fire Emblem Warriors and Tokyo Mirage Sessions ♯FE Encore, and an English version of Fire Emblem: Shadow Dragon & the Blade of Light are the Fire Emblem series related titles released on the Nintendo Switch. Through purchasing a subscription to the Nintendo Switch Online service, a player has access to select games from certain older consoles, replacing the Virtual Console service; thus far, three Fire Emblem games have been released on this service.
Nintendo Switch Online
Related titles
Gallery
References
External links