Site News
Warning: This wiki contains spoilers. Read at your own risk!


Social media: If you would like, please join our Discord server, and/or follow us on Twitter or Tumblr!

Engage info: As the game has only recently released, we lack much key information. Please help add any info that you can.
Wii U
From Fire Emblem Wiki, your source on Fire Emblem information. By fans, for fans.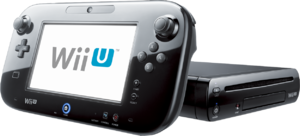 The Wii U is Nintendo's eighth-generation home video game console, and the successor of the Wii. As with the Wii, its design is centred around its unique controller: the Wii U GamePad, a large tablet-like controller with a touchscreen in addition to standard buttons. The GamePad's screen can be used either as a supplement to the console's main display on the television or, for some games, as the primary display through "Off-TV Play". It also supports the Wii's standard motion controllers, as well as its own Wii U Pro Controller, a standard controller without gimmicks. It is the first Nintendo console to support high definition graphics.
The Fire Emblem series never received a native mainline title on the Wii U, though the spin-off game Tokyo Mirage Sessions ♯FE did release on the console. Nintendo representative Hitoshi Yamagami stated that the great cost of developing a full new Fire Emblem game for Wii U would require such a game to sell at least 700,000 copies, something unfeasible given the Wii U's install base.[1]
The Wii U continued to offer the Virtual Console game emulation service, through which Nintendo's vast back catalog of older games was available for purchase and download, now with the addition of Game Boy Advance and Nintendo DS titles; three Fire Emblem games were made available on the service in the west, and nine in Japan. Additionally, the Wii U is backward-compatible with Wii games, including Fire Emblem: Radiant Dawn.
Related titles
Virtual Console
Playable through backward-compatibility
Gallery
References
External links