Site News
Warning: This wiki contains spoilers. Read at your own risk!


Social media: If you would like, please join our Discord server, and/or follow us on Twitter or Tumblr!
Mila Shrine
From Fire Emblem Wiki, your source on Fire Emblem information. By fans, for fans.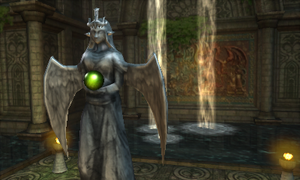 | | | | |
| --- | --- | --- | --- |
| " | We have shrines to Mila all across my continent. Folks make pilgrimages there and seek the goddess's blessing. The Earth Mother has great power. She can even restore life to the dead. | " | — Celica |
Mila shrines are a series of temples dedicated to the worship of the Earth Mother Mila, scattered across Valentia. In the gameplay of Fire Emblem Gaiden, the shrines are visitable locations at which Alm's and Celica's armies can increase their stats or class change.
Shrine locations and properties
The majority of shrines feature the same three objects: a central statue of a female figure (presumably Mila herself) and a pair of lion head carvings flanking the statue. The Mila statue's function in all shrines in which it appears is to initiate class changes for the player's units, the only means of doing so for the game; once talked to, the statue will successively ask whether or not the player wants to promote each unit capable of doing so at the time (in the case of Villagers, it offers one of five random class change options every time).
The two lion heads normally offer the player the ability to provide small stat increases to individual units, with the stat increase depending on the specific lion head. In some shrines, they instead allow the player to revive dead units, moving the newly-revived unit into the party of whichever protagonist performed the revival. In either case, each pair of lion heads can only be used a certain amount of times before "their power wanes" and they can be used no further; in each shrine, the number of lion head uses covers both lion heads present.
In the majority of cases, before accessing the shrine room itself, Alm or Celica must travel through the shrine's corridors and fight a small troupe of enemies (usually monsters) in a skirmish; the set of enemies fought depend on the individual shrine.
Trivia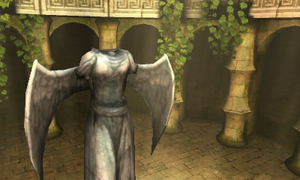 In Fire Emblem Awakening, Paralogue 7 is set in a map location called "Mila Shrine Ruins". While the location of the ruins corresponds to the Duma Tower rather than any individual shrine, said tower does indeed contain multiple shrines in Gaiden.
In Fire Emblem Echoes: Shadows of Valentia the Mila statues in the Duma Tower and Duma's Altar have been, presumably purposely, damaged; their heads and arms have been cut off. Despite this, the Mila Servants still provides class change and other functions as normal.
Etymology and other languages
Names, etymology and in other regions
Language
Name
Definition, etymology, and notes
English

Mila Shrine

Japanese

???

French

Temple de Mila

Mila's Shrine
Gallery
References