Site News
Warning: This wiki contains spoilers. Read at your own risk!


Discord and Twitter: If you would like, please join our Discord server, and/or follow us on Twitter at @FEWikiOfficial!

Cross-Wiki Week 2022: From September 23–30, make contributions to NIWA wikis that you normally don't edit, or Halopedia, for a chance to win a Nintendo eShop gift card! See here for more details.
Staggering Blow
From Fire Emblem Wiki, your source on Fire Emblem information. By fans, for fans.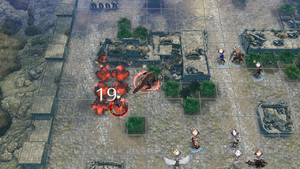 | | | | |
| --- | --- | --- | --- |
| " | A monster's fierce attack, which requires some posturing before unleashing their blows. | " | — Help text |
Staggering Blows (Japanese: 猛撃 Ferocious Blow) are a special kind of attack introduced in Fire Emblem: Three Houses. They are powerful area-of-effect attacks that are exclusively used by enemy monster units. These attacks are very large and typically have high raw might, though they are offset by the fact that a monster must prepare to use them beforehand. On top of their high power and wide range, they also typically have other secondary effects, ranging from debuffs to changing the terrain briefly.
Overview
Staggering Blows are almost entirely physical attacks which use the user's strength and target the foe's defense stat. The most notable exceptions are Rapids and Gale, which are magical attacks used by only a few unique monsters. All Staggering Blows have an area of effect—usually spreading out from the space in front of the monster—and can damage multiple units at once. They are not limited to damaging player units; if there are other units of the same affiliation as the user within range of a Staggering Blow, they will be affected by them as well.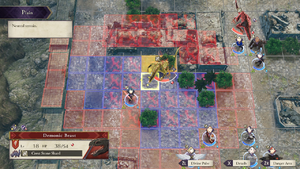 Each Staggering Blow has its own might, hit, and range stats. The damage dealt by a Staggering Blow scales like most weapon types, being boosted by the user's strength or magic, and reduced by the target's defense or resistance. Staggering Blows can never be counter-attacked in any way, though Staggering Blows themselves can also never make follow-up attacks. Unlike the similar area-of-effect Gambits, Staggering Blows hit their targets independently; a single Staggering Blow may hit hit some targets while missing others. Staggering Blows can additionally kill multiple units at once.
Before a monster can use a Staggering Blow, they must prepare to do so first; this is typically indicated by the monster unit roaring. When a monster is preparing a Staggering Blow, hovering over the monster will display the attack's intended area-of-effect. A monster must stay in place for one phase for the Staggering Blow to be unleashed; if there are no longer any targets in range when the monster's phase comes along, the monster will stop preparing it, and instead move to the nearest target to use a regular attack. If a monster unleashes its Staggering Blow, or it prepares it and does not use a regular attack in the next turn, all of the monster's barriers will be refreshed, unless the monster has previously suffered an armor break.
Etymology and other languages
Names, etymology and in other regions
Language
Name
Definition, etymology and notes
English

Staggering Blow

--

Japanese

猛撃

Ferocious Blow

Spanish

Golpe demoledor

Destructive strike

French

Attaque furieuse

Furious attack

German

Wilder Angriff

Wild Attack

Italian

Colpo devastante

Devastating strike

Korean

맹격

Fierce strike

Simplified Chinese

猛击

Fierce strike; identical to the name of the Smash combat art.

Traditional Chinese

猛擊

Fierce strike; identical to the name of the Smash combat art.
Gallery
References
See also